Nike Shoe Blowout: $1.12 Billion Wiped Off Swoosh Brand's Stock after Zion Williamson's Injury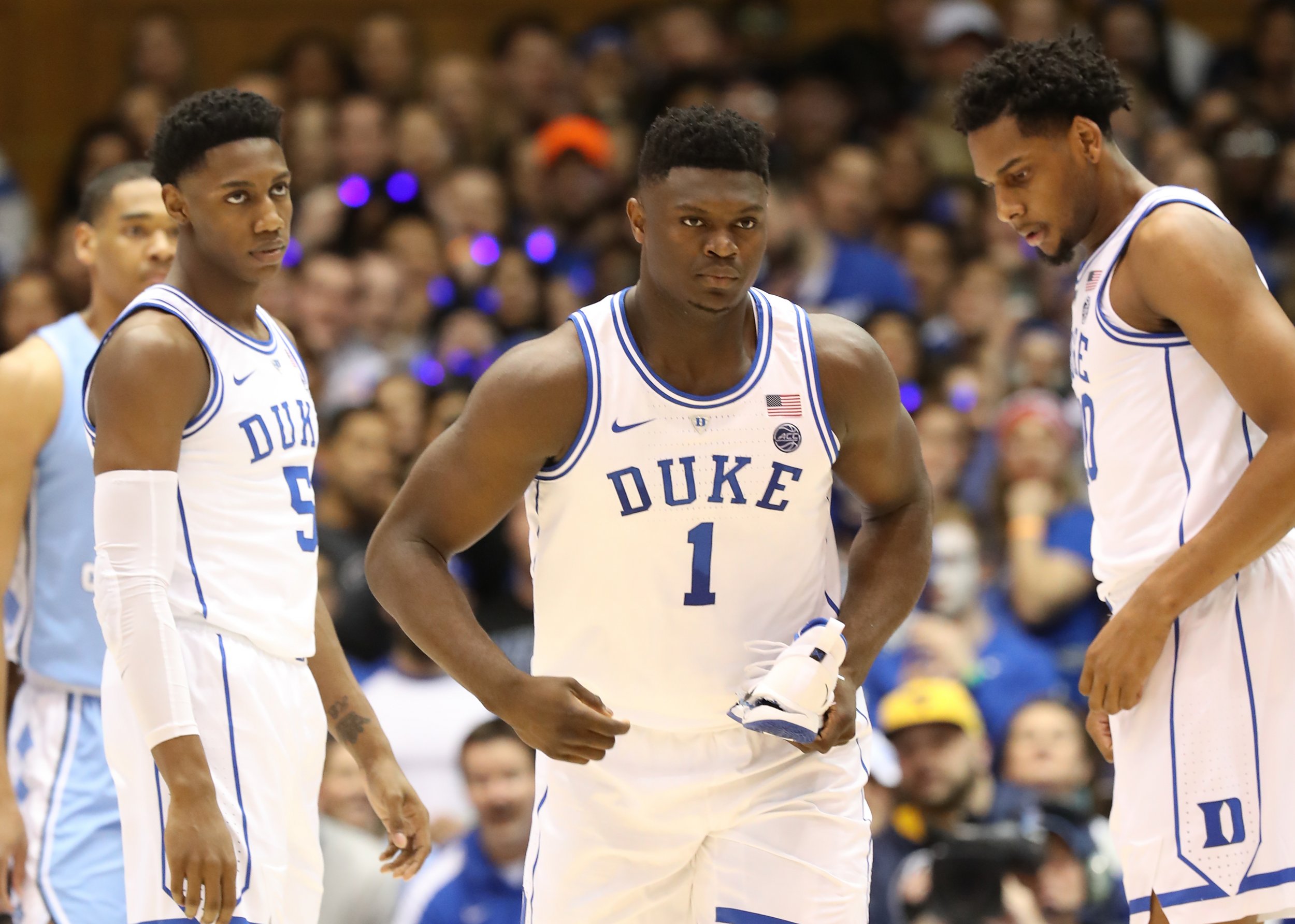 Nike shares were under pressure on Thursday morning as the fallout from Zion Williamson's injury rumbled on.
The Duke freshman suffered a knee injury on Wednesday night, as his left sneaker fell apart after he planted his foot down to dribble. The Blue Devils' game against North Carolina was just 36 seconds old when Williamson fell to the floor clutching his right knee after the sole of his left foot separated from the rest of the shoe.
Williamson did not return to action and suffered what Duke coach Mike Krzyzewski described as a "mild knee sprain".
While Williamson is expected to have avoided a serious injury, the sight of him hobbling off the court with a sneaker that was torn apart was a huge PR faux pas for Nike and sparked a social media backlash.
Investors were clearly unimpressed by the incident and Nike shares opened down by 1 percent on the New York Stock Exchange.
In financial terms, the decline translated to $1.12 billion being wiped off the swoosh brand's market value.
That still represented an improvement from premarket action, when the company's stock had fallen by as much as 1.73 percent.
By comparison, Puma and Adidas, two of Nike's main rivals, were up by 1.96 percent and 0.64 percent, respectively. Despite the early decline on Thursday, however, the value of Nike's stock has increased by 27 percent over the last 12 months.
A sneaker coming apart during such a highly-anticipated game on national TV would normally be bad publicity, but its impact was exacerbated by the fact it involved college basketball's biggest star.
Williamson is a generational talent and is almost certain to be selected with the first overall pick in this year's NBA draft. Should his injury turn out to be worse than expected, Nike could potentially even face legal actions from both the player and Duke.
A serious injury, could jeopardize Williamson's chances of landing a contract in the NBA, which would in turn prevent him from signing the kind of lucrative endorsement deals he is forbidden to sign while playing in the NCAA .
According to Darren Rovell of The Action Network, Williamson has an $8 million in loss of value insurance, which was paid by Duke.
The policy, however, would only become effective if he were to fall below the 16th in this year's NBA draft. Bar a hugely negative diagnosis, that will almost certainly not happen.
For its part, Nike immediately apologized for the incident and said it would investigate it.
"We are obviously concerned and want to wish Zion a speedy recovery," it said in a statement. "The quality and performance of our products are of utmost importance. While this is an isolated occurrence, we are working to identify the issue."