Nikki Haley Says Kim Jong Un Is 'Begging For War' With 'Abusive Use Of Missiles'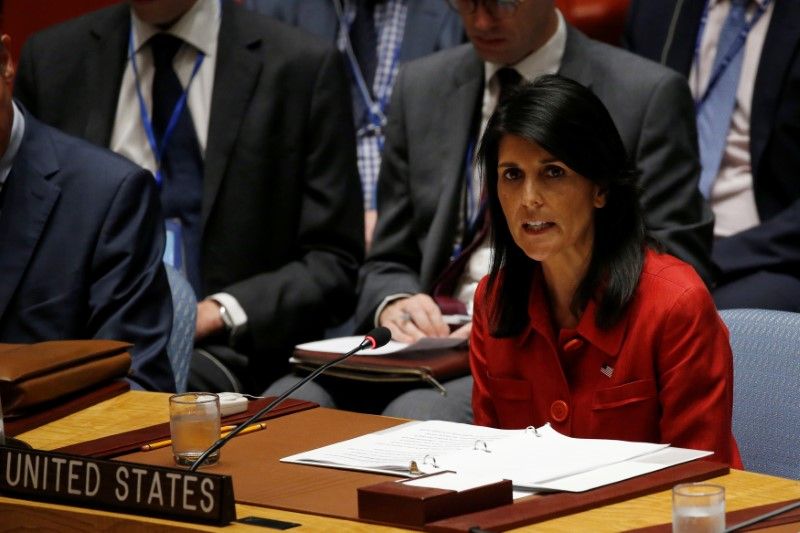 U.S. Ambassador to the United Nations Nikki Haley has claimed North Korean leader Kim Jong Un is "begging for war" following Pyongyang's announcement that it had carried out a successful nuclear test over the weekend.
North Korea said on Sunday that it had tested a miniaturized hydrogen bomb that could be fitted to an intercontinental ballistic missile, in a move that prompted talk of military action from Donald Trump and Defense Secretary James Mattis.
And speaking at an emergency meeting of the U.N. Security Council, Haley said Kim Jong Un's "abusive use of missiles" suggested he was "begging for war."
"The time for half measures in the security council is over. The time has come to exhaust all of our diplomatic means before it is too late. We must now adopt the strongest possible measures. Kim Jong Un's action cannot be seen as defensive," Haley said on Monday in comments carried by The Hill.
"We have kicked the can down the road long enough. There is no more road left," she added, explaining that an incremental approach to dealing with North Korea's nuclear ambitions had not been successful.
A military response to North Korea was not ruled out by the president, who said on Sunday when asked if the U.S. would attack North Korea "we'll see."
And following a meeting with the president, Defense Secretary Mattis said Trump had asked to be informed of all the options in dealing with the isolated nation, but promised a military response if North Korea threatened the U.S.
"Any threat to the United States or its territories including Guam or our allies will be met with a massive military response," Mattis said shortly after a meeting held with President Trump and other military leaders at the White House on Sunday.
"Kim Jong Un should take heed the United Nations Security Council's unified voice. All members unanimously agreed on the threat North Korea poses. And they remain unanimous in their commitment to the denuclearization of the Korean peninsula. Because we are not looking to the total annihilation of a country, namely, North Korea," he added.