Meghan Markle announced her first Spotify podcast will challenge negative stereotypes about women after a long record of backing feminist causes.
The Duchess of Sussex will launch Archetypes in the summer around 18 months after her and Prince Harry's deal with the streaming giant was announced in December 2020.
The first outing for the couple's Archewell Audio brand is just the latest in a long line of interventions the royal has made in support of women.
1. Meghan's 'Archetypes' Podcast
News of Meghan's new project for Spotify came on March 24 with a teaser trailer featuring sexist comments lifted from the mainstream media, including references to woman as "skanky" and "weak."
Meghan said in the clip: "This is how we talk about women: the words that raise our girls, and how the media reflects women back to us.
"But where do these stereotypes come from? And how do they keep showing up and defining our lives? I'm Meghan, and this is Archetypes: the podcast where we dissect, explore, and subvert the labels that try to hold women back.
"I'll have conversations with women who know all too well how these typecasts shape our narratives. And, I'll talk to historians to understand how we even got here in the first place. Archetypes."
2. Paid Leave for All
Meghan backed the campaign for paid family leave in October in a letter to House Speaker Nancy Pelosi and Senate Majority Leader Chuck Schumer.
The duchess spoke of the unequal toll on women's careers brought on by the pandemic, as American families were forced to look after children at home.
She wrote: "And because you and your congressional colleagues have a role in shaping family outcomes for generations to come, that's why I'm writing to you at this deeply important time—as a mom—to advocate for paid leave.
"Over the past 20 months, the pandemic has exposed long-existing fault lines in our communities.
"At an alarming rate, millions of women dropped out of the workforce, staying home with their kids as schools and daycares were closed, and looking after loved ones full-time.
"The working mom or parent is facing the conflict of being present or being paid. The sacrifice of either comes at a great cost."
The Paid Leave for All campaign seeks to make paid time off work a right for all new parents, so they can spend time with newborns without sacrificing income. Meghan joined lobbying efforts at a time when it looked like the promised 12 weeks of leave was going to be scaled down to four in the Biden administration's Build Back Better Act.
Her work appeared initially to pay off when Pelosi announced the policy was returning to the legislation but the entire bill has since been thrown into disarray as Senator Joe Manchin indicated in December, 2021 that he would not support it. Negotiations remain ongoing to try to get the legislation through Congress in some form, Bloomberg reported.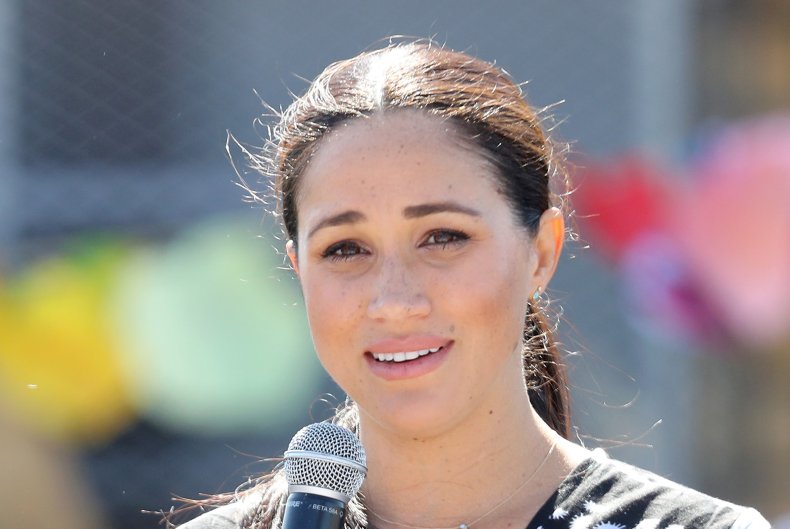 3. Meghan's 40 x 40 Birthday Campaign
Meghan used her 40th birthday to promote mentorship opportunities for aspiring women under a scheme she called 40 x 40.
Meghan said in a statement on her website: "I believe mentorship is one way to help women regain confidence and rebuild their economic strength, and for my birthday, I have asked 40 friends, activists, athletes, artists, and world leaders to help kick off a global effort by contributing 40 minutes of mentorship to support women re-entering the workforce."
4. 'Pearl'
Meghan's first project for Netflix, an animated series called Pearl, will also focus on female empowerment as it follows a 12-year-old girl as she meets inspiring women from history.
She has teamed up with David Furnish, husband of Elton John and a friend of late Princess Diana's.
So all eyes will be on whether Prince Harry's mother is brought to life on screen in an episode of the family show.
Meghan said in a statement on her Archewell website: "Like many girls her age, our heroine Pearl is on a journey of self-discovery as she tries to overcome life's daily challenges.
"I'm thrilled that Archewell Productions, partnered with the powerhouse platform of Netflix, and these incredible producers, will together bring you this new animated series, which celebrates extraordinary women throughout history."
5. When All Women Vote and United States of Women
Meghan made some of her most explicitly political post-royal comments in aid of efforts to increase voter turnout among women for campaigns When All Women Vote and United States of Women ahead of the 2020 U.S. election.
At a "couch party" organized by the two organizations online in August 2020, Meghan said: "We look at the attempts at voter suppression and what that's doing.
"It's all the more reason we need each of you to be out there supporting each other to understand that this fight is worth fighting and we all have to be out there mobilizing to have our voices heard."
6. Smart Works
In January 2019, Meghan became a patron of Smart Works, which provides professional outfits and coaching for women seeking employment.
The U.K. charity is one of the few projects she has maintained from her royal life during her new era in California.
During the coronavirus pandemic, she gave some online career coaching to one would-be psychologist in April 2020.
Meghan told the job-seeker: "I think you're going to be fantastic. It's just so exciting."
She added: "You seem so confident and so prepared and everyone here seems so excited."
7. Meghan's South Africa Speech
Meghan used her tour of South Africa in 2019 to make some of her first comments since becoming royal, explicitly "as a woman of color."
She spoke at Nyanga Methodist Church, in Cape Town, to young women helped by The Justice Desk, which teaches self-defense to build empowerment.
Quoted by Harper's Bazaar, she said: "I read a quote a few weeks ago and it resonated with me as I've been watching what's been happening here and your active efforts.
"Maya Angelou, the legendary poet and civil rights activist, once said: 'Each time a woman stands up for herself, without knowing it, possibly without claiming it, she stands up for all women.'"
She added: "And just on one personal note, may I just say that while I am here with my husband as a member of the royal family, I want you to know that for me I am here with you as a mother, as a wife, as a woman, as a woman of color, and as your sister."
8. Meghan's Visit to India With World Vision
Meghan campaigned against period shaming in India in March 2017, while she was dating Prince Harry before they got engaged that November.
She traveled to India with World Vision and wrote an op-ed for Time on the need to take menstrual hygiene seriously.
The duchess wrote: "Beyond India, in communities all over the globe, young girls' potential is being squandered because we are too shy to talk about the most natural thing in the world.
"We need to push the conversation, mobilize policy making surrounding menstrual health initiatives, support organizations who foster girls' education from the ground up, and within our own homes."
9. Meghan's Childhood Letter to Procter & Gamble
Meghan wrote to consumer goods giant Procter & Gamble aged 11 to campaign against an ad that presented washing the dishes as a female job.
The narration included the words: "The gloves are coming off—women are fighting greasy pots and pans with Ivory Clear."
She won a change to the wording so that later broadcasts replaced "women" with "people."