Everything Announced and Shown During the Latest Nintendo Direct
The September 4 Nintendo Direct was chock full of game announcements and trailers.
Although Nintendo announced that the nearly 40-minutes presentation would stick to Switch games coming in 2019 it gave fans a look at titles coming in 2020. There was a lot to unpack from the online presentation and we gathered all the announcements and trailers in one place. (Note: We'll continue to update this story with trailers as they become available)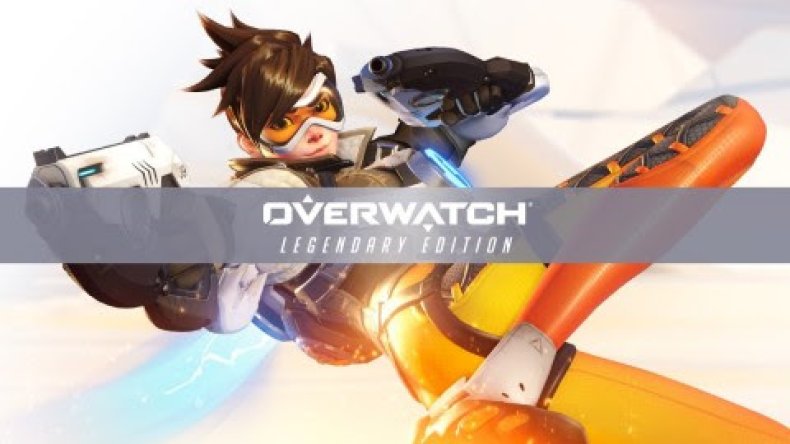 OVERWATCH FOR NINTENDO SWITCH
Although it was leaked ahead of the NIntendo Direct, Blizzard's massive online multiplayer, Overwatch is coming to the Switch.
Overwatch Legendary Edition for Nintendo Switch will be available in retail version and digital version via the Nintendo eShop for a suggested price of $39.99. Both versions come with 15 bonus skins as well as a three-month Nintendo Switch Online individual membership.
Players who pre-purchase Overwatch Legendary Edition by the game's October 15 launch will receive the Noire Widowmaker skin. In addition, Nintendo Switch players who log in to Overwatch by December 31, 2019 will receive a bonus Golden Loot Box containing at least one guaranteed Legendary item.
LUIGI'S MANSION 3
The sequel to the popular GameCube game, new levels were introduced for Luigi's Mansion 3. The three new floors are:
Tomb Suites, is a new level based on Egypt.
The Dance Hall, which is disco-themed
The Spectral Catch, which pirate-themed
ScreamPark is a brand new party mode that was revealed during the Nintendo Direct. Two to eight players can battle it out on one Switch. Some of the minigames include breaking targets, keeping items afloat and more.
POKEMON SWORD AND SHIELD
Two new Pokemon and features were revealed in the latest trailer. Get all the information, here.
XENOBLADE CHRONICLES: DEFINITIVE EDITION
If you ever wondered what game Shulk from Super Smash Bros. Ultimate comes from, it's this. The Nintendo Wii classic, Xenoblade Chronicles is coming to the Switch in 2020.
SUPER KIRBY CLASH
A free-to-start Kirby game will allow up to four players to team-up as a different Kirby to take down enemies. It has some RPG elements, allowing different Kirbys to have different jobs and abilities.
Go into battle in online or local battles to take down the bosses.
TRIALS OF MANA REMAKE
The HD remake of the classic game, Trials of Mana is coming to the Nintendo Switch next year. With fully voiced characters and upgraded graphics. Players who want to play the original can enjoy it as part of the currently available Collection of Mana game for Nintendo Switch.
The game is set to release April 24, 2020
NINTENDO SWITCH ONLINE SNES UPDATE
After many leaks and rumors, Nintendo confirmed that Super NES games are coming to Nintendo Switch Online starting September 5.
These games will be free with a subscription and the library will be continually updated. Also, a wireless SNES controller will be available to purchase for $29.99. Check out the first batch of SNES titles:
Super Mario World
Super Mario Kart
The Legend of Zelda: A Link to the Past
Super Metroid
Stunt Race FX (Available for the first time since its original Super NES release!)
Kirby's Dream Land 3
Super Mario World 2: Yoshi's Island
Star Fox
F-ZERO
Pilotwings
Kirby's Dream Course
BRAWL BROTHERS
Breath of Fire
Demon's Crest
Joe & Mac 2: Lost in the Tropics
SUPER E.D.F. EARTH DEFENSE FORCE
Super Ghouls 'n Ghosts
Super Puyo Puyo 2 (Available for the first time in the U.S.!)
Super Soccer (Available for the first time since its original Super NES release!)
Super Tennis (Available for the first time since its original Super NES release!)
TOKYO MIRAGE SESSIONS FE
The popular Wii U game, Tokyo Mirage Sessions FE is coming to the Switch in a new version that has new characters and songs to play. Fight your way through hordes of enemies starting January 17.
LITTLE TOWN HERO
The latest game from GameFreak, Little Town Hero will put players' strategies to the test as you protect your town from invading monsters.
TETRIS 99 VERSION 2.0
A new update for Tetris 99 arrives soon.
Tetris 99 Invictus mode is here and players can't even play it unless they achieve TETRIS MAXIMUS status, which means getting first place at least once in the traditional online mode of Tetris 99. In addition to Invictus mode, Daily Missions will be added to Tetris 99. By clearing these missions, players will acquire in-game tickets to exchange for a variety of custom themes. To show off accomplishments, new player icons will be added as well.
The second wave of content is coming for those who purchased the Big Block DLC. In 2P Share Battle mode, share Joy-Con controllers for a two-player game against each other and the CPU. In Local Arena mode, friends can get together in person to battle via new local wireless multiplayer. The version 2.0 update and new paid DLC for Tetris 99 will launch tomorrow, Sept. 5. Also, a physical version of Tetris 99 will be available starting Sept. 6, and will include all Big Block DLC plus a 12-month individual membership to Nintendo Switch Online at a suggested retail price of $29.99.
SUPER SMASH BROS. ULTIMATE
Banjo Kazooie release date confirmed for September 4 with Terry Bogard from Fatal Fury coming in November 2019.
THE LEGEND OF ZELDA: LINK'S AWAKENING
Players can place chambers earned in the adventure to create custom Chamber Dungeons. Finished dungeons can be saved to a compatible amiibo figure in The Legend of Zelda series or Super Smash Bros. series so they can be shared with friends. A new Link amiibo figure inspired by the style of the game will launch on September 20, the same day as the game's release.
ANIMAL CROSSING: NEW HORIZON
Players join the Deserted Island Getaway Package by Nook Inc, and start a relaxing new life full of creativity, charm and freedom in this next installment in the Animal Crossing series, launching for Nintendo Switch on March 20, 2020.
DAEMON X MACHINA
A new free demo is available today, which allow players to learn the game and earn some in-game goodies. All progress from the demo can be transferred to the full game when it releases September 13.
DIVINITY: ORIGINAL SIN 2 - DEFINITIVE EDITION
This critically beloved and fan-favorite role-playing game is available on Nintendo Switch beginning today! With the power of Nintendo Switch, players can slay monsters and unleash magic with up to three other friends at home or on the go.
RETURN OF THE OBRA DINN
The critically acclaimed, stylish indie game is coming to Nintendo Switch this fall. As an insurance investigator for the East India Company, players must board a ship, explore its surroundings, turn back time with the Memento Mortem pocket watch and record logical deductions to solve the ship's mysteries.
DEADLY PREMONITION 2: A BLESSING IN DISGUISE
A sequel to the cult classic Deadly Premonition is headed to Nintendo Switch. When FBI agent Aaliyah Davis opens an investigation into an old serial-killer case, she also opens a door to the unknown. Deadly Premonition 2: A Blessing in Disguise boggles and beguiles on Nintendo Switch in 2020. The original game in the series will launch in Nintendo eShop as Deadly Premonition Origins starting today!
ROGUE COMPANY
Introducing Rogue Company, a 5-v-5 online shooter from Hi-Rez Studios. In this new IP, players can play against friends or instantly match up online with a similarly skilled team in a variety of objective-based modes. Mercenaries can be fully customized to match the player's style. Rogue Company sneaks up to Nintendo Switch in 2020.
STAR WARS: JEDI KNIGHT II: JEDI OUTCAST
May the Force be with this Star Wars classic. Kyle Katarn, agent of the New Republic, is our only hope to stop a rogue Jedi. Get your lightsaber at the ready, Star Wars: Jedi Knight II: Jedi Outcast is coming to Nintendo Switch on September 24.
DOOM 64
There are at least 64 reasons for fans to get excited about classic first-person shooter DOOM 64 coming to Nintendo Switch, with the ability to play it anywhere being one of them. DOOM 64 launches on Nintendo Switch on November 22.
MARIO & SONIC AT THE OLYMPIC GAMES TOKYO 2020
In addition to playing classic multiplayer events with Mario, Sonic and all their friends, Mario & Sonic at the Olympic Games Tokyo 2020 also features a single-player story mode, new minigames and 10 retro-style events. These new events are displayed in old-school 2D graphics, perfect for retro fans around the world. Mario & Sonic at the Olympic Games Tokyo 2020 goes for the gold medal on Nov. 5.
The Nintendo Direct also gave some quick updates on various titles coming soon. Here's a rundown with blurbs from the official press release:
NBA 2K20 – In two days (Sept. 6), players can take to the court in NBA 2K20 for Nintendo Switch.
The Outer Worlds – Explore the furthest reaches of space and encounter a host of factions all vying for power in The Outer Worlds, bounding to Nintendo Switch soon.
Just Dance 2020 – Bust a move to some of the hottest music hits today in Just Dance 2020, headed to Nintendo Switch on Nov. 5.
Ni no Kuni: Wrath of the White Witch Remastered – The critically acclaimed and fan-favorite RPG can be taken anywhere when it launches for Nintendo Switch on Sept. 20.
Devil May Cry 2 – Starring iconic video game character Dante, classic action game Devil May Cry 2 launches for Nintendo Switch on Sept. 19. Pre-purchase in Nintendo eShop starts today!
GRID Autosport – Vroom! The high-speed racing game GRID Autosport comes to Nintendo Switch on Sept. 19. Pre-purchase in Nintendo eShop starts today!
Vampyr – Players who have a thirst for ... moody third-person action-RPGs are in for a bloody treat when Vampyr launches for Nintendo Switch on Oct. 29.
Call of Cthulhu – Answer the call in this survival horror RPG game when Call of Cthulhu launches for Nintendo Switch on Oct. 8.
Farming Simulator 20 – Hop on a tractor, bite on some straw and pick up a Nintendo Switch system. Farming Simulator 20 plants itself on Nintendo Switch this winter.
The Witcher 3: Wild Hunt – Complete Edition: As Geralt of Rivia, players have a massive world to explore at home or on the go. In this version of the game, all DLC and story expansions are along for the ride. The Witcher 3: Wild Hunt – Complete Edition comes to Nintendo Switch on Oct. 15.
Assassin's Creed: The Rebel Collection: Become the most feared pirate in the Caribbean in Assassin's Creed IV: Black Flag and then transform into the ultimate assassin hunter in Assassin's Creed: Rogue. That's two action-packed games from the award-winning Assassin's Creed series for one great value! All past single-player DLC is included, as well as new features like touch control and motion aiming. Assassin's Creed: The Rebel Collection launches for Nintendo Switch on Dec. 6.
Dauntless: Battle for survival at the edge of a savage frontier in the online, free-to-play action-RPG Dauntless. Whether they're a veteran looking to take slaying on the go, or a rookie ready to forge a legacy, players can craft hundreds of gear options and team up with others to take down boss-sized Behemoths. The Nintendo Switch version of Dauntless launches this year and features full cross-play, cross-compatibility and feature parity, so players on Nintendo Switch can join a global community millions strong and, for the first time ever, take their Slayers on the go.