'Pokémon Let's Go' Will Be Playable at E3 2018
Nintendo announced some new information about its E3 2018 booth, revealing that Pokémon Let's Go Pikachu and Eevee will be playable this year.
During the three days of E3, fans can visit the Nintendo booth to get their hands on upcoming Switch titles, including the new Pokémon game and Super Smash Bros. While Super Smash Bros for Switch will be playable, fans will have to reserve a spot in advance.
Pokémon Let's Go Pikachu and Eevee will be demoed on a first-come, first-serve basis, so get to the Nintendo booth early. Fans can line up Tuesday, June 12 through Thursday, June 14 to get a chance to play both Super Smash Bros. and Pokémon Let's Go Pikachu and Let's Go Eevee.
Nintendo will also have tournaments during E3 2018 week for both Splatoon 2 and the new Super Smash Bros. game. The Splatoon 2 tournament will be held June 11 and 12 while the Super Smash Bros. Invitational will only be on June 12.
If you can't make the show, you can still get all the news during Nintendo Direct: E3 2018, streaming June 12 at 12 p.m. EDT. The Nintendo Treehouse, which shows more gameplay and interviews with developers, will air immediately after and include more Super Smash Bros for Switch news, so you'll want to tune in.
Check out Nintendo's schedule of events for E3 2018 below.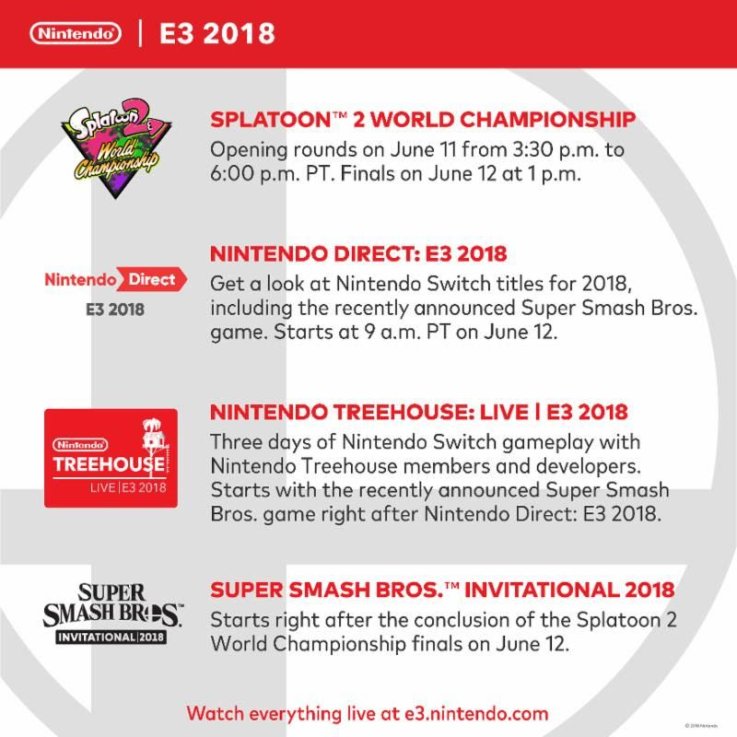 Also, fans spotted playing their Switch at E3 by a member of the Nintendo team will receive an exclusive pin while supplies last.
Will you be attending E3 2018? Which title are you looking forward to learning about the most? Let us know in the comments section below.
'Pokémon Let's Go' Will Be Playable at E3 2018 | Gaming