Nnamdi Kanu's Pro-Independence Movement Plans to Open More Biafran Embassies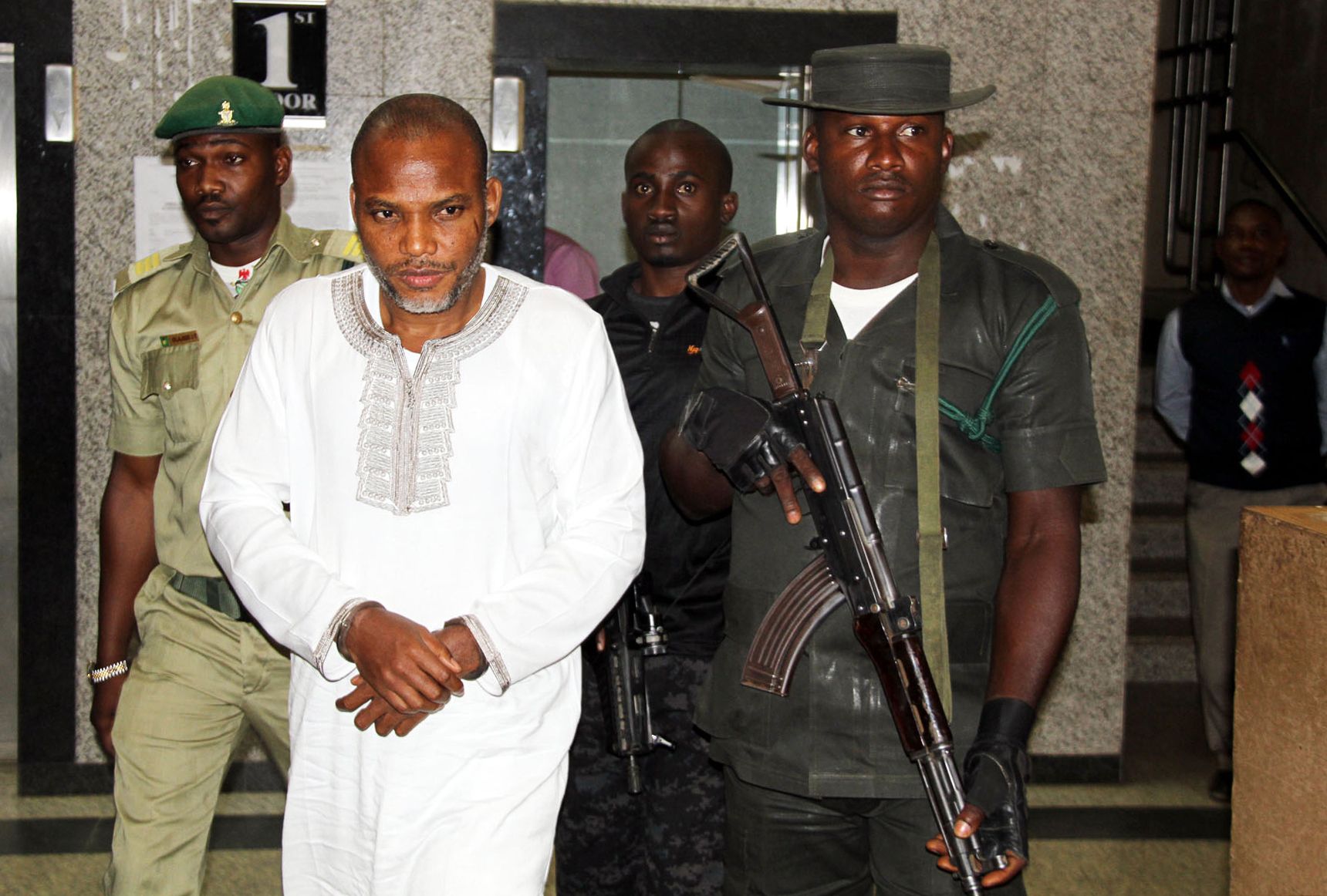 The Biafran movement headed up by Nnamdi Kanu says it plans to establish more embassies in various countries in 2016.
Biafran independence has become a live issue in Nigeria since Kanu, the leader of the Indigenous People of Biafra (IPOB), was detained by Nigerian security forces in October 2015. Thousands of people have demonstrated across southeast Nigeria since then, demanding the release of Kanu—who is based in the U.K. and directs underground media outlet Radio Biafra—and calling for independence for Biafra, a region in southeast Nigeria that existed as an independent republic between 1967 and 1970.
Kanu is currently detained in Kuje Prison in the Nigerian capital Abuja and is due to appear in court on Friday to face charges of treasonable felony, which carry a maximum life sentence.
IPOB currently has an embassy in Vitoria-Gasteiz, the capital of the Basque Country in northern Spain, which opened in February 2015. In a message to Newsweek conveyed through a spokesperson for the Kanu family, Kanu says the movement will be adding further embassies over the course of the year.
IPOB's head of directorate of state, Uchenna Asiegbu, heads up the Biafran embassy in Spain. Asiegbu tells Newsweek that a number of countries—including Sweden, Russia, Canada, the U.S. and Australia—are on the shortlist as potential destinations for the next embassy. "We are looking to two or three countries but we have not made up our minds," he says. "In some months to come, we will be making that decision."
Asiegbu adds that the Basque Country was chosen as the location for the first IPOB embassy because of its history as the site of a struggle for independence. The Basque Country was afforded the status of an autonomous community in the Spanish Constitution of 1978 and has since been mired in a bloody bid for freedom from Spain, led by the armed group Euskadi Ta Askatasuna (ETA). "In the Basque region, they believe in freedom, they value freedom, they value human integrity," says Asiegbu. "That is why we chose the Basque region."
Biafra was declared an independent republic in 1967 by Nigerian military officer Odumegwu Ojukwu. The country's population was made up mainly of people from the Igbo ethnic group. Pro-Biafrans claim that the Igbos were forcibly made to live together with other ethnic groups, including the Hausa-Fulani in the north, when British forces established colonial Nigeria in 1914. The declaration of Biafran independence sparked a three-year civil war with the Nigerian military, in which more than 1 million people were killed. Biafra was reintegrated into Nigeria in 1970.
IPOB is one of several groups campaigning for Biafran independence. Another group, the Movement for the Actualization of a Sovereign State of Biafra (MASSOB), has reportedly issued Biafran passports to its members, which it claims are valid anywhere except Nigeria, though U.K. and U.S. authorities told Newsweek they do not recognize the passports. Asiegbu says that IPOB was not involved with the passport idea. "That has nothing to do with IPOB," he says. "Until we are recognized as a sovereign nation, we will not be doing that."
Asiegbu says the embassy in Spain was established as a precursor to an independent Biafra but is not recognized by the Spanish government. He says it attends to the needs of some 20 million Biafrans around the world, lobbying countries on their behalf.
Asiegbu adds that plans for further embassies are dependant on Kanu's release. "We are seeking the peaceful release of our leader. If anything happens to him in prison, they [Nigerian authorities] know the consequences," says Asiegbu.
Newsweek has frequently contacted spokespeople for Nigerian President Muhammadu Buhari, who have declined to comment on the issue of Biafran independence and Kanu's detention. In December 2015, Buhari said that Kanu can't be released on bail because he is a flight risk. "There is a treasonable felony against him and I hope the courts will listen to the case," said Buhari in his first "media chat" as president, an annual televised grilling of the Nigerian head of state by journalists.