No July 4th Fireworks at Mount Rushmore This Year After Controversial 2020 Trump Event
The National Park Service (NPS) has refused to allow the state of South Dakota to hold a July 4th fireworks celebration at Mount Rushmore this year. The massive national memorial features four past presidents' faces carved into the Black Hills of Keystone, South Dakota.
Although former President Donald Trump held a 4th of July celebration at the memorial in 2020, NPS Regional Director Herbert Frost rejected South Dakota's request for 2021.
In his letter to South Dakota Tourism Secretary Jim Hagen, Frost said that fireworks and COVID-19 pose "potential risks" to the park and people present. He believes the two would not allow for a "safe and responsible" event to occur, The Hill reported.
Frost also said that the risks from last year's event were "still being evaluated," adding, "The park's many tribal partners expressly oppose fireworks at the Memorial."
A spokesperson for Republican South Dakota Governor Kristi Noem told The Hill that she "is going to do everything in her ability" to ensure a July 4th fireworks celebration happens at Mount Rushmore despite Frost's refusal.
Newsweek contacted the NPS for comment.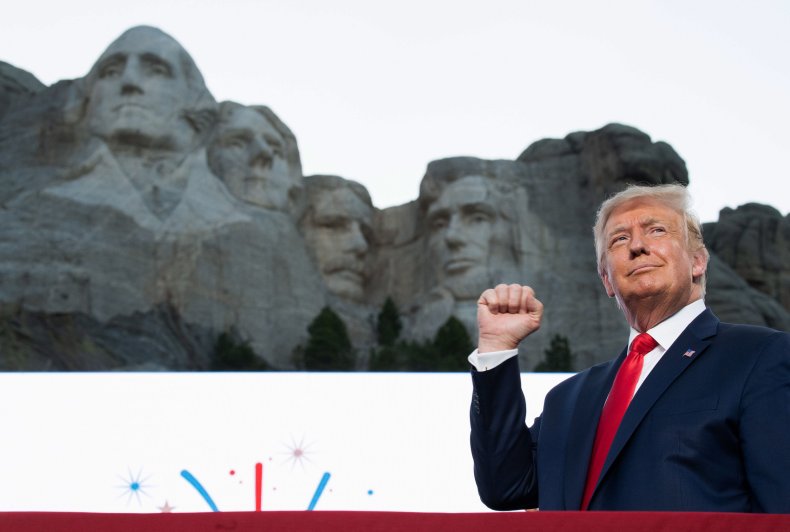 Trump's 2020 event was the first time in 11 years that the memorial had allowed a fireworks celebration on the 4th of July. The event hadn't occurred for over a decade due to fire concerns. An environmental assessment conducted last year decided that fireworks wouldn't significantly impact the memorial.
Trump's event attracted thousands of attendees. Most didn't wear masks or observe social distancing. Critics worried it might become a COVID-19 superspreader event. However, health officials from the South Dakota Department of Health told ABC News that they didn't see an uptick in cases two weeks after it occurred.
In Trump's speech at the memorial, he railed against "cancel culture" and the removal of Confederate monuments. Trump called cancel culture a "merciless campaign to wipe out our history, defame our heroes, erase our values and indoctrinate our children."
He also spoke out against Black Lives Matter protesters and athletes like Colin Kaepernick who refuse to stand for the national anthem to draw attention to the nation's long history of racism and racial disparities.
In Trump's speech, he touted his June 26 executive order punishing people who try to pull down or deface historic monuments. His order demanded 10 years in prison for such individuals.
Trump reportedly wanted his face carved into Mount Rushmore too, but there is no more carvable space upon the memorial's hillside. The iconic sculpture bears the faces of Presidents George Washington, Thomas Jefferson, Theodore Roosevelt and Abraham Lincoln.
The monument has been historically controversial. The Black Hills are considered sacred grounds by the Sioux tribe, and some have criticized the memorial for depicting two presidents who owned slaves.
"Mount Rushmore is a symbol of white supremacy, of structural racism that's still alive and well in society today," Nick Tilsen, a member of the Oglala Lakota tribe told the Associated Press. "It's an injustice to actively steal Indigenous people's land, then carve the white faces of the colonizers who committed genocide."
However, a 2020 Rasmussen Reports poll found that 75 percent of 1,000 likely voters didn't think Mount Rushmore should be closed or changed. The survey was conducted from June 29 to 30, 2020 and had a 3 percent margin of error.
Noem also promised to protect the monument last year, at a time when statues of Confederate soldiers and historical slave-owners were being taken down elsewhere around the country.