South Korean president Moon Jae-in has welcomed North Korea's plans to dismantle its nuclear test facility and interpreted the decision as holding three layers of meaning, he told his aides at a meeting on Monday.
Not only does North Korea's announcement represent "an initial step towards complete denuclearization" Moon said, but it is also a sign of commitment to the success of the upcoming summit with President Donald Trump, as well as showing North Korean leader Kim Jong Un is upholding the promises made during the inter-Korean summit in April.
North Korea's state-controlled media released a statement from the ministry of foreign affairs on Saturday, exactly one month ahead of the historic Kim-Trump meeting planned for June 12 in Singapore. It announced the upcoming dismantling of the Punggye-ri nuclear research facility, which hosted all six of the country's underground nuclear tests.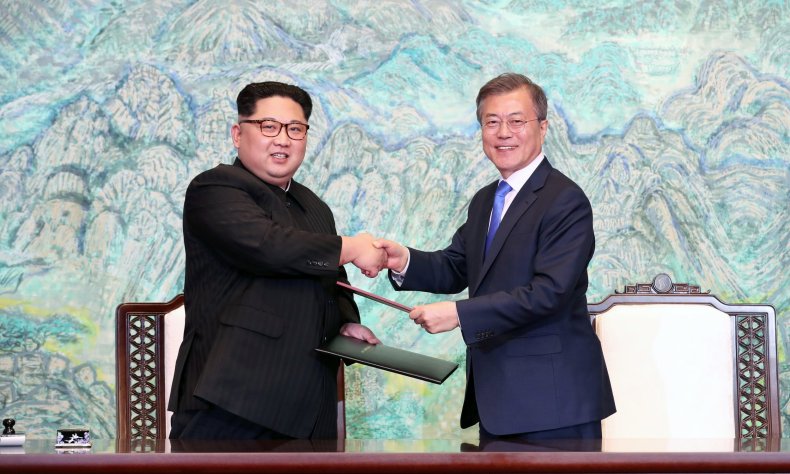 The dismantling of the facility ahead of the summit would represent another goodwill gesture from Pyongyang, in addition to the liberation of three Korean-American detainees last week. The event, which the ministry called "a ceremony," is planned for May 23-25, "depending on weather conditions."
North Korea invited foreign journalists from the U.S., China, Russia, U.K. and South Korea to attend the event. The plan includes an explosion to force the collapse of all underground tunnels, blocking the entries, followed by the removal of on-the-ground observation and research facilities as well as structures hosting guard units.
In a first comment on the North Korean proposal on Sunday, Seoul welcomed the decision to include foreign media as a move towards transparency on the path to denuclearization. "We hope that the sound of dynamite blowing up the Punggye-ri tunnels will be a gun salute in a journey toward a Korean Peninsula free of nuclear weapons," Seoul's presidential spokesperson said.
President Trump reacted gleefully at North Korea's announcement. "Thank you, a very smart and gracious gesture!" he tweeted on Saturday. The Trump administration has repeatedly vowed to conduct a campaign of maximum pressure against North Korea until the country provided "a complete, verifiable and irreversible denuclearization." Secretary of State Mike Pompeo, who has already met Kim twice, indicated the U.S. would be ready to support the country should its leader take "bold action to quickly denuclearize."