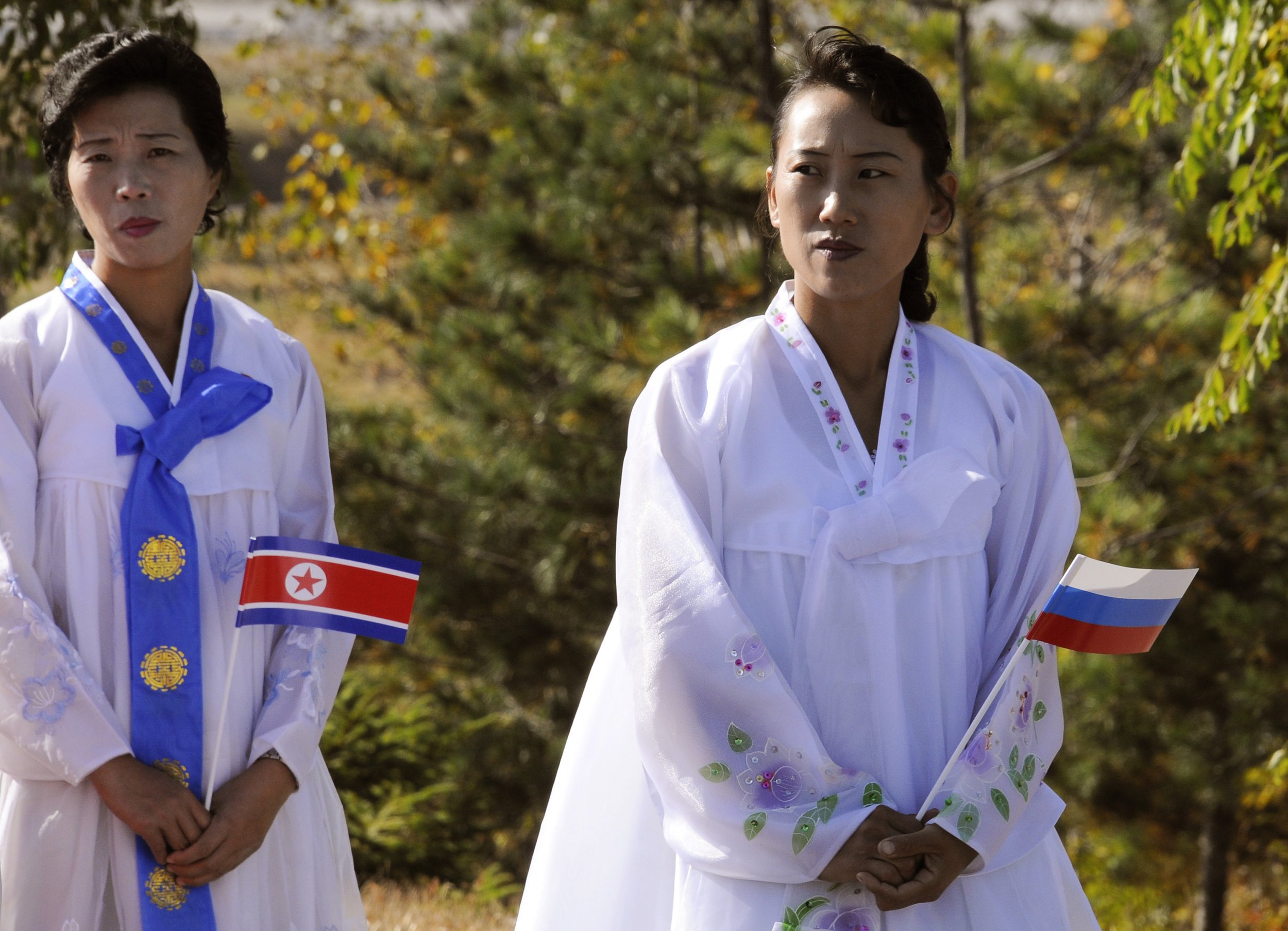 Russia has strategically grown closer to North Korea as the reclusive, militarized state feuds with its greatest ally, China, over Pyongyang's nuclear weapons program, a recent analysis has found. But the economic and political importance of China to North Korea may overshadow Moscow's attempts.
Russia is looking to capitalize on the rare, public spat between Pyongyang and Beijing by improving its own stance with North Korea, which is seen by both Russia and China as a buffer against U.S. interests in the Asia-Pacific, according to a report published Friday by Austin-based geopolitical intelligence platform Stratfor. While Russia and North Korea have previously sought closer ties in the past few years, especially under Kim Jong Un, recent moves by Moscow come in the aftermath of a falling out between the Kremlin and the White House over foreign policy and an increasing sense of urgency in the region as the U.S. pressures China to put an end to North Korea's nuclear weapons program.
Related: What War with North Korea Looked Like in the 1950s and Why It Matters Now
"As North Korea's relationship with China grows more difficult, Russia has increased its focus on the Korean Peninsula, ready to forge stronger ties with its isolated neighbor," the report read. "Beijing is considering increasing pressure on North Korea to dial back its nuclear weapons program, and Russia stands ready to take advantage of the conflict."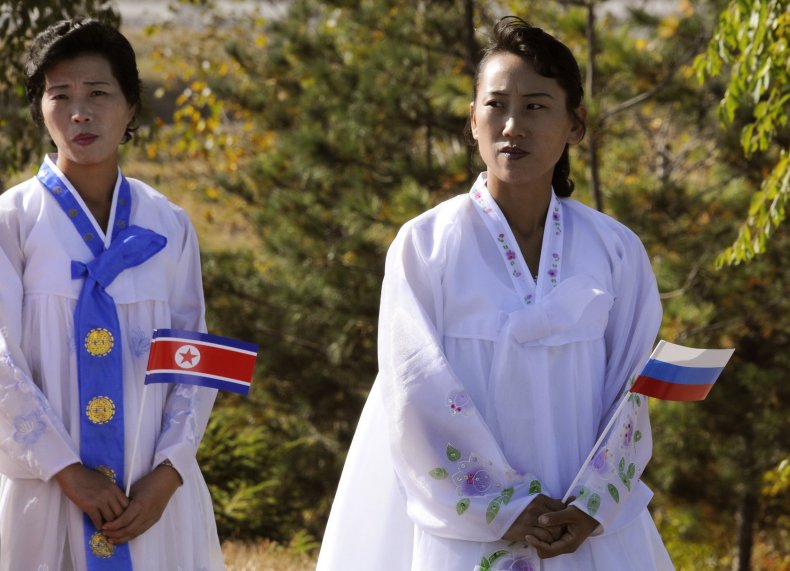 Rumors emerged last month of a sixth nuclear weapons test planned for North Korea's "Day of the Sun," an annual celebration held on the birthday of the nation's founder and Kim Jong Un's grandfather, Kim Il Sung. In response, President Donald Trump vowed to adopt a hardline stance against the longtime U.S. foe that has pursued nuclear weapons to deter foreign invasion. Trump's threat was reinforced by the declared deployment toward the Korean Peninsula of a naval strike group armed with the same cruise missiles that launched a pre-emptive strike on Syria only a day before.
The attack on Syria came less than 72 hours after the U.S. accused Syrian President Bashar al-Assad, an ally of Russia, of conducting a chemical weapons attack that was vehemently denied by Damascus and Moscow. Trump's willingness to use force quickly raised concerns that the U.S. would take similar action against the forces of Kim Jong Un and drew pleas for peace from China.
Beijing is by far North Korea's closest political and economic partner, but has criticized its neighbor's nuclear weapons tests since the first one conducted in 2003. In recent weeks, the two nations have traded rhetorical blows via their respective state-run media outlets. This comes as Trump, who frequently targeted China during his campaign last year, has since taken to praising Chinese President Xi Jinping and his administration for cooperating in the U.S.'s efforts to halt North Korea's nuclear program. While all nations of the U.N. Security Council, including Russia, condemned Pyongang's failed ballistic missile launch, the statement only passed after Russia successfully pushed for phrasing that left more room for dialogue.
North Korea and Russia's relationship can be traced back to the nation's foundation in the aftermath of World War II. After the defeat of the occupying Japanese empire in 1945, the U.S. occupied the southern half of the Korean Peninsula and the former Soviet Union occupied the north. Both superpowers sponsored governments with rival ideologies that feuded politically until conflict broke out in the 1950s. While it were Chinese troops that fought alongside North Koreans, the Soviet Union largely orchestrated the North's offensives and bolstered the nation politically and economically for nearly half a century. Now, Russia may now be trying to establish itself once again as a major player in the Asia-Pacific region.
"There is little doubt that Russia is making sincere attempts at building a partnership with North Korea," Russia-Korea analyst Anthony Rinna wrote in an April 14 note published on the Institute of Asia and Pacific Studies at the University of Nottingham and reported by CNBC. "The idea that Russia is once again superseding China as North Korea's major international patron bodes well when viewed through the prism of North Korea's Cold War-era tactics of playing China and the USSR off of each other."
Russia's economic ties to North Korea along the nations' 11-mile border have fallen considerably since the collapse of the Soviet Union in the early 1990s, but recent efforts have been made to increase economic cooperation. For example, widescale renovations in the border region in 2013 and 2014 that allowed greater trade and transportation. Russia and North Korea's efforts to forge greater ties potentially come at Beijing's expense, especially since the youngest Kim took power after his father's death in 2011. The late Kim Jong Il was a close ally of China and the two nations enjoyed relatively good relations, despite Pyongyang's nuclear weapons program. His son, Kim Jong Un, has not once visited China in his six years of leadership and has publicly defied Chinese figures such as Wu Dawei, Beijing's special represenative for Korean Peninsula Affairs.
"Since Kim Jong Un came to power, I think he has sent some strong signs that he was not going to be controlled by the Chinese, such as the fact that Kim has not yet visited Beijing to meet with Xi Jinping in person and the very public execution of Jang Song Thaek, who had deep Chinese political and business ties," Jenny Town, assistant director of the U.S.-Korea Institute at John Hopkins University and managing editor of North Korea monitoring group 38 North, told Newsweek Monday.
"Even the idea that North Korea would announce intention to conduct a satellite launch while Wu Dawei was in Pyongyang in February 2016 is something that would have been almost unthinkable when Kim Jong Il was in power," she added.
Kim Jong Un has failed to show the same humbleness toward China as his father, leading to a "personality clash" between the young leader and Xi, according to Chinese foreign policy expert Yun Sun, a senior associate at D.C.-based public policy think tank, the Stimson Center, and a contributor to 38 North. This cold shoulder, even coupled with the recent disagreement, is unlikely to completely reverse decades of ties between China and North Korea, but it does frustrate Beijing's attempts to bring Kim to the negotiating table with Trump. Yun argued that it's not so much that Russia has done more for North Korea lately, but that Russia's relationship has become more significant as China turns up the heat.
"The importance of the ties has increased," Yun told Newsweek Monday. "The level of Russia's ties has not become more, but the level of China's ties has become less."
But with Russia already involved in conflicts in Syria and Ukraine, its unclear how deeply Moscow is willing to get involved. In Syria, China has defended Russia from U.N. resolutions by joining Moscow in vetoing Western moves. This changed, however, after news broke of the alleged chemical attack and the U.S. missile strike days later, which was ordered the same night Xi met with Trump at the Mar-a-Lago Hotel in Florida. During the next round of U.N. votes days later, China abstained, leaving Russia with the only veto for the first time since the conflict began in 2o11, and signaling China's flexibility on the U.S.-Russia divide in foreign policy.
"North Korea's political distancing from China has opened some political space between North Korea and Russia over the past few years, especially as US-Russia relations deteriorated, but I think there are limitations as to how far that relationship can or will go," Town told Newsweek.
Russia, which has not played a proactive role in the region, would likely need to devote significant resources to shifting North Korea's dependence on China, which accounts for 90 percent of its trade. While nearly a third of this activity reportedly originated from Russia, according to Stratfor's figures, the infrastructure necessary to amplify Russia's involvement to that of China's would take extensive time and capital to develop.
Also, China's willingness to work with the U.S. and stand up to North Korea should not be taken as Beijing abandoning its neighbor, Yun said. China, which staunchly opposes U.S. military presence on the Korean Peninsula and in regional waters, where Beijing makes vast territorial claims, is nowhere near ready to outright let go of its longtime ally—neither to the U.S. nor Russia, she argued.
"That's one thing people have to understand," Yun said. "China is not giving up North Korea."