North Korea Fires Missiles Hours After Kamala Harris Praises 'Alliance'
Hours after U.S. Vice President Kamala Harris accidentally praised America's "alliance" with North Korea while intending to refer to its southern counterpart, North Korea launched two ballistic missiles toward waters between the Korean Peninsula and Japan.
While delivering remarks in the Demilitarized Zone (DMZ) separating North and South Korea on Thursday, Harris said that the U.S. "shares a very important relationship, which is an alliance, with the Republic of North Korea."
"And it is an alliance that is strong and enduring," she added. South Korea is officially called the Republic of Korea.
Harris embarked on a flight home from South Korea on Thursday after delivering the remarks that also saw her criticize North Korea as a "brutal dictatorship," Reuters reported. About two hours after the flight took off, North Korea launched the missiles from north of its capital city of Pyongyang.
South Korea and the DMZ were the last stops on Harris' Asia trip this week that took place amid continued tense U.S.-North Korea relations over issues like North Korea's weapons testing and joint naval drills involving the U.S. and South Korea. Harris first headed to Tokyo to attend the state funeral for former Prime Minister Abe Shinzo, who was assassinated in July, on behalf of President Joe Biden.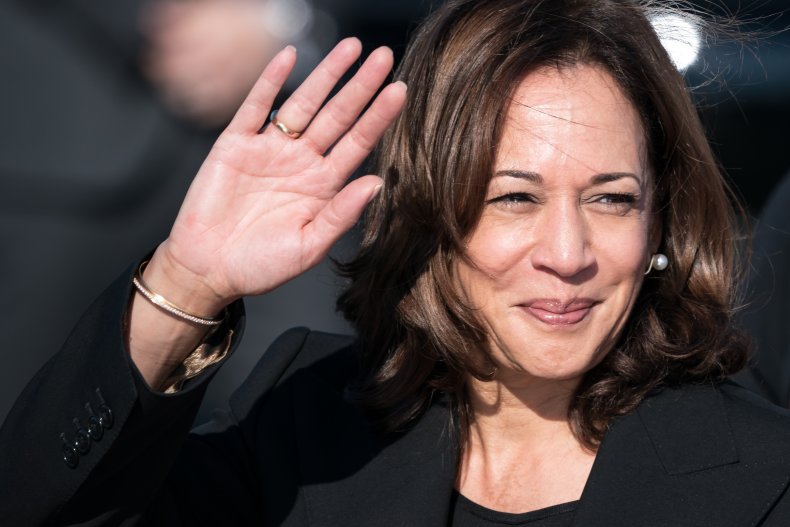 "In both Tokyo and Seoul, the Vice President will meet with senior government officials and civil society representatives in a series of engagements that will highlight the strength of the United States' alliances with Japan and the Republic of Korea, our enduring commitment to a free and open Indo-Pacific, and our shared economic and security interests in the region and around the world," Harris' press secretary Kirsten Allen said in a statement released ahead of the trip.
There have been various reports of North Korean missile launches this year and in 2021. When North Korea fired the two missiles on Thursday, it marked the third round of launches this week alone.
The first launch took place on Sunday before Harris left Washington, while two were fired on Wednesday while she was in Japan, The Washington Post reported.
Harris used her visit to the DMZ as an opportunity to touch on North Korea's "unlawful weapons program that threatens peace and stability" and other issues.
"The United States and the world seek a stable and peaceful Korean peninsula where the DPRK [Democratic People's Republic of Korea] is no longer a threat," she said, according to Reuters, referring to North Korea's official name.
A U.S. State Department spokesperson, in a statement to Newsweek, said: "The United States condemns the DPRK's multiple ballistic missile launches this morning. These launches, following three others earlier this week, are a clear violation of multiple United Nations Security Council Resolutions and demonstrate the threat the DPRK poses to the region and the international community. We remain committed to a diplomatic approach to the DPRK and call on the DPRK to engage in dialogue. Our commitment to the defense of the Republic of Korea and Japan remains ironclad."
Update 9/29/22, 4:30 p.m. ET: This story was updated with a statement from the State Department.