North Korea's Ruling Party Wins Re-election Without Competition, but Kim Jong Un Wasn't on the Ballot
North Korea's ruling Workers' Party won re-election to maintain control of the country's Supreme People's Assembly (SPA), with 99.99 percent voter turnout.
With only one approved candidate appearing on each voting slip, the result was never really in doubt and served simply to rubber-stamp the government's leadership, The Japan Times reported Tuesday. Despite the guaranteed result, voting is mandatory in the Asian nation, and the turnout only fell short of 100 percent due to some citizens residing "abroad or working in oceans," North Korean media reported. The turnout was still an improvement over the last election, five years ago, when 99.97 percent of voters marked their approval.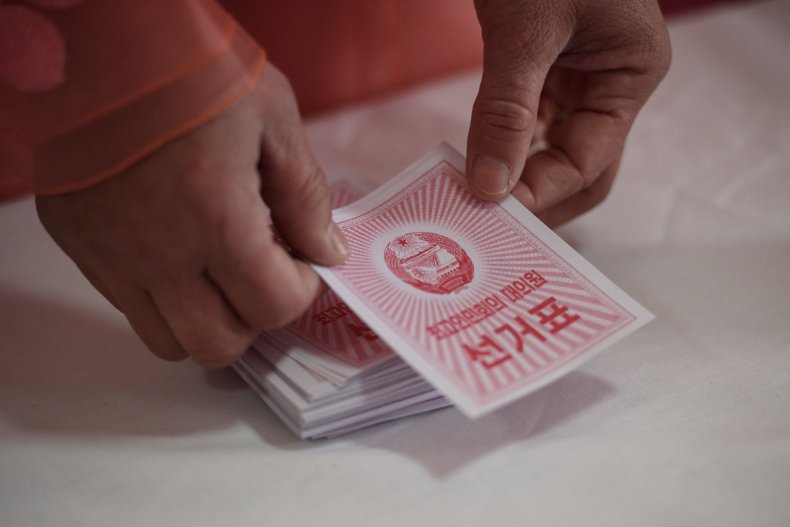 "All the electors participated as one in the election to cement our people's power as firm as a rock," the Korean Central News Agency said, citing data from the Central Election Committee, according to Al Jazeera. "One hundred percent of them cast their ballots for the candidates for deputies to the SPA registered in relevant constituencies."
One name notably absent from the ballot was that of North Korea's chairman Kim Jong Un, according to the BBC. This would reportedly be the first time a top leader of the country did not actually run for rubber-stamp approval to be part of the parliament.
"This could be part of North Korea's ongoing effort to be perceived as a normal state," Rachel Minyoung Lee, an analyst with North Korea specialist website NK News told the BBC. "In most democratic countries, the president doesn't concurrently have a seat in the parliament," she explained, adding that Kim's absence from voting slips does not signal that he is losing his grip on power.
Kim's younger sister, Kim Yo Jong, was formally elected for the first time in the vote. The chairman's sister has become an increasingly high-profile figure in North Korea, accompanying her brother on his recent trip to Vietnam to meet with President Donald Trump, according to the BBC. Back in 2014, she was appointed as vice-director of the Workers' Party's key Propaganda and Agitation Department.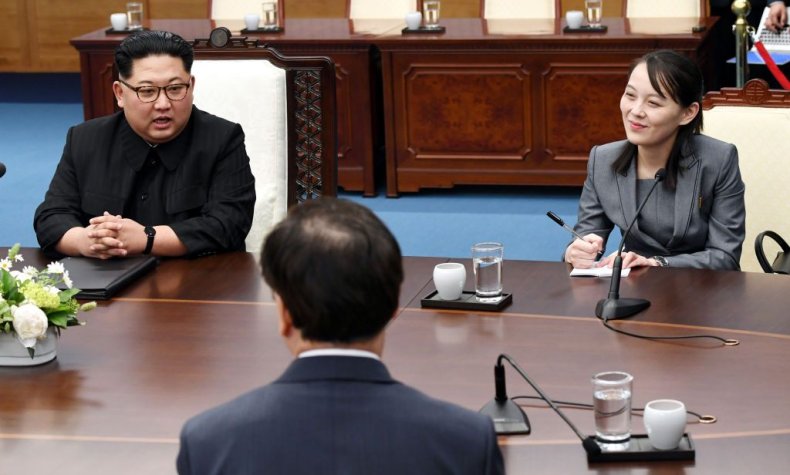 North Korean media classified the election result as "an expression of the absolute support and trust of all voters in the DPRK [Democratic People's Republic of Korea] government."
"The election will strikingly manifest the fixed will of our people to firmly trust and uphold to the last Supreme Leader Kim Jong Un despite storm and stress," the ruling party's official daily said, according to Al Jazeera.
North Korea remains under harsh international sanctions due to its nuclear program, but Kim has greatly expanded his international profile through a series of direct negotiations with Trump. Although the White House has expressed optimism that Kim will cave to U.S. demands to end its nuclear program, leaders in the intelligence community and analysts say that positive outlook is unfounded. Last month's summit between Trump and Kim in Vietnam ended early without any significant breakthrough.