North Korea Says Japan Wants War in 2018 as Both Gather New, More Powerful Weapons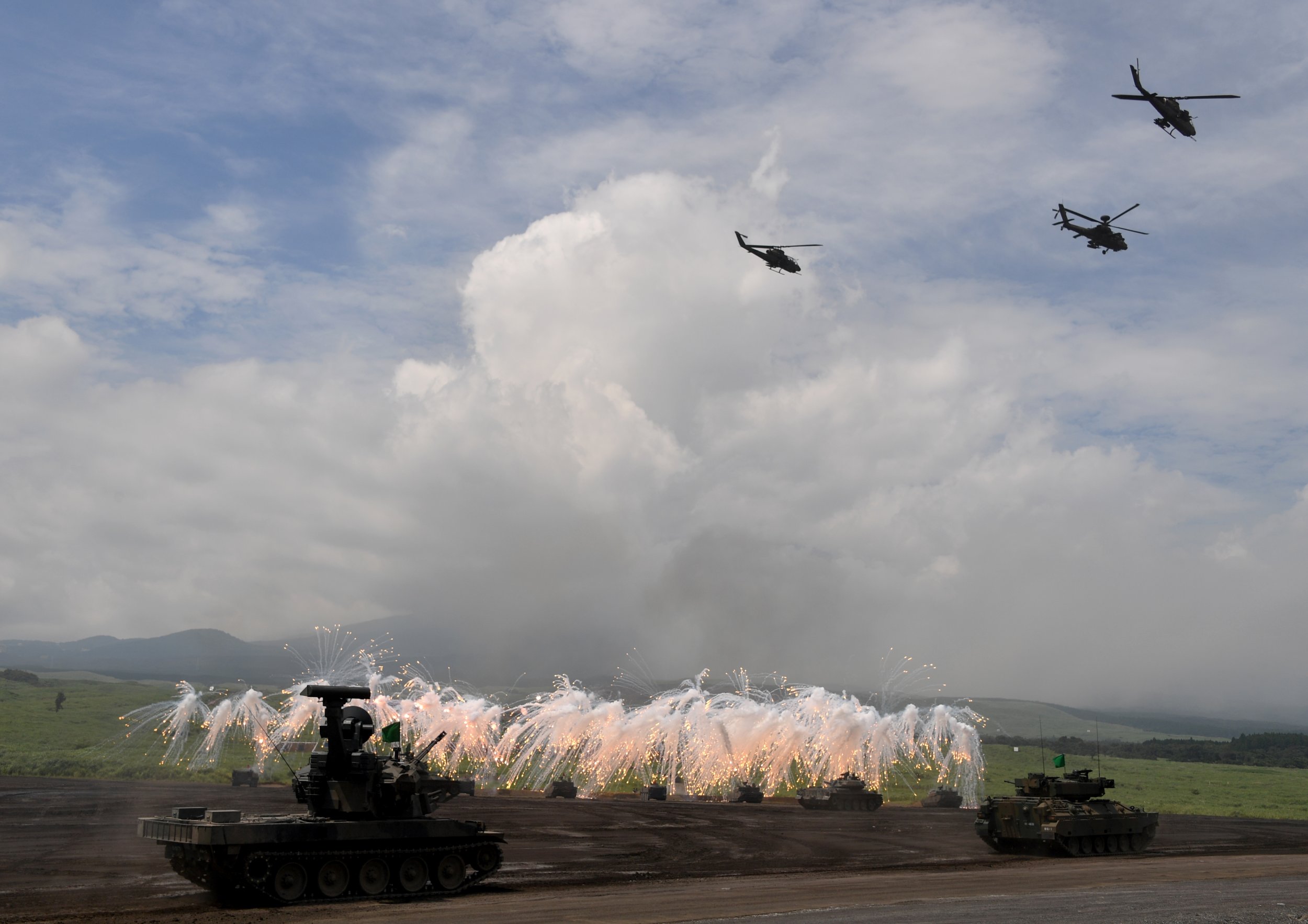 North Korea has accused Japan of warmongering in Asia as Tokyo hard-liners sought to reverse their country's decades of pacifism to face their nuclear-armed foe.
The official Korean Central News Agency published its most recent commentary Tuesday, condemning recent Japanese discussions of acquiring new, more powerful weapons in spite of the country's traditional post–World War II commitment to maintaining a self-defense force rather than a traditional military. The article dismissed arguments that supreme leader Kim Jong Un's growing arsenal of ballistic missiles and conventional weapons posed a danger to Japan, which the state-run outlet claimed had the "bad habit to find fault with others and seek its own interests as unanimously commented by the international community."
Related: North Korea crisis: Japan is growing its military for the first time since World War II because of Kim Jong Un
"The rhetoric about 'threat from surrounding areas' oft-repeated by Japan is little short of a prelude to a reinvasion aimed to paint their criminal nature of rushing headlong into turning the country into a military giant as 'legitimate' and openly come out for overseas expansion," the commentary read.
"The international community is required to approach with vigilance the moves of Japan whetting the sword of reinvasion by faulting others," it added.
Japan's 1945 defeat in World War II came as Soviet troops invaded the archipelago nation and the U.S. annihilated two of its cities in the first and only atomic bomb attacks in history. The U.S. military quickly occupied Japan and split the Korean Peninsula, which the Japanese empire had occupied since 1910, between U.S.-backed nationalist South Korea and Soviet-backed communist North Korea. In 1947, U.S.-occupied Japan drafted a constitution, vowing to "forever renounce war" and promising that any military with "war potential will never be maintained."
As the two Korean rivals and their respective sponsors fought a bloody, three-year war, the U.S. ended its occupation of Japan in 1952, but has maintained military bases there. Japan's own, de facto military, the Japan Self-Defense Forces, have remained extremely limited by the 1947 constitution, which has remained in effect. In May of this year, Japanese Prime Minister Shinzo Abe made the unprecedented step of amending the constitution to solidify the role of the self-defense forces.
Even more recently, the youngest Kim's lightning military advances and President Donald Trump's own promises to boost Japan's weaponry have inspired Japanese officials to discuss expanding the country's military authorization as they compile a new Mid-Term Defense Program for next year. Talks already include potentially redesigning the country's helicopter carrier Izumo into an aircraft carrier complete with advanced F-35B Lightning II stealth fighter jets, Japanese daily Asahi Shimbun reported Tuesday, and acquiring new cruise missiles.
"It is the government's responsibility to prepare the appropriate equipment for self-defense forces personnel so that they can engage in missions in safer conditions.... These 'standoff' missiles will be introduced purely for the purpose of defending our country," Japanese Defense Minister Itsunori Onodera said earlier this month, according to The Japan Times.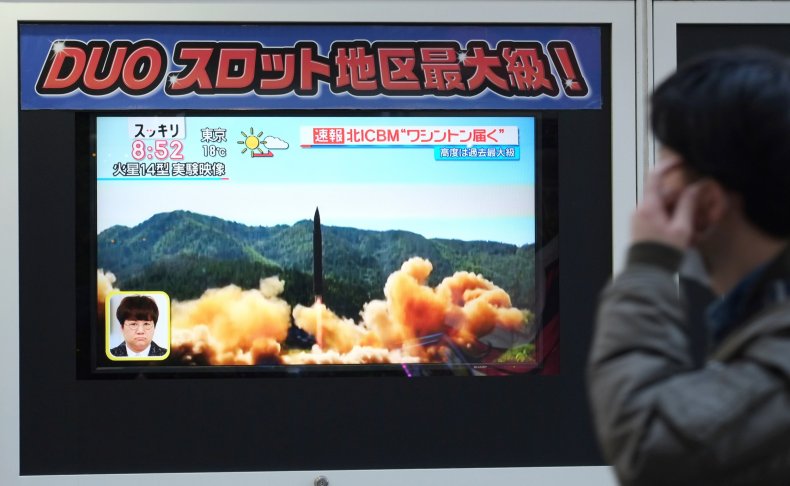 While Japan has routinely denied seeking any offensive powers for its armed forces, North Korea has taken a different view.
"Japan removed political and legal huddles one after another that had stood in its way of militarization and reinvasion, and expanded the scope of the overseas military operation of the Self-Defense Forces after massively increasing the military spending. It has also put in place the pretext and military conditions for intervening in case of emergency on the Korean peninsula," the Korean Central News Agency wrote Tuesday.
Since inheriting control of the country after his father's death, in 2011, the youngest Kim to rule has also arguably become the most powerful in terms of military strength. As Japanese politicians pondered how to adapt their defenses against perceived threats from China and North Korea, Kim launched his country's first intercontinental ballistic missiles (ICBM) and tested its debut hydrogen bomb, all within the past few months.
Like Japan, North Korea has claimed its military moves were in the name of self-defense, arguing that routine, nearby joint exercises between the U.S., South Korean and Japanese forces were evidence of plans to invade.