North Korea Says Trump Wasn't 'Confident' Enough to Meet Kim Jong Un
North Korea claimed to be surprised and "full of regret" at President Donald Trump's decision to cancel the planned meeting with North Korean leader Kim Jong Un in Singapore.
The North Korean regime rejected responsibility for the summit cancellation in a statement released by the state-run Korean Central News Agency (KCNA) on Thursday and attributed to Vice Foreign Minister Kim Kye Gwan, translated and quoted in 38 North, a web journal that provides analysis and insight into North Korea.
The vice foreign minister expressed "great regret" for Trump's "sudden and unilateral" announcement, for which, he said, it was "hard to guess" the reasons. "It could be that he lacked the will for the summit or he might not have felt confident," Kim Kye Gwam suggested, poking at president's ego.
In the letter to Kim Jong Un, Trump said he thought the atmosphere was too hostile for the two of them to meet, a reference to a recent statement from North Korea's vice-foreign minister Choe Son Hui in which she called Vice-President Mike Pence "a political dummy" for comparing her country to Libya.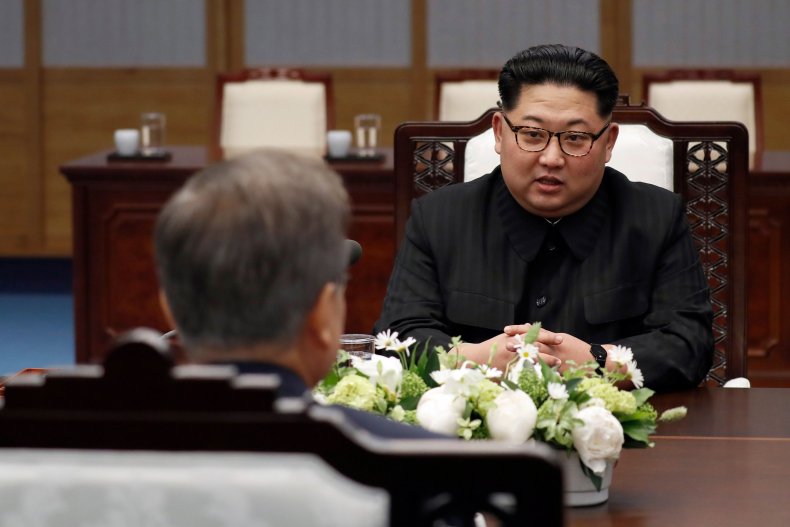 Branding Trump's decision as "not consistent with the desire of humankind for peace and stability in the world," Kim Kye Gwam referred to his country by its official name, Democratic People's Republic of Korea (DPRK), and said Choe's statement was "just a reaction to the unbridled remarks made by the U.S. side which has long pressed the DPRK unilaterally to scrap nuclear program ahead of the DPRK-U.S. summit."
Kim Kye Gwan said North Korea had "inwardly highly appreciated" Trump's "bold" decision to meet with Kim Jong Un—indeed, a meeting with a U.S. president had long been a foreign policy goal of the North Korean regime, which saw it as an opportunity to be presented as an equal to a global power on the world stage.
North Korea vowed to continue to pursue that goal and took the opportunity to paint itself once again as a reasonable, peace-loving nation, extending an olive branch to the U.S. "We will to do everything we could for peace and stability of the Korean peninsula and humankind, and we, broad-minded and open all the time, have the willingness to offer the U.S. side time and opportunity," Kim Kye Gwam wrote.
"The first meeting would not solve all, but solving even one at a time in a phased way would make the relations get better rather than making them get worse. The U.S. should ponder over it," the vice foreign minister advised, making it known to the U.S. that North Korea remained willing to talk and "solve problem regardless of ways at any time."