Why Did Trump Cancel Summit With North Korea? Five Reasons President Will Not Meet Kim Jong Un
President Donald Trump has canceled an upcoming historic summit with North Korean supreme leader Kim Jong Un, citing "tremendous anger and open hostility" in a recent statement targeting the U.S.
Trump's announcement came just as foreign journalists observed the demolition of North Korea's Punggye-ri Nuclear Test Site, a gesture intended to prove that Kim was serious about denuclearization talks and moving closer toward his stated goal of eventually reuniting with U.S.-backed South Korea. Trump's surprise cancellation of the first-ever face-to-face talks between a sitting U.S. president and North Korean supreme leader, set for June 12 in Singapore, may be a huge step back for elusive peace on the Korean Peninsula.
"Diplomacy is often difficult and messy," Jessica Lee, interim executive director at the Council of Korean Americans, told Newsweek. "Both the U.S. and North Korea should calm down rather than overreact to the latest overtures. Progress has been made on both sides, and we cannot revert to brinksmanship again, especially when the alternative is war."
Here are five reasons why Trump may have called off the summit: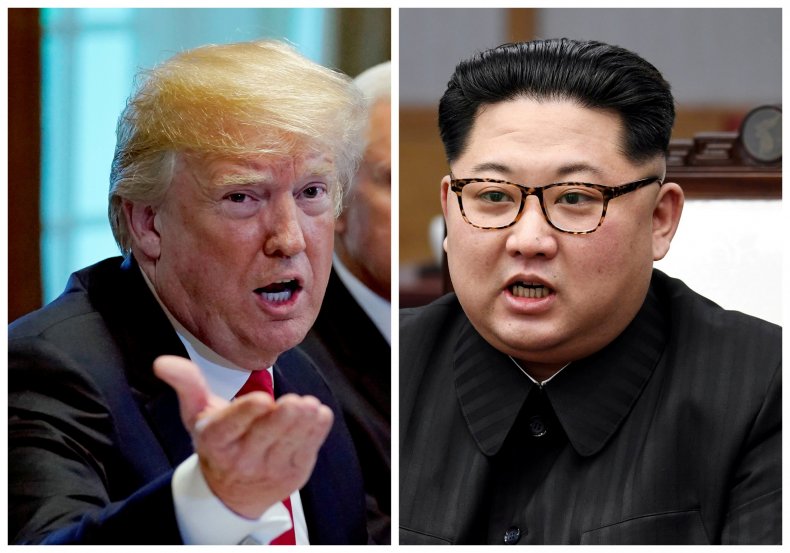 1. North Korea insulted Vice President Mike Pence
In a Fox News interview aired Monday, Vice President Mike Pence warned, "It would be a great mistake for Kim Jong Un to think he could play Donald Trump," and threatened Kim with the same fate as late Libyan leader Muammar el-Qaddafi (who was overthrown and killed in a 2011 NATO-backed rebellion after giving up his weapons of mass destruction in 2003) if the North Korean ruler did not abandon nuclear weapons. Earlier Thursday, the official Korean Central News Agency cited a harsh response by North Korean Vice Minister of Foreign Affairs Choe Son Hui, who called Pence "ignorant and stupid" and branded him a "political dummy."
2. North Korea threatened a nuclear showdown
In that same statement, Choe threatened a "nuclear-to-nuclear showdown" as the only viable alternative to peace talks. North Korea has always argued its nuclear program was solely for self-defense purposes and intended to deter a potential U.S. invasion. Trump and Kim's war of words through 2017 often included nuclear threats lobbed by both sides, but North Korea's most recent statement may have pushed the administration over the edge.
3. Pressure from hard-liners in Trump's inner circle
In March, Trump made two high-profile cabinet changes that were widely seen as having pushed the administration in a more hawkish direction. First, he swapped Secretary of State Rex Tillerson for CIA Director Mike Pompeo. A number of commentators, including former Secretary of State Condoleeza Rice, credited Tillerson with having contributed to the fragile U.S.–North Korea dialogue. Then Trump exchanged national security adviser H.R. McMaster for John Bolton, who championed the so-called "Libya model" that North Korea condemned and who has long advocated for military action against enemies of U.S. foreign policy.
4. Trump felt he got a big enough concession already
Trump's announcement came shortly after the Punggye-ri Nuclear Test Site was destroyed. Punggye-ri, located in North Korea's remote northeast, is the country's only known nuclear test site. While some reports have indicated the site may still be operational, Kim ostensibly came through on his promise last month to demolish the testing grounds, as well as freeze nuclear testing and longer-range missile launches. With the site apparently razed—or at least heavily damaged—Trump may feel he has the upper hand on his North Korea foe.
5. Trump felt he could not walk away from the summit as the clear winner
Trump said last month that he was prepared to "respectfully leave the meeting" with Kim if the conversation did not prove "fruitful." While the U.S. has not publicly admitted it, both sides appear to have offered some sort of concessions leading up to the planned summit. The U.S. did not include nuclear assets in joint military exercises with South Korea, and North Korea has halted nuclear testing, blown up its only known nuclear test site and released three U.S. prisoners. Still, past administrations have gotten seemingly far with North Korea only for talks to fall apart, and Trump may have felt he was unable to sway Kim, who has proven himself an astute statesman in his own right.