North Korea: U.S. Will Use Chemical Weapons to Take Out Kim Jong Un and Control the World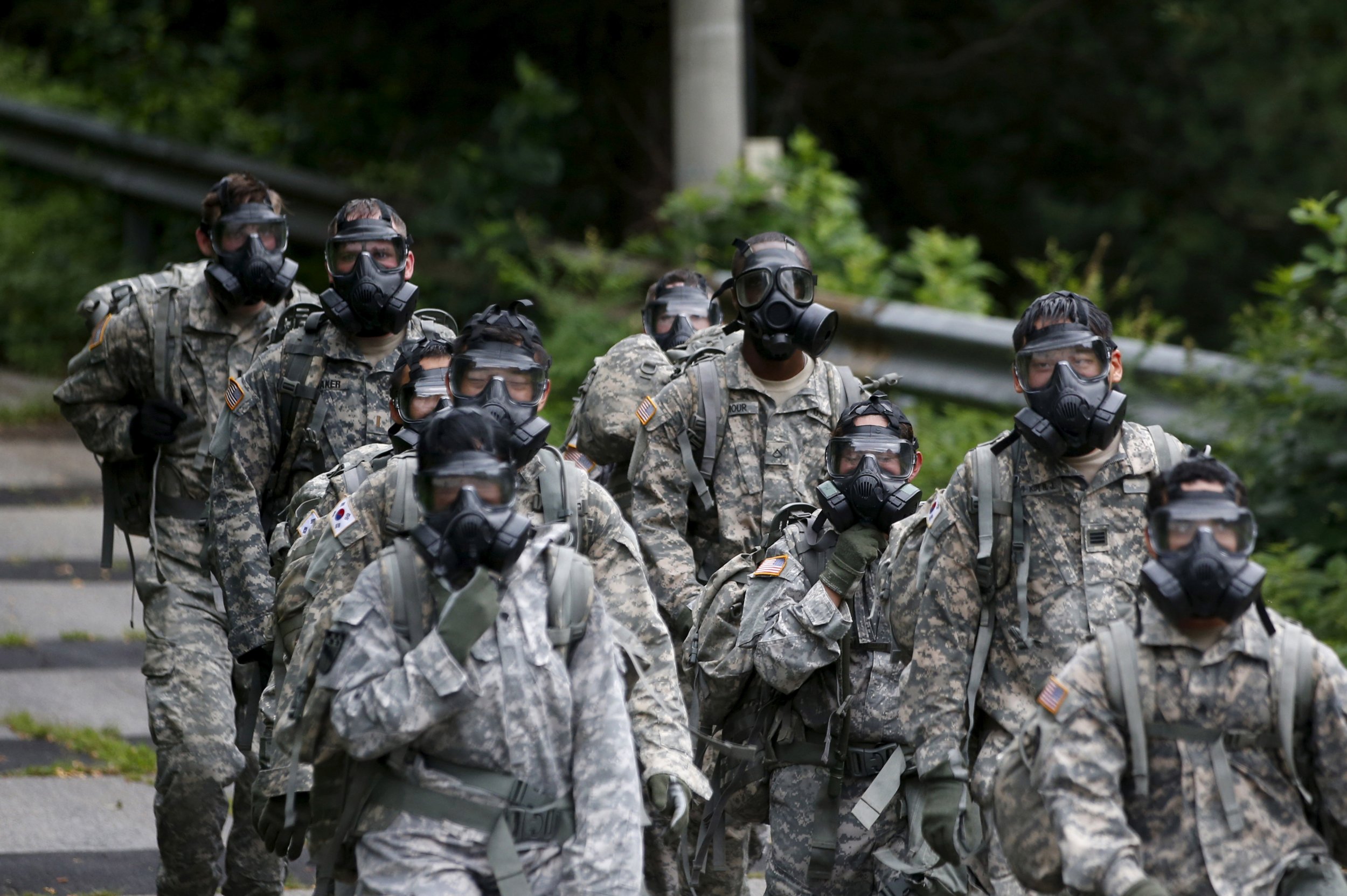 North Korea accused the U.S. Friday of planning to use chemical weapons in an upcoming conflict. The claim came amid a building political crisis between Pyongyang and Washington in the Korean Peninsula.
The charges came via a report by Pyongyang's official media outlet, the Korean Central News Agency (KCNA), entitled "U.S. Biochemical War Plan against Korean Nation under Fire." The article cited a spokesperson for the North Side Headquarters of the Nationwide Special Committee for Probing the Truth behind the GIs, a government agency tasked with investigating U.S. war crimes, as saying Thursday that evidence had been uncovered that the U.S. transported chemical weapons to the South Korean port city of Busan in preparation for war.
Related: Russia and China, North Korea's Neighbors, Deny Preparing for War in Asia
"The U.S. has fully revealed its criminal scenario to make no scruple of using biochemical weapons to exterminate the Korean nation in order to realize its wild ambition for dominating the world," the committee's statement read, according to KCNA.
For years, Pyongyang has claimed the U.S. government was preparing the so-called "Plan Jupiter," a biochemical attack on the Korean Peninsula intended to topple the government of North Korean leader Kim Jong Un. The U.S. has not officially responded to these claims, however, no evidence has been publicly presented to substantiate them.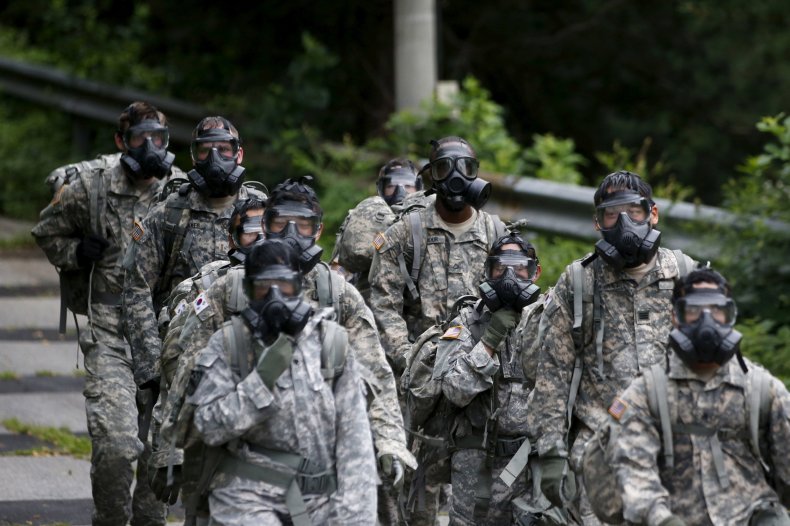 The latest commentary came in response to earlier intelligence reports from Japan, a regional U.S. ally, claiming that North Korea had produced weaponized sarin gas. In response to these reports, Japanese President Prime Minister Shinzo Abe told his parliament last week that the nation was under threat of a chemical weapons attack by North Korea. "The security situation around our country is getting increasingly severe," he said, according to CNN.
North Korea is one of six nations that has not signed the 1993 Chemical Weapons Convention. The Nuclear Threat Initiative, a U.S.-based non-profit opposed to the proliferation of weapons of mass destruction, estimated in its 2015 report that North Korea possessed somewhere between 2,500 and 5,000 tons of chemical weapons. In a 2016 report, the organization said the U.S., which was a signatory of the Chemical Weapons Convention, had produced 28,000 metric tons of chemical weapons by 2013. The treaty mandated that all parties destroy their chemical weapons stockpiles by 2007, with possible extensions to 2012. In 2015, the U.S. began destroying its chemical weapons stockpile with plans to eliminate stockpiles by 2029.
President Donald Trump has condemned the use of chemical weapons and demonstrated his willingness earlier this month to use military action to enforce his stance. When reports emerged of an apparent chemical weapons attack in the rebel-held Syrian province of Idlib, the U.S. quickly blamed Syrian President Bashar al-Assad and launched a cruise missile strike on a Syrian airbase, despite Damascus and Moscow's denial of responsibility. The preemptive strike, the first such U.S. action against Assad throughout Syria's six-year conflict, has raised concerns that a U.S. Navy strike group headed to the Korean Peninsula could conduct a similar move against North Korea if Pyongyang pursued a sixth nuclear test as it has threatened to do.
The U.S. and South Korea held last month "Warrior Strike 6" drills, which included disarming and securing simulated North Korean chemical weapons stockpiles.