North and South Korea Come Together to Celebrate the Last Time They Failed to Make Peace
For the first time ever, North and South Korea jointly celebrated the 11th anniversary of the second inter-Korean summit in hopes of avoiding past mistakes as they again search for peace.
A delegation of about 160 South Koreans—including government officials, political leaders and civic figures—crossed the border Friday and visited the People's Palace of Culture in Pyongyang to join North Korea in commemorating the October 4 declaration, a push for peace adopted by the two countries after their leaders met in 2007, and the previous June 15 declaration adopted during the debut inter-Korean summit in 2000.
While both initiatives ultimately fell apart and gave way to further tension, recent months have brought about unprecedented momentum to solve the decades-long conflict. Prior to this year, leads of North and South Korea had only met twice, but since April, they have met three times—most recently last month, when they drew up a new agreement.
"The history of failures to fully carry out the June 15 and October 4 declarations should not be repeated," the event's participants said in a joint letter, according to South Korea's official Yonhap News Agency.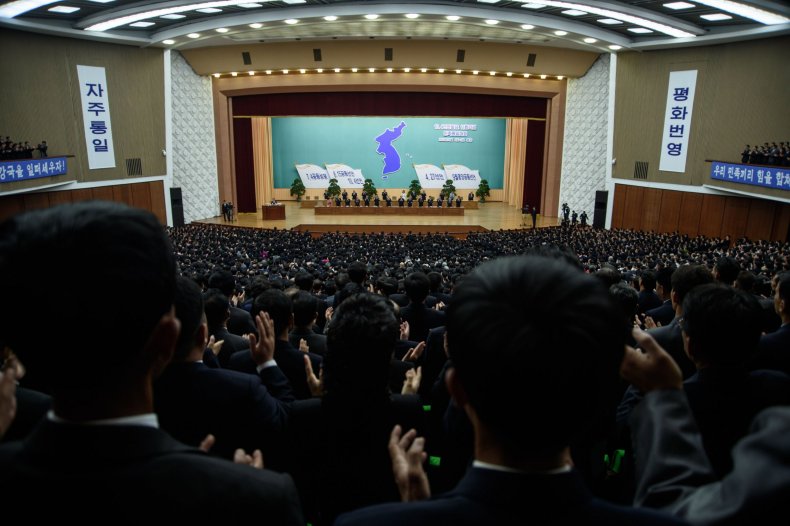 The two Koreas, Cold War–era satellites split by the U.S. and the Soviet Union after World War II, have witnessed levels of diplomacy in 2018 not seen since the two went to war in the 1950s. It wasn't until North Korean supreme leader Kim Jong Il and South Korean President Kim Dae-jung got together in 2000 that heads of the two rival countries met. As international tensions brewed over North Korea's growing nuclear program, Kim Jong Il met with South Korean President Roh Moo-hyun in 2007.
After both summits, the two sides adopted declarations aimed at resolving various issues and working toward the ultimate reunification of the Korean Peninsula. The past decade saw a deterioration in ties and even flares of deadly violence, however, and while Kim Jong Un's ascendancy to power in 2011 mostly quelled cross-border fire, the young ruler accelerated his country's nuclear ambitions. Last year, Kim Jong Un launched his country's debut intercontinental ballistic missiles along with a sixth and much more powerful nuclear test.
What appeared to be a peak in hostilities between North Korea and the U.S., President Donald Trump himself eventually gave way to diplomacy as Kim Jong Un reached out to South Korean President Moon Jae-in in a New Year's address. Both sides have since embarked on various rounds of military and political discussions, producing two inter-Korean summits and the first U.S.-North Korea summit in Spring.
In addition to remembering past follies, Friday's event sought to reinforce summit for the Pyongyang Joint Declaration of September 2018, announced just weeks ago when Moon met with Kim Jong Un in the North Korean capital. Both Koreas have expressed a desire to officially establish peace between their nations, which remain technically at war, and Kim Jong Un reiterated his promise to denuclearize in exchange for peace and a lifting of intense sanctions—a vow Trump readily accepted.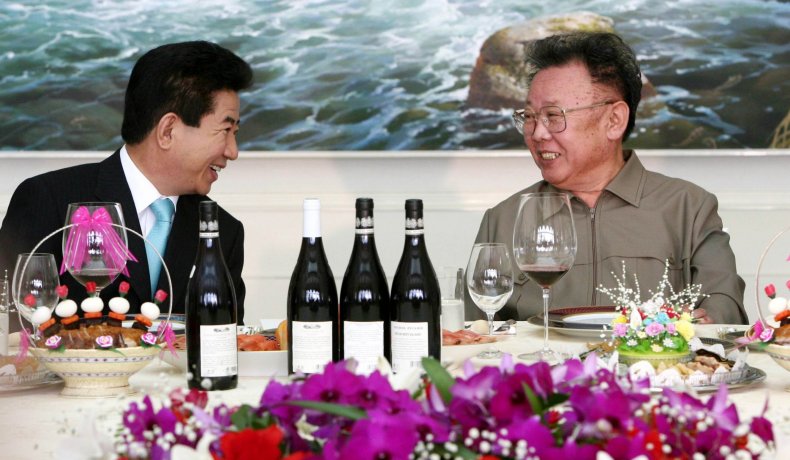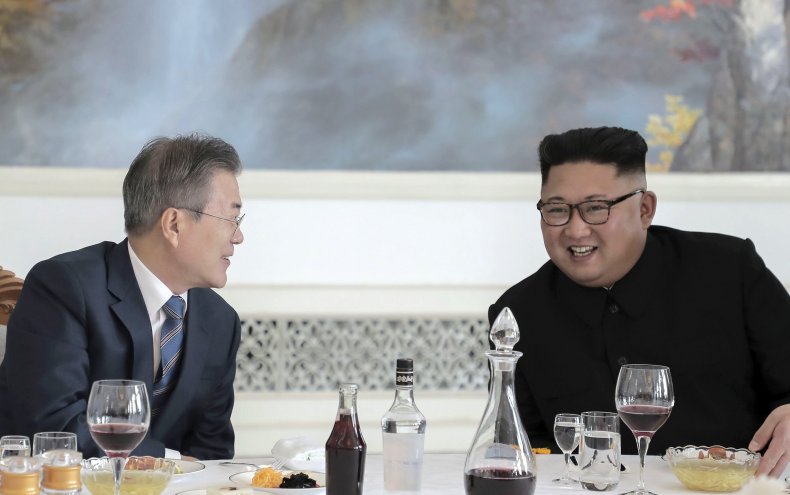 South Korea has moved forward with various joint projects, but the U.S. has remained skeptical of North Korea's intentions, and officials have criticized what they view as a slow pace to Kim Jong Un's denuclearization. A report published Thursday by North Korea monitoring group 38 North, a project of the Stimson Center, observed no new dismantlement activity at the Sohae Satellite Launching Station—a site associated with North Korean missile technology—but noted that "the lack of activity could be for a number of reasons" and that it "should not be interpreted as meaning that Pyongyang will not follow through on its pledge."
Secretary of State Mike Pompeo was set to visit Pyongyang on Sunday, his first trip there since a previously planned trip was canceled in August due to what Trump said was insufficient progress and the ongoing U.S. trade war with China. While North Korea has pushed for an early end to sanctions and a formal peace treaty, Kim Jong Un has often praised both Trump and Moon for their dedication to resolving longstanding issues and expressed a desire to set up further meetings with both men.