The mother of Amir Locke spoke out Wednesday after prosecutors announced the Minneapolis police officer who fatally shot her son wouldn't be charged.
"Now you're going to have to deal with me. I've never been Minnesota nice," Karen Wells said at a press conference in New York City. She appeared alongside attorney Ben Crump and civil rights activist Reverend Al Sharpton.
Wells also said: "I am not going to give up."
Locke, a 22-year-old Black man, was shot and killed by a Minneapolis police officer during an early morning raid in February. Officers used a "no-knock" warrant to enter the apartment as part of a homicide investigation. Locke grabbed his gun as he was woken up, at which point an officer shot him.
The incident sparked national outrage, especially when it came to light that Locke was not the target of the warrant. His family has said he drew the gun, which he was licensed to carry, in self-defense because police startled him while he was asleep.
Hennepin County Attorney Michael Freeman and Minnesota Attorney General Keith Ellison said on Wednesday morning that "there is insufficient admissible evidence to file criminal charges in this case."
The Hennepin County District Attorney's Office's said in documents Wednesday that Locke's perspective was ignored because, under Minnesota law, the analysis
"must be evaluated from the perspective of an objectively reasonable officer in a similar situation, not the victim."
"Because, based on current law, we cannot disprove that Officer Hanneman's use of deadly force was objectively unreasonable, no criminal charge can be filed," the district attorney's office said.
Wells told reporters: "I am not disappointed, I am disgusted with the city of Minneapolis."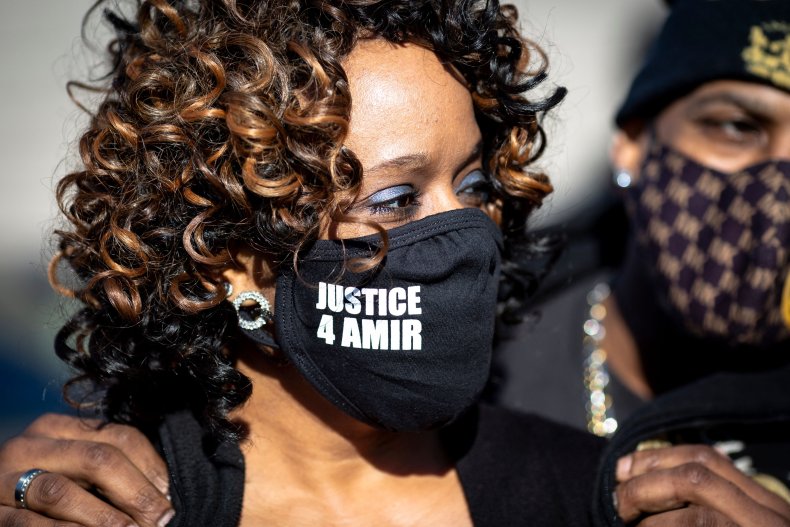 Sharpton said Wednesday that they are going to demand the Justice Department review the case.
Crump, the family's attorney, criticized the use of no-knock warrants by authorities.
"The police say, 'Well, it was a life or death situation and the police had to shoot because it was a life or death situation,'" Crump said. "But they created the life or death situation. That's why they're not telling you as they tried to justify this."
Minneapolis Mayor Jacob Frey announced Tuesday that the Minneapolis Police Department will no longer be able to request or execute no-knock search warrants starting April 8.
Officers will now be required to repeatedly knock and announce their presence and purpose prior to entry, plus wait at least 20 seconds for all warrants. But there are still "exigent circumstances" where police can enter a residence without waiting the 20 seconds.
"This policy is among the most forward-looking and extensive in the nation and will help keep both our residents and officers safe," Frey said in a statement. 'I'm grateful for all our internal and external partners who provided data, feedback, and guidance in the creation of this policy. Their efforts will have a lasting impact on public safety in Minneapolis."
Update 04/06/22, 3:00 p.m. ET: This story was updated with more information and background.