The National Rifle Association (NRA) warned President Joe Biden it was "ready to fight" any new federal gun control measures, in spite of the legal and money troubles facing the lobby giant.
Posting on social media, the NRA said planned gun control measures unveiled by the White House were "extreme" and said Americans would be expected to handover lawful property under the proposed measures.
President Biden will today unveil details of his executive actions targeting gun violence in the wake of mass shootings in Boulder, Colorado and Orange County, California over the past month.
The measures expected to increased restrictions on the "ghost gun" purchases—kits with nearly all the components for making a gun and instructions on how to construct it.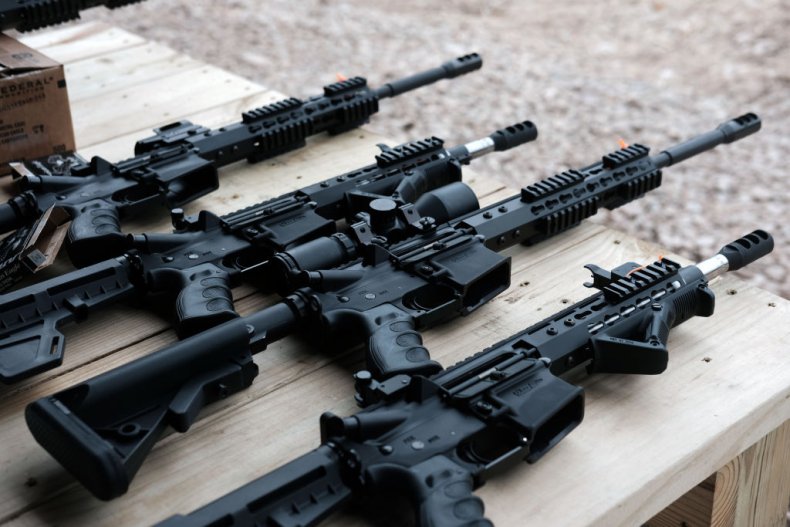 The NRA tweeted on Wednesday: "Biden announced multiple extreme gun control actions. These actions could require law-abiding citizens to surrender lawful property, and push states to expand gun confiscation orders.
"Biden also nominated a gun control lobbyist to head [the Bureau of Alcohol, Tobacco, Firearms and Explosives]. NRA is ready to fight."
A Colorado lawsuit backed by the NRA struck down a 2018 state rule banning assault weapons and large magazines in March. The mass shooting in Boulder, California took place ten days later. The suspect is believed to have used an AR-15-style pistol.
The NRA filed for bankruptcy in January this year after the pro-gun lobby firm was hit with a fraud lawsuit from New York Attorney General Letitia James. She claimed the lobby group's leaders had used the NRA as a "personal piggy bank" for various luxuries.
But NRA leadership officials and attorneys have defended the decision in court and sought to portray the investigation as a politically-motivated attack on the lobby group.
The pro-gun campaigners told the White House they would fight planned firearms control measures as the administration set out a raft of executive actions due to be announced by Biden later today.
The president plans to direct the Department of Justice (DOJ) to devise a rule restricting the sale of "ghost guns," which rarely carry serial numbers and are thus harder to trace back to their owner when discovered at crime scenes.
The DOJ also plans to publish model "red flag" legislation for state authorities within the next two months. Red flag legislation would permit the family members of "people in crisis" and law enforcement officials to temporarily block them from accessing guns.
White House officials also intend to publish a rule making it clear when a "stabilizing brace" for a pistol turns it into a short-barrelled rifle under the National Firearms Act.