Amid the ongoing nationwide protests against police violence, officers of the New York Police Department (NYPD) are planning a July 4 labor strike as retaliation for municipal calls for police reforms following the May 25 killing of George Floyd, a black Minneapolis man who died after a white officer knelt on his neck for nearly nine minutes.
Concurrently, every Atlanta Police Department officer will soon receive a $500 bonus for continuing to work through the coronavirus epidemic and the recent wave of police brutality demonstrations. The money will be paid by the Atlanta Police Foundation, an organization dedicated to fundraising and support for local police.
Police morale has suffered nationwide as departments stand accused of excessive violence against racial justice protestors and communities demand greater oversight and accountability for police misconduct.
Seven Minneapolis police officers have quit since May 25 and a spokesperson for the Los Angeles Police Department (LAPD) union spoke out about municipal plans to cut funding to police, calling them "offensive and infuriating."
"Stop treating us like animals and thugs and start treating us with some respect," New York Police Benevolent Association Mike O'Meara said in a June 9 press conference. "Our legislators abandoned us. The press is vilifying us."
"Nobody talks about all the police officers that were killed in the last week in the United States of America and there were a number of them," he continued.
Two flyers circulating around NYPD ranks via text state that "NYPD cops will strike on July 4th to let the city have their independence without cops," according to The New York Post. "The people and this city doesn't honor us, why honor them?"
The flyer then provides instructions for a sickout, a labor protest tactic in which all workers call in sick to work simultaneously. The text suggests that officers request a sick day from their precinct and request a sick day and call the main NYPD sick if they are denied. Any officers still required to go to work are told to show up and then request an ambulance for returning to home sick.
"If you are held because of the #Bluflu, request a bus and go sick from command," the flyer reads.
"Over the past few weeks, we have been attacked in the streets, demonized in the media and denigrated by practically every politician in this city," Patrick Lynch, President of the Police Benevolent Association of New York City, told the Post.
"Now we are facing the possibility of being arrested any time we go out to do our job."
A spokesperson for the NYPD said that officers will be working on July 4 as usual.
Newsweek reached out to the Police Benevolent Association of New York City for comment. This article will be updated with any response.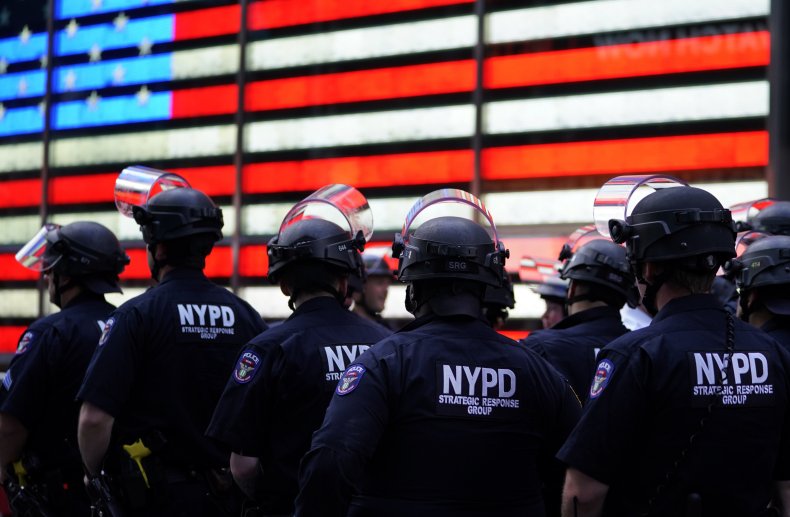 In a statement released Thursday, the Atlanta Police Foundation said, "In an effort to stem attrition and boost morale, we issued a $500 bonus to each Atlanta Police Department officer today."
Additionally, the Foundation said it will provide free meals to officers working 12-hour shifts and will help repair more than 20 patrol cars as well as police bicycles and urban terrain vehicles (UTVs) damaged amid recent protests.
The Foundation's assistance occurs as Atlanta police officers have reportedly been walking off the job and calling in sick to protest the felony murder charges facing the now ex-officer who shot and killed Rayshard Brooks. The Atlanta police have denied such walkouts and sickouts are occurring.
In a Thursday video message, Georgia's Republican Governor Brian Kemp expressed support for officers who have continued to work during the epidemic and protests.
"While so much of our attention is on the few that have violated their oath, we have failed to express our deepest appreciation for the many more who uphold it every day," Kemp said. "So today and every day, we say 'Thank you.'"
"During this global pandemic, you stepped up to help advance COVID-19 testing. You worked overtime to keep your friends and neighbors safe during peaceful community protests," Kemp said. "And even when it seemed like the world abandoned you, and demonized your profession, you continued to sacrifice you life for the safety of others."