NYPD Officer Turns Himself In to Face Charges After Alleged Assault of Brooklyn Protester
Vincent D'Andraia, a suspended New York Police Department officer, turned himself in on Tuesday and was charged with assault, attempted assault, harassment and menacing following his alleged actions against a female protester in Brooklyn on May 29.
"On Tuesday, June 9, 2020 at 0900 hours, the following off-duty New York City employee [D'Andraia] was arrested and charged within the confines of the 84 Precinct," a spokesperson for the NYPD told Newsweek in an email.
The alleged assault was captured on video by Newsweek. D'Andraia, 28, called protester Dounya Zayer, 20, a "stupid f---ing b---h" and shoved her roughly to the ground, causing her to roll and hit her head on the sidewalk. Zayer was transported by ambulance to the hospital after the alleged assault. She has said that she had a seizure and a concussion as a result of D'Andraia's actions.
"First he threw my phone and then he threw me," Zayer said in a video she posted to Twitter following the incident. "And I hit my head and I had a seizure and I have a concussion."
NYPD Commissioner Dermot F. Shea first confirmed to Good Day NY anchor Rosanna Scotto on FOX 5 New York on Tuesday morning that the officer would turn himself in later in the day. WNBC New York reported on Monday that the Brooklyn District Attorney was considering filing the charges against the officer as early as Tuesday. Newsweek reached out to the Brooklyn District Attorney's office for comment on D'Andraia's case, but they did not respond by the time of publication.
In a separate video filmed by Zayer just before the alleged assault, the protester can be heard asking "why?" after D'Andraia tells her to "get out of the street." The video cuts off and Zayer has said the officer hit the phone out of her hand, causing it to fall to the ground.
Newsweek reached out to Zayer for further comment on D'Andraia's arrest, but she did not respond by the time of publication.
Some people online have accused Zayer of spitting on or hitting D'Andraia prior to shoving her to the ground. Zayer has firmly denied those claims, and Newsweek did not observe her hitting or spitting on the officer.
"This was me, and I want to make one thing clear to all the people that are commenting lies below this video. I did NOT spit in this officers face. I was wearing a face mask. He told me to get out of the street and then immediately threw me out of the way," she wrote on Twitter on May 29 after she had been taken to the hospital.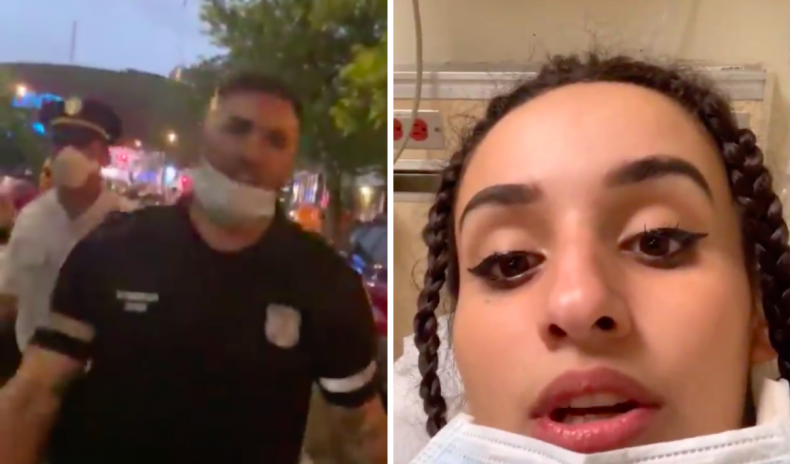 Zayer was one of thousands of protesters who took to the streets in New York City following the death of George Floyd in Minneapolis, Minnesota on May 25. Floyd, a black man, died after white police officer Derek Chauvin kneeled on his neck for nearly nine minutes, despite the man repeatedly telling officers: "I can't breathe." A video of the incident quickly went viral online, drawing national outrage and mass demonstrations against police brutality that have spread across the entire country, and around the world.
While some individuals participating in the demonstrations have turned to vandalism and looting, the vast majority of protesters have been peaceful as they raise concerns about what many view to be systemic racism in policing and the U.S. justice system. Meanwhile, there have been numerous incidents captured on video across the country appearing to show police officers responding to peaceful protesters with violence.
This article has been updated to include an additional charge filed against Vincent D'Andraia and comment from the NYPD.