'Terrifying'—Oak Fire Threatens Yosemite Giant Sequoias as Tree Crowns Burn
The Oak Fire currently burning near Yosemite poses a risk to the National Park's giant sequoias, with emerging reports of burning tree crowns.
As of 8 p.m. local time on July 25, the California Department of Forestry and Fire Protection (CAL FIRE) announced on social media that the wildfire was now 17,241 acres in size, with only 16 percent contained by firefighters.
The fire has been spreading rapidly throughout Mariposa County, having grown from 1,600 to 11,900 acres in a single day. Some 3,800 people have had to evacuate their residences, with 21 homes destroyed by the blaze.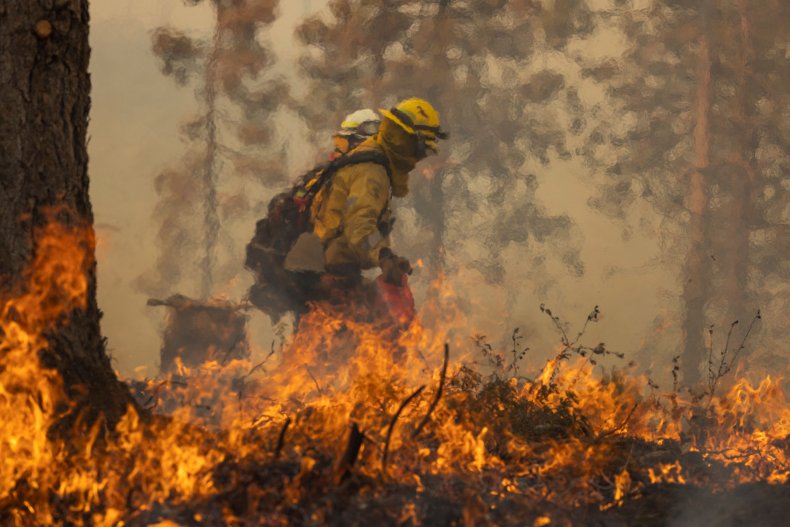 "In my career, I haven't seen fire like that," Justin Macomb, CAL FIRE team 5 operations section chief, told SFGate. A state of emergency has been declared in Mariposa County.
The blaze and others like it are feared to be part of a runaway system of habitat destruction. One social media video showed a deer fleeing from the fire.
"The spread of the Oak fire is terrifying; the wildfire is moving so swiftly and with such intensity; it's not just the forest floor that is burning but it's being reported that the crowns of some of the trees are burning too," Laura Deehan, the director of Environment California, told Newsweek.
"2022 is so far the driest year on record in California. We know that drought kills and weakens trees. When trees are weak they become very vulnerable to infestation of bark beetles, which kills trees too. So these dead trees are just going up in flames."
Smoke from the Oak fire blaze was blown all the way to South Lake Tahoe, nearly 200 miles north of Yosemite, where it caused a massive drop in air quality.
The Washburn Fire near Mariposa Grove that broke out two weeks previously is still burning, although it is now 87 percent contained.
These intense and fast-traveling blazes, while a natural part of the landscape in California, are thought to be exacerbated by climate change and other manmade drivers.
"The Oak Fire currently burning in Yosemite is devastating," Matthew Casale, environment campaigns director at the non-profit Public Interest Research Group, tells Newsweek. "Seeing this kind of fire in one of the nation's most iconic and beautiful natural landmarks brings home the truth: climate change is making wildfires worse."
According to Casale, wildfires to this unprecedented degree are also more regularly being seen across the western U.S., from Colorado and even up to Alaska.
Alaska has seen over 530 wildfires so far this year alone, burning an area the size of Connecticut before the predicted peak of the fire season has even begun.
"The frequency of these big seasons has doubled from what it was in the second half of the 20th century," Rick Thoman, a climate specialist with the Alaska Center for Climate Assessment and Policy at the University of Alaska's International Arctic Research Center, told The Associated Press. "And there's no reason to think that's not going to continue."
Casale says that, if we want to protect the giant sequoias in Yosemite, wildlife, plant life and, of course, millions of people's homes and lives, we need to take real action on addressing the root cause of global warming: the burning of fossil fuels.
"We need to accelerate our transition to clean and renewable sources of energy, like wind and solar power, and electrify our homes and transportation," he says.
Deehan agrees: "Global warming is causing more severe drought in California and now the state needs to simultaneously fight these intense fires, actively work on forest restoration to heal from the damage of drought to prevent future fires and swiftly shift away from burning the fossil fuels that are creating this problem, to instead rely on clean renewable energy sources," she tells Newsweek.
"It's the challenge of our lives."