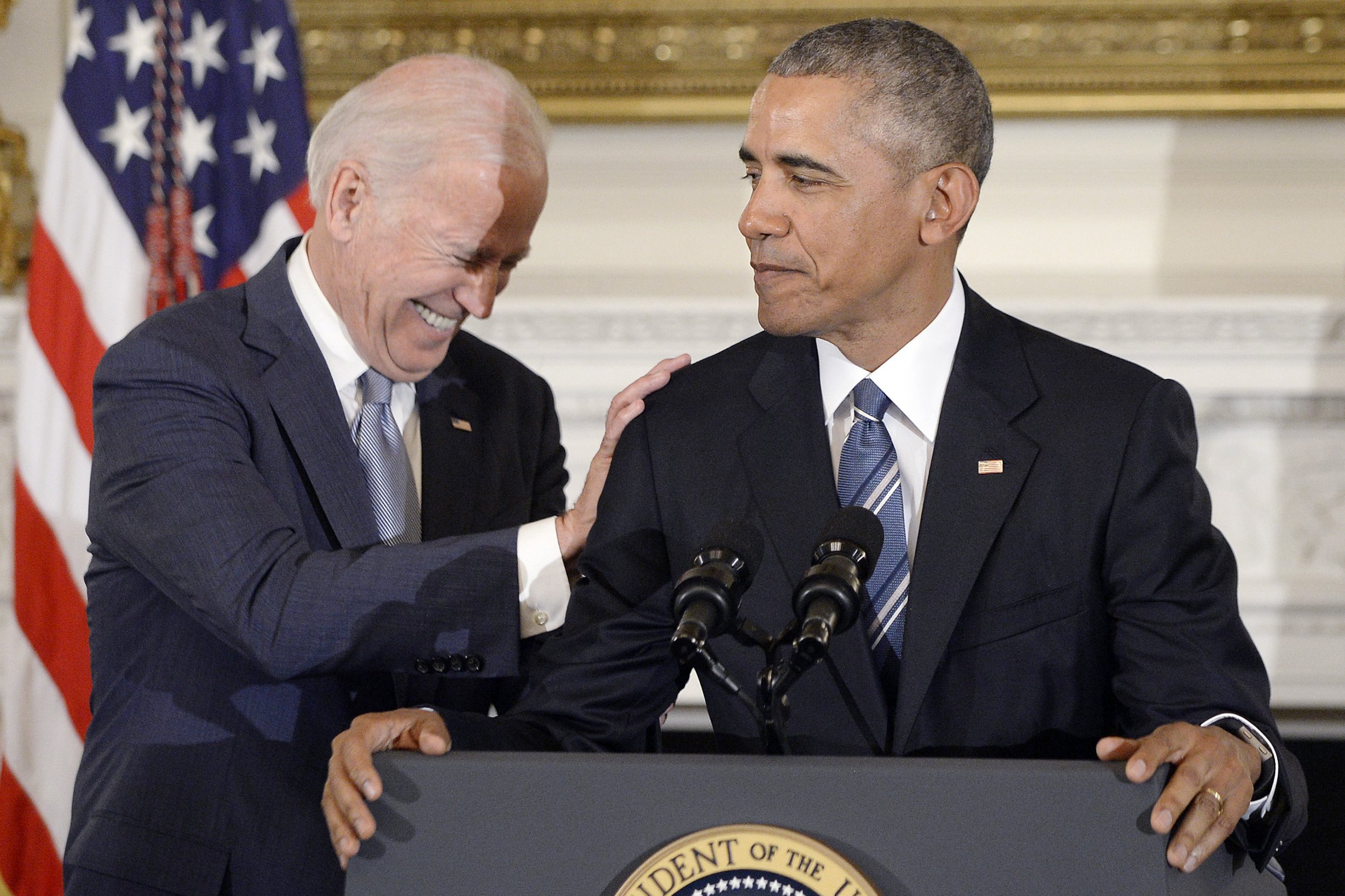 President Donald Trump has used Twitter to great effect while a candidate and since assuming office, announcing policies and engaging directly with his support base.
But he has struggled to master a vital aspect of modern internet culture: memes. Many criticized the president earlier this year for tweeting memes that appeared to encourage violence against journalists and one that depicted him hitting a golf ball that knocks over Hillary Clinton.
Former President Barack Obama, it seems, has had a lot less trouble using the concept. Trump's predecessor marked the occasion of his former Vice President Joe Biden's 75th birthday on Monday by giving the people what they wanted: his own version of an Obama-Biden meme.
The meme has been liked 1.3 million times and retweeted 363,000 times since he posted it Monday afternoon.
Obama and Biden's close relationship was the subject of frequent internet humor during their eight years in office together. The pair were often captured on camera embracing, looking longingly at one another and generally being the best of friends and people made the photos go viral with the addition of captions that usually made Biden out to be a bit of a joker and Obama his long-suffering compadre.
Read more: Biden says the memes about him and Obama are "all true"
Biden's daughter Ashley told Moneyish earlier in 2017 that her dad had "sat there for an hour and laughed" when she had told him of the viral fame achieved by his and Obama's relationship.
She also said that Biden's favorite meme was an image of the pair congratulating each other on the 2012 election night, while their wives share a similar moment nearby. Biden himself, however, recently told NBC News that his favorite among the memes were those that referred to the former vice-president hiding a fake copy of Obama's birth certificate in the Oval Office for Trump to discover. (Trump was a major proponent of birtherism, a conspiracy theory that maintained that Obama was not born in the United States.)
Obama's tweet on Monday reciprocated a similar message shared by Biden from his official vice president's Twitter account in 2016. Biden shared an image of two intertwined friendship bracelets, one bearing the name "Joe" and the other "Barack."
"Happy 55th, Barack! A brother to me, a best friend forever," Biden tweeted.
In contrast to the jovial nature of the pair's memes, Trump has often used photos and gifs to mock his political opponents—including Obama—or to denigrate media outlets that he considers publish so-called fake news.
The president came in for criticism in August for retweeting a meme that showed a train emblazoned with the word TRUMP hitting a person who had the CNN logo superimposed on their head. The meme was accompanied by the tagline: "Fake news can't stop the Trump train." The retweet was later deleted from Trump's account.
Trump's retweet came days after clashes between white supremacist marchers and counter-protesters in Charlottesville—where one woman, Heather Heyer, died after a man drive a car into a crowd of people protesting the "Unite the Right" rally.
Trump tweeted a similar meme in July, showing Trump bodyslamming someone during an appearance on WWE. The victim also had the CNN logo pasted over their head.
Obama has not been spared the wrath of Trump's memes. Days after the total solar eclipse in the United States—which Trump had looked at without glasses, against widely distributed safety advice—the president retweeted an old meme that showed a four-photo image of Obama being gradually covered by a smiling image of Trump.