'Obi-Wan Kenobi' Ending Explained: Did the Jedi Master Beat Darth Vader?
Obi-Wan Kenobi came to its epic conclusion on Wednesday, June 22 which featured the long-awaited "rematch of the century" between the eponymous Jedi Master and his former padawan.
The Disney+ show's penultimate episode left many unanswered questions, which were addressed in the final episode.
Here is everything you need to know about what happened in the finale of Obi-Wan Kenobi.
Did Obi-Wan Kenobi Beat Darth Vader?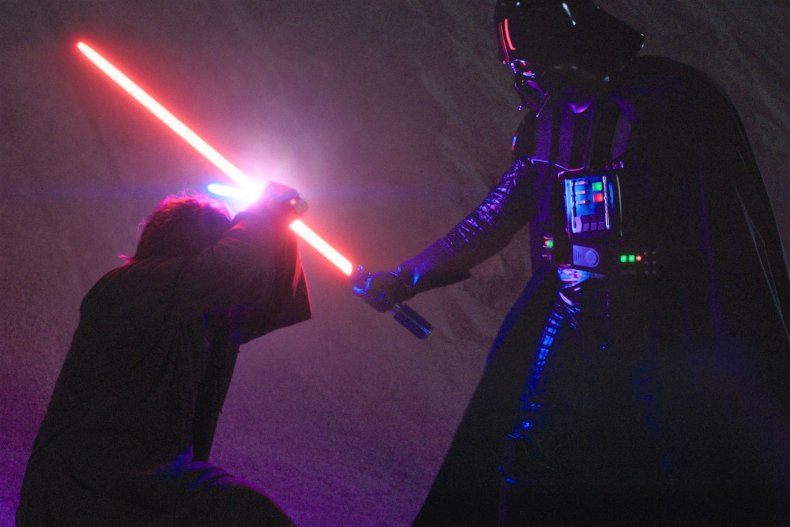 The moment Star Wars fans have all been waiting for is the "rematch of the century" that Lucasfilm President Kathleen Kennedy teased when discussing the show in December 2020.
The fight between Obi-Wan and Darth Vader (formerly Anakin Skywalker) certainly didn't disappoint as the pair went head to head in the finale.
In order to draw the iconic villain away from Princess Leia (Vivien Lyra Blair) and the others by taking an escape pod and drawing him to a nearby planet where they fought one on one.
While Obi-Wan held his own, Vader appeared to be too strong for him at first, and the Jedi Master was eventually bested and buried under rocks, with the villain leaving him for dead.
But the thought of protecting Luke and Leia compelled Obi-Wan to use his power to escape his prison, and he fought his former friend once more.
The pair's battle took a different turn this time as Obi-Wan was able to best Darth Vader, and after damaging his helmet so that he could look Anakin in the eye, the Jedi apologized for what he did to him.
However, Obi-Wan soon realized it was too late, Anakin was too far gone to be saved, and he left him behind.
Was Princess Leia Able to Get Home?
After being kidnapped in the first episode Princess Leia has had a long journey home, which finally ended in the show's finale.
Thanks to Obi-Wan diverting Vader's attention away from her and the group of survivors she was traveling with, Leia was able to return home to Alderaan.
What Happened to Reva?
Reva (Moses Ingram) went after Luke after learning of his location on Tatooine in the previous episode, and she was determined to kill the boy to get her revenge.
After fighting off Owen and Beru Lars (Joel Edgerton and Bonnie Piesse), Reva chased Luke into the desert and made to kill him, but the memory of what Anakin had done to her and her friends as Younglings stopped her from doing so.
Reva chose not to go down the same path as her attacker, and she returned Luke to Owen and Beru before talking with Obi-Wan.
In the end, Reva chose to walk away from the Empire and the Dark Side by giving up her Inquisitor lightsaber.
Who Made a Cameo in the 'Obi-Wan Kenobi' Finale?
There were two big cameos in Obi-Wan Kenobi, the first was Ian McDiarmid who returned as Emperor Palpatine for a scene with Darth Vader.
In the tense interaction, Palpatine questioned Vader's desire to search the galaxy for his former Jedi Master, but the villain assured him he only served him.
The second cameo came at the very end of the episode after being teased since the start of the show: Liam Neeson returned as Qui-Gon Jinn.
Obi-Wan's Jedi Master famously died in The Phantom Menace during a fight against Darth Maul, and Obi-Wan has been talking to his Force Ghost all season long in the hope of getting advice but to no avail.
In the closing moments of the finale, that changed as Obi-Wan saw Qui-Gon's Force Ghost while heading out into the desert. The Jedi Master told him that he'd always been there, but Obi-Wan was just not ready to see him.
Obi-Wan Kenobi is available to watch in full on Disney+ now.