Ocasio-Cortez Says There Might Be Grounds for Impeaching Clarence Thomas
Supreme Court Justice Clarence Thomas' actions regarding the January 6, 2021, Capitol riot investigations could warrant impeachment, Representative Alexandria Ocasio-Cortez said.
In a statement posted on Twitter on Tuesday, Ocasio-Cortez addressed the controversy surrounding Thomas regarding the investigations.
"Clarence Thomas should resign," the New York Democrat wrote. "If not, his failure to disclose income from right-wing organizations, recuse himself from matters involving his wife, and his vote to block the Jan 6th commission from key information must be investigated and could serve as grounds for impeachment."
Thomas was the lone dissenter when the court ruled not to block release of former President Donald Trump's White House documents from the National Archives to the House Jan. 6 committee this year.
Thomas' wife, Virginia "Ginni" Thomas, supports election fraud conspiracies, which Ocasio-Cortez sees as a conflict of interest.
Ginni Thomas sent numerous text messages to Mark Meadows, Trump's chief of staff, between the 2020 presidential election and the riot. The texts were part of about 9,000 pages of documents—including 2,320 texts—Meadows turned over to the House committee.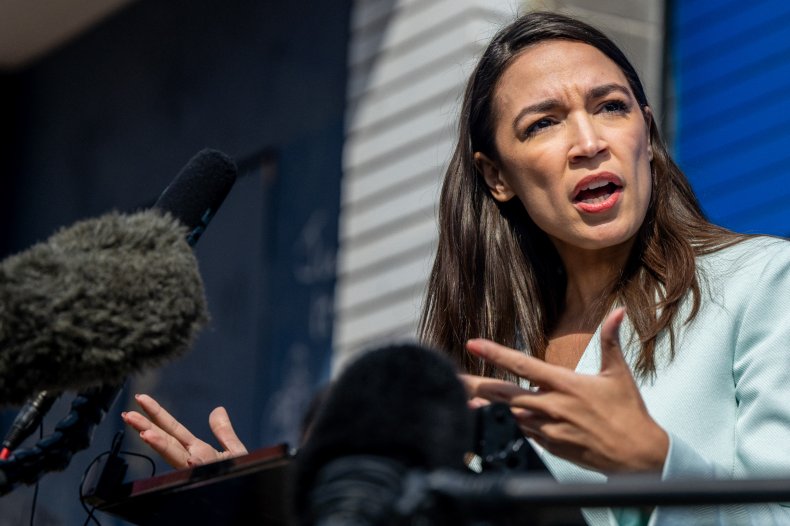 Illinois Senator Dick Durbin, a Democrat, told reporters that the justice needs to recuse himself from cases regarding the January 6 riot as it creates "an obvious conflict" due to his wife's support of overturning the 2020 presidential election. Many of the rallies that spawned the riot centered around the unproven conspiracy theory that the election was stolen from former President Donald Trump.
"The committee is focused on one thing: the Supreme Court vacancy," Durbin said, "and after that there are lots of things which we will discuss, but I am troubled, to say the least."
Minnesota Representative Ilhan Omar, a Democrat, said Thomas should be impeached over his recent controversies. In a recent quote-retweet made regarding his vote not to investigate the January 6 riot, Omar said, "Clarence Thomas needs to be impeached."
Omar's stance is shared by another Minnesota Democrat, Senator Amy Klobuchar, who told ABC News that the texts from Virginia Thomas make a "textbook case" for why the justice should be recused.
"You have the wife of a sitting Supreme Court justice advocating for an insurrection, advocating for overturning a legal election to the sitting president's chief of staff," Klobuchar said, "and she also knows this election, these cases, are going to come before her husband."
But Missouri Senator Josh Hawley, a Republican, said that calls for Thomas to recuse himself from January 6 cases are "misogynistic."
"She's an independent, adult woman," Hawley told CNN. "It just seems a little strange to me all of these calls for her husband to be what, like, minding her better? Frankly, I think it's kind of misogynistic."
Newsweek reached out to the Supreme Court and Ocasio-Cortez for comment but did not receive responses by publication time.
Update 3/29/22, 11:27 a.m. ET: This story has been updated with additional information.