Oklahoma's Abortion Ban Would Be Even Stricter Than Texas
The Oklahoma House voted on Tuesday to ban all abortions unless it is necessary for saving the pregnant woman's life.
In a 78-19 vote, the House sent HB 4327 to the Republican-controlled state Senate. If signed into law, it would surpass Texas' six-week abortion ban to become the most restrictive in the nation.
Like the Texas law, the bill would allow private citizens to pursue civil actions of up to $10,000 against doctors and others who aid a woman in obtaining an abortion.
But it goes further by prohibiting any physician in Oklahoma from performing or inducing an abortion at any stage of a pregnancy unless it is required "to save the life of the mother."
The bill states that anyone who is sued cannot say they believe the bill is "unconstitutional" to defend themselves in court.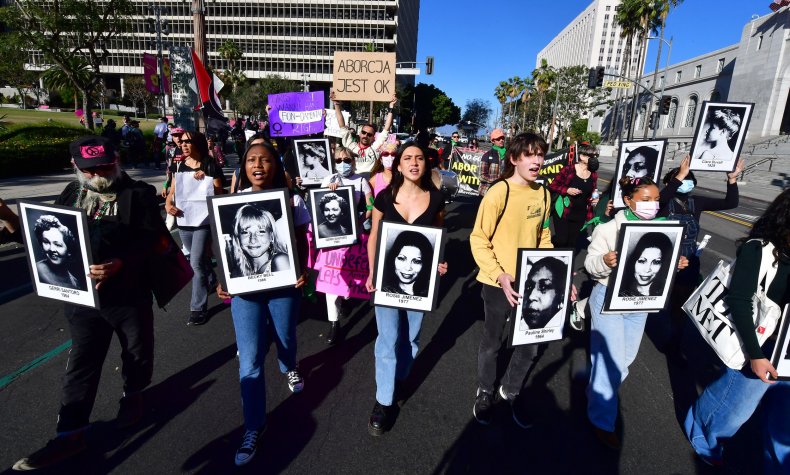 After Texas' abortion law was enacted in September last year, neighboring states including Oklahoma and Louisiana reported a massive influx of women from Texas seeking abortions.
Abortion providers in Oklahoma saw a nearly 2,500 percent increase in abortion patients with Texas zip codes compared to the previous year, according to the data released by Planned Parenthood last month.
"People who need abortion will be forced to flee their home state, attempt to end their pregnancies without medical support, and face state-created bounty hunters here at home," said Emily Wales, the interim president and CEO of Planned Parenthood Great Plains Votes.
"As we've seen during the crisis in Texas, bans do not eliminate the need for abortion, but that is not the point of bills like H.B. 4327. The proposed abortion ban is intended to shame, stigmatize, and create fear among vulnerable Oklahomans. At Planned Parenthood Great Plains Votes, we're not giving up without a fight."
Jessica Arons, senior policy counsel at the American Civil Liberties Union, added: "After seeing the devastation caused by Texas' draconian abortion ban, Oklahoma politicians have taken the unconscionable step of imposing an even harsher ban on pregnant people seeking this essential health care.
"No one should have to leave their home state to get the care they need. And for many, traveling to another state won't be an option, forcing them to continue their pregnancies against their will. Sadly, these attacks won't stop with Oklahoma."
It comes as the U.S. Supreme Court is considering whether to overturn its 1973 decision in Roe v. Wade, which legalized abortion nationwide. A ruling in a case where Mississippi is seeking to revive a 15-week abortion ban is expected by June.
Abortion could be illegal or severely restricted in about half of the country if the high court guts or overturns Roe, according to the Guttmacher Institute, a research organization that supports abortion rights.