Oklahoma Reports Highest Single-Day Increase in New Coronavirus Cases 4 Days Before Scheduled Trump Rally in Tulsa
Health officials in Oklahoma on Tuesday announced the state's highest single-day increase in new coronavirus cases since the virus was first confirmed in a state resident in March.
The 228 new cases reported by the Oklahoma State Department of Health bring the state's total case count to 8,645. To date, 363 Oklahoma residents have died after contracting the virus.
The record case increase comes just four days before President Donald Trump is expected to hold a campaign rally in Tulsa. State health officials have reported a steady rise in new cases since the end of May, about a month after Governor Kevin Stitt began lifting restrictions put in place to prevent the spread of the virus. In Tulsa County alone, the number of new cases nearly doubled between May 29 and June 11, and the total number of cases reported in the city account for about 14 percent of those confirmed statewide.
"The threat of COVID-19 still exists and we anticipate it to grow," the state health department said in a June 12 report. "The need to physically distance, wear a mask, wash hands often, and adhere to instructions to quarantine and isolate remain critically important."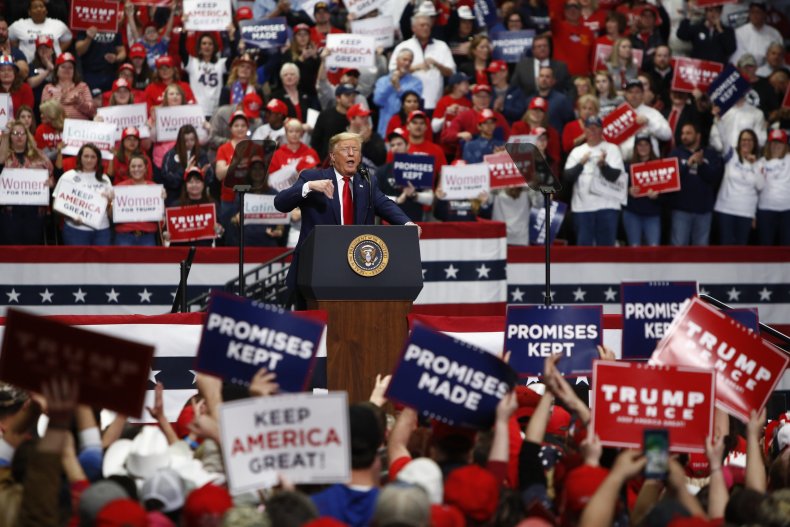 Trump's upcoming event, which will be his first re-election rally in months, is scheduled to take place at the Bank of Oklahoma Center on Saturday. Though the venue seats about 19,000 people, Trump's campaign manager, Brad Parscale, said in a Monday tweet the campaign has received more than one million ticket requests. Parscale said all attendees will get a mask, hand sanitizer and a temperature check at the door, but CNN reported neither social distancing nor the wearing of facial coverings will be enforced.
The rally has attracted a mixture of support and criticism from Oklahoma's politicians, health officials and citizens. While the local Tulsa World's editorial board spoke out against the rally earlier this week, the event has received support from Stitt. Amid continued COVID-19 concerns, Stitt said Monday he was in the process of searching for an alternate outdoor venue in which the rally could be held, according to the Associated Press.
During an interview Tuesday with Fox News, Vice President Mike Pence confirmed the campaign was exploring other venue options and said the public would be informed if any changes were made to rally plans in the upcoming days. Though Pence confirmed Parscale's statement on Twitter about the virus precautions that will be in place at the event entrance, he said Oklahoma's reopening process was a significant factor in deciding the rally's location.
"One of the reasons we chose Oklahoma is because Oklahoma has done such a remarkable job in reopening their state," Pence told Fox News.
Meanwhile, Tulsa Mayor G.T. Bynum has thus far struck a careful balance while addressing the rally and the safety precautions that will be in place for its attendees. In a Facebook post Tuesday, Bynum said he "will not attempt to block" the rally but encouraged those who feel sick to stay home.
"As someone who is cautious by nature, I don't like to be the first to try anything," he wrote of hosting the campaign's first rally in months. "I would have loved some other city to have proven the safety of such an event already."
In spite of the state's continued reopening efforts, a model created by researchers at Georgia Tech indicated a large event on the scale of Saturday's scheduled rally has nearly a 100 percent chance of at least one infected person attending, thus risking exposure to thousands of others.
Bruce Dart, the director of the Tulsa Health Department, told Tulsa World last week he was concerned about the recent upticks in new cases and said the timing of Trump's rally was not ideal.
"I think it's an honor for Tulsa to have a sitting president want to come and visit our community, but not during a pandemic," Dart told the paper.
Trump's campaign did not respond to Newsweek's request for comment in time for publication.