Oli London Slams Bill Maher for 'Belittling' Him Over Penis Reduction Plan
"Transracial" influencer Oli London has accused Bill Maher of "belittling" him over his plan to undergo penis reduction surgery.
London, who was born white and British, revealed to Newsweek in January that he has looked into the surgery as part of his quest to make himself "100 percent Korean." He also identifies as non-binary, using the pronouns they/them as well as he/him.
The Newsweek interview caught the attention of Maher, who discussed it during the New Rules segment of HBO's Real Time with Bill Maher on February 4.
"Am I supposed to celebrate him for living his truth, or hate him for cultural appropriation?" Maher quipped, drawing laughs from the studio audience.
The 66-year-old comedian went on: "I don't know the exact definition of identity crisis, but pretty close has got to be when you're lying on an operating table with your d*** out saying, 'Just take a little off the top.'"
London, 32, has spent an estimated $250,000 on 20 cosmetic procedures over eight years in an attempt to appear Korean. He has now hit back at Maher, saying his identity "should not be seen as a joke or something to be mocked."
"I did not choose to be born in the wrong country or wrong body and I did not choose to struggle with my identity or be mocked for what Maher calls 'an identity crisis," London, who wants to resemble BTS singer Jimin, told Newsweek.
"My identity should not be seen as a joke or something to be mocked," he went on. "I have always enjoyed watching Bill Maher's show and appreciate his sense of humour and how opinionated he is, and I always believe that everyone is entitled to their own opinions.
"However, I felt that Bill Maher's jokes about me and my recent announcement [about] my Korean penis surgery were belittling and I didn't find it funny to be a punching bag for millions of people to laugh at me, for the simple fact that I identify as Korean and want every single inch of me to be Korean."
He continued: "Yes, it may sound crazy that I will have my penis operated on and make it look cute and Korean, but it's something that I feel is important as part of my transition. You wouldn't mock a trans person for changing their body, so why mock me?"
Aligning himself with Rachel Dolezal—who was revealed to be a white woman identifying as Black—London said he was offering Maher an "olive branch" should he choose to educate himself on "transracialism."
"I hope that in the future he will better educate himself [with regards] to transracialism and the movement myself and Rachel Dolezal have worked hard to raise awareness for," London said. "I am offering him an olive branch and I firmly believe in the phrase, 'If you give an inch, they will take a mile.'"
Addressing the comedian directly, London concluded: "Bill, people like me should not be used for cheap jokes to boost ratings, I actually have feelings and I was hurt by your comments.
"Transracial people are real and we deserve to be supported and understood just like members of the transgender community, we should all be respected. Transracial people are valid!"
During his January interview with Newsweek, London revealed plans to undergo a full face and neck lift in Turkey later this month, as well as the penis reduction surgery.
He said: "I don't want people to get offended by this, but in Korea, [the average] penis is like 3.5 inches, and I get trolled all the time. People say, 'Oh, you can't be Korean. You're not 100 percent Korean,' and I just want to be 100 percent Korean."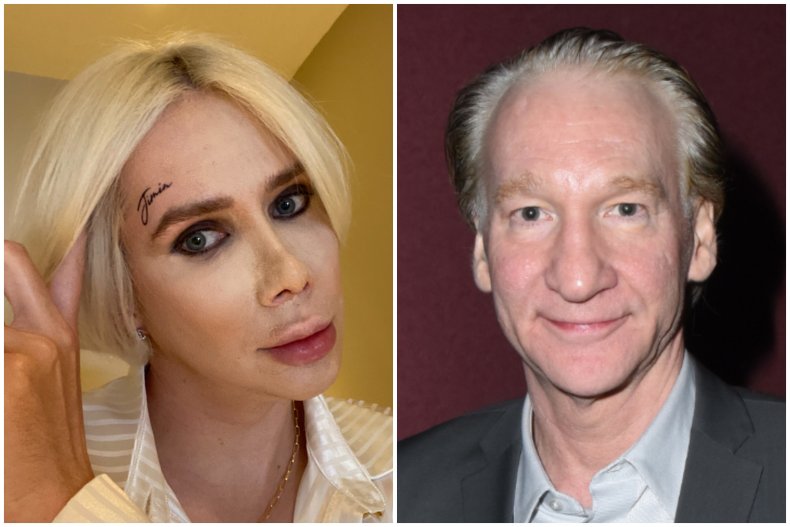 "I would even have a penis reduction so I'm, like, the Korean average," he added. "That's how far I'm willing to go. I can have it done in Thailand, and it will cost between $6,000 and $8,000. Thailand's cheaper. And to be honest, they do specialize in those kind of things in Thailand, because they have a lot of sex changes and stuff.
"It's very rare, because most people will get a penis enlargement. I know it does sound weird. I just want to be 100 percent Korean. My entire face will be Korean, I've done my chest. Like, what can I do next? I don't know.
"Like, my hands are too big... [It] just makes me feel closer to the country. I'm actually booked in for February 22. Then I'll be happy [with my looks]. The thing is, when I do surgery, I'm happy for like two months, and then I want more."
Although the prospect of undergoing such a procedure would be daunting to many, London insisted that he was not unnerved. "I don't get nervous about anything," he said. "Like, if it goes wrong, I'll just go get another surgery."
Read Oli London's full Newsweek interview here.