Olivia Wilde Addresses Florence Pugh Feud Claims and Harry Styles 'SpitGate'
Appearing on The Late Show with Stephen Colbert, Olivia Wilde has continued to deny that she is in a feud with Florence Pugh, who leads her new mystery-drama movie Don't Worry Darling.
The director, 38, dismissed "baseless" speculation about her and Pugh in Vanity Fair's October 2022 issue, which was published on September 8.
Olivia Wilde Addresses Florence Pugh Feud Claims and Harry Styles 'Spitgate'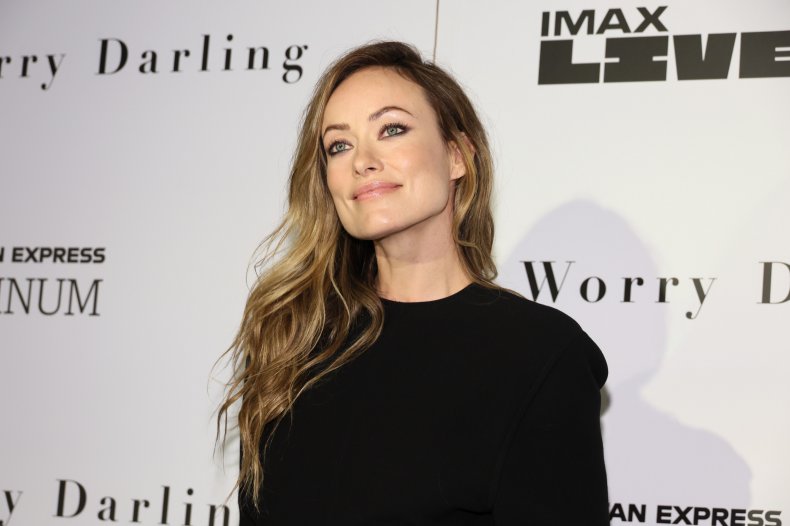 Don't Worry Darling and its cast became surrounded by controversy, even before the film had the chance to premiere at the Venice International Film Festival on September 6.
Prior to the film's release, reports alleged that Pugh, 26, opposed Wilde's relationship with her co-star Harry Styles, 28.
Wilde spoke out against these claims in her Vanity Fair interview, and she once again dispelled rumors while speaking with Stephen Colbert.
On the September 21 edition of his talk show, Wilde said: "I have nothing but respect for Florence's talent.
"She's fantastic. She's on the set of her movie Dune right now, and there's nothing cooler than a busy actress."
Reflecting on how a male director would not face such rumors about their cast, the Booksmart director said: "People would actually be talking about the movie itself.
"They're praised for being tyrannical. They can be investigated time and time again. It still doesn't overtake conversations of their actual talent or about the film themselves," Wilde said.
"This is something we've come to expect. It is just very different standards that are created for women and men in the world at large."
In her Vanity Fair interview, Wilde said Little Women star Pugh "did the job I hired her to do, and she did it exquisitely," adding: "She blew me away. Every day I was in awe of her, and we worked very well together.
"The idea that I had five seconds in the day to be distracted by anything is laughable. I was there before everyone. I was there after everyone. And it was a dream. It's not like this work was not enjoyable. It was just all-encompassing," Wilde added.
While on Colbert's show, Wilde also dismissed claims that Styles had spit on co-star Chris Pine, 42, at the Campari Passion for Film Award event at the Venice Film Festival, after a video appeared to show this.
The video, dubbed 'SpitGate' online, was called "ridiculous" by Pine's people, and Styles' representative has also denied the claims.
"This is a ridiculous story — a complete fabrication and the result of an odd online illusion that is clearly deceiving and allows for foolish speculation," Pine's representative told Variety in a statement.
"Just to be clear, Harry Styles did not spit on Chris Pine. There is nothing but respect between these two men, and any suggestion otherwise is a blatant attempt to create drama that simply does not exist."
Wilde said of the claims: "No, he did not. But I think it's a perfect example of, like, people will look for drama anywhere they can. Harry did not spit on Chris, in fact."
When Colbert replied that "only time will tell," Wilde laughed and said that Styles "really didn't" spit on Pine.
Newsweek has contacted Wilde's representatives for further comment.
Don't Worry Darling is released in theaters on Friday.