Harry Styles 'Spitgate' Rages On Despite Chris Pine Rep's Denial
Chris Pine's representative has denied that Harry Styles spat on his co-star at the premiere of their movie Don't Worry Darling. But the "Spitgate" speculation shows no signs of slowing down.
The internet blew up on Tuesday when a reporter thought he'd spotted the former One Direction star hurling saliva at Pine at the Venice film festival—in just one of the strands of the drama surrounding Olivia Wilde's film.
The two men were seated next to each other at the Venice screening and a debate erupted when journalist Matt Ramos questioned whether Styles spat on Pine as he took his seat.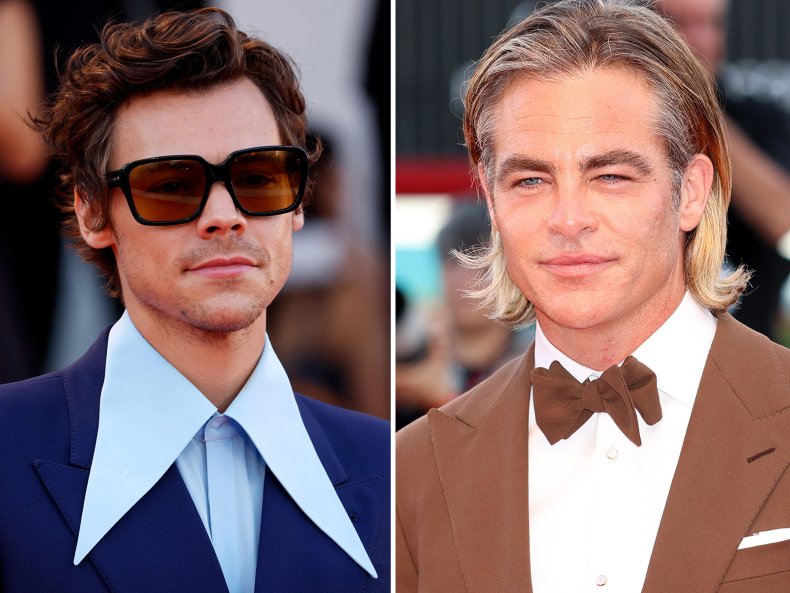 Ramos posted a clip of the moment on Twitter, prompting a storm of fan arguments and memes.
The video showed Styles, 28, leaning in Pine's direction as he sat down. As his head hovered over the Star Trek actor, something in Pine's lap seemed to get the actor's attention.
Pine, 42, started laughing in disbelief, but some social media commenters argued that he was amused because he was looking for his sunglasses, forgetting that he'd placed them on his lap seconds earlier.
The actor's rep described "Spitgate" as a "ridiculous story," saying the co-stars had deep respect for each other.
"This is a ridiculous story — a complete fabrication and the result of an odd online illusion that is clearly deceiving and allows for foolish speculation," Pine's rep told Variety in a statement.
"Just to be clear, Harry Styles did not spit on Chris Pine. There is nothing but respect between these two men and any suggestion otherwise is a blatant attempt to create drama that simply does not exist."
The bizarre incident was just one of many tense moments at the Don't Worry Darling premiere after months of speculation over the reported feud between Wilde and the film's lead actress Florence Pugh.
Wilde's second film as director, following 2019's Booksmart, was announced in April 2020 with an impressive cast including Pugh, Shia LaBeouf, Pine and Gemma Chan.
LaBeouf was later replaced by Styles, with Warner Bros saying the actor had to step down because of scheduling conflicts.
During filming, Wilde and Styles struck up a romance, which reportedly annoyed Pugh because Wilde was very distracted with her new beau.
Other reports from the set suggested many people felt uncomfortable with the romance because Wilde's partner, Jason Sudeikis, and their two children had visited early in the shoot.
Although Wilde and Pugh have publicly praised each other, people started questioning their relationship when Pugh did not do any press for the film in August.
She also expressed discomfort with how Don't Worry Darling was being promoted, telling Harper's Bazaar: "When it's reduced to your sex scenes, or to watch the most famous man in the world go down on someone, it's not why we do it. It's not why I'm in this industry."
The situation got really awkward last month, however, when Wilde told Variety she had fired LaBeouf.
"His process was not conducive to the ethos that I demand in my productions. He has a process that, in some ways, seems to require a combative energy, and I don't personally believe that is conducive to the best performances," she said.
"I believe that creating a safe, trusting environment is the best way to get people to do their best work. Ultimately, my responsibility is to the production and to the cast to protect them. That was my job."
LaBeouf disputed her account, however, telling the publication he had "quit the film due to lack of rehearsal time."
He had proof too: sharing a video message Wilde had sent him, in which she begged him to rejoin the cast and dubbed Pugh "Miss Flo."
"I feel like I'm not ready to give up on this yet, and I, too, am heartbroken and I want to figure this out. You know, I think this might be a bit of a wake-up call for Miss Flo, and I want to know if you're open to giving this a shot with me, with us," Wilde said in the video.
The seemingly dismissive reference to "Miss Flo" served to bolster rumors of a feud between the two women.
When the Don't Worry Darling cast arrived in Venice for the press conference and premiere, their actions were closely scrutinized for signs of discord.
Styles and Wilde's relationship was also under the microscope after the couple arrived separately in Venice.
Pugh did not take part in the press conference, with Wilde saying it conflicted with Pugh filming Dune: Part Two in Budapest. However, the actress was photographed arriving in Venice while the junket was still taking place.
The director was questioned about the rumors about their relationship during the press conference.
"I can't say enough how honored I am to have her as our lead," Wilde responded.
"She's amazing in the film and as for all the endless tabloid gossip and all the noise out there, I mean, the internet feeds itself. I don't feel the need to contribute, I think it's sufficiently well nourished."
A moderator also shut down a question about LaBeouf.
Later on the red carpet, Wilde and Pugh did not interact and Styles was not photographed next to his girlfriend.
Pugh seemed to give a veiled answer about Wilde when she was asked on the red carpet what she found "inspiring" about the film.
"I think it's very, very inspiring to see a woman push back and say 'No' and question everything," she replied. "It's very exciting to see a woman do that on and off camera."
A number of clips of Pine at the press conference also went viral, as he appeared to zone out while Styles discussed the film.
Don't Worry Darling is released in theaters on September 23.