A Timeline of the 'Don't Worry Darling' Controversies and Scandals
Don't Worry Darling finally premiered this week at the Venice Film Festival after more than a year of controversy trailing the project. From feuds to secret romances between co-stars, and even spitting scandals, chaos has ensued for over two years.
Here's a complete timeline of the Don't Worry Darling drama:
April 24, 2020:
Don't Worry Darling, Olivia Wilde's second directorial project after 2019's Booksmart is announced with a stellar cast including Florence Pugh, Shia LaBeouf, Chris Pine, Gemma Chan and Wilde herself.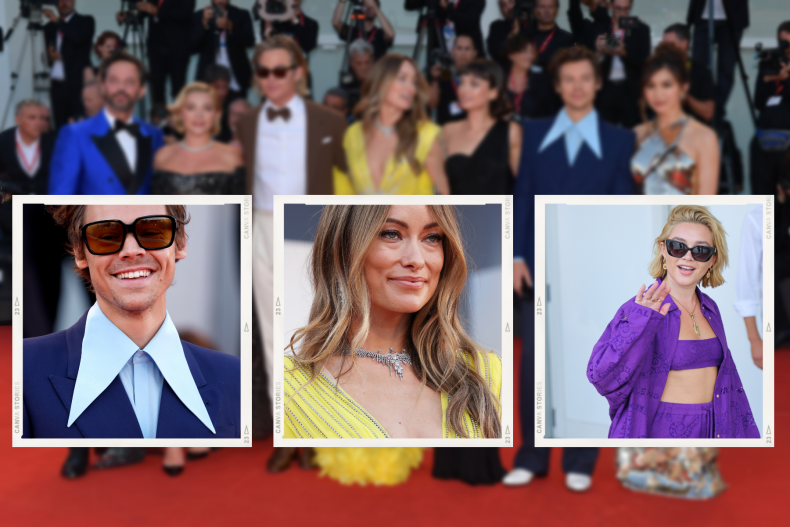 September 11, 2020:
Harry Styles is announced as a replacement for LaBeouf due to "scheduling conflicts" and filming begins shortly afterward. Wilde revealed that she was ecstatic that the former One Direction star joined the cast.
Wilde later said in the December 2020 issue of Vogue that she and Don't Worry Darling costume designer Arianne Phillips "did a little victory dance when we heard that we officially had Harry in the film, because we knew that he has a real appreciation for fashion and style."
November 2020:
Wilde and her longtime fiancé Jason Sudekis announce their separation.
They had been apart for a number of months at that stage and were co-parenting their children, eight-year-old son, Otis, and five-year-old daughter, Daisy.
December 2020:
LaBeouf's ex-girlfriend, singer FKA Twigs, filed a lawsuit against the actor, citing "relentless abuse" and sexual battery, according to The New York Times.
"It may be surprising to you to learn that I was in an emotionally and physically abusive relationship," Twigs tweeted at the time.
"It was hard for me to process too, during and after I never thought something like this would happen to me...which is why I have decided it's important for me to talk about it and try to help people understand that when you are under the coercive control of an abuser or in an intimate partner violent relationship leaving doesn't feel like a safe or achievable option," she said.
LaBeouf previously denied "each and every" assault allegation but recently said on Jon Bernthal's Real Ones podcast: "I hurt that woman," and described himself as "a pleasure-seeking, selfish, self-centered, dishonest, inconsiderate, fearful human being."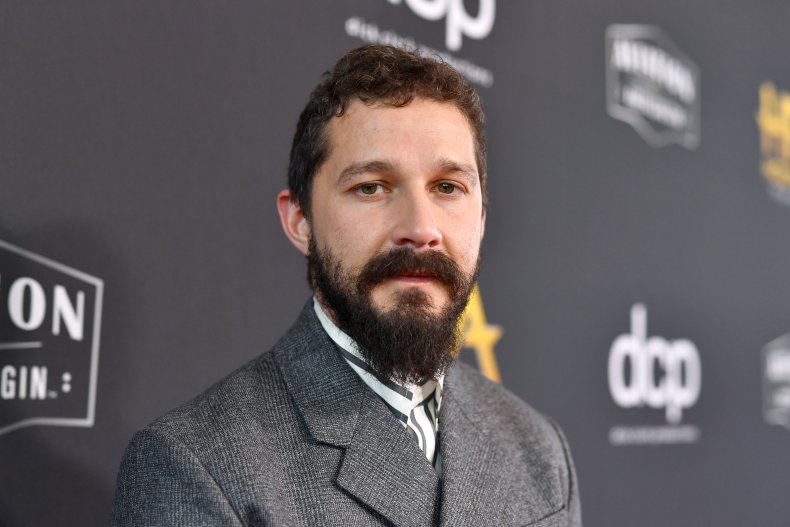 It is then reported that LaBeouf was actually fired from
Don't Worry Darling
, with
Variety
stating that he was "dropped from the film" due to "poor behavior."
Wilde's alleged "zero asshole policy" was also reported at this time in relation to LaBeouf's withdrawal from the project.
January 2021:
TMZ photos of Wild and Styles seemingly holding hands at a wedding go viral. People also reported that a blossoming romance is taking place between the pair.
"What started out as a close friendship quickly turned romantic," a source told the publication. "Everyone saw it coming. During breaks, he wasn't able to stay away and visited her trailer."
This news created a huge stir on social media and attracted more and more attention to the movie.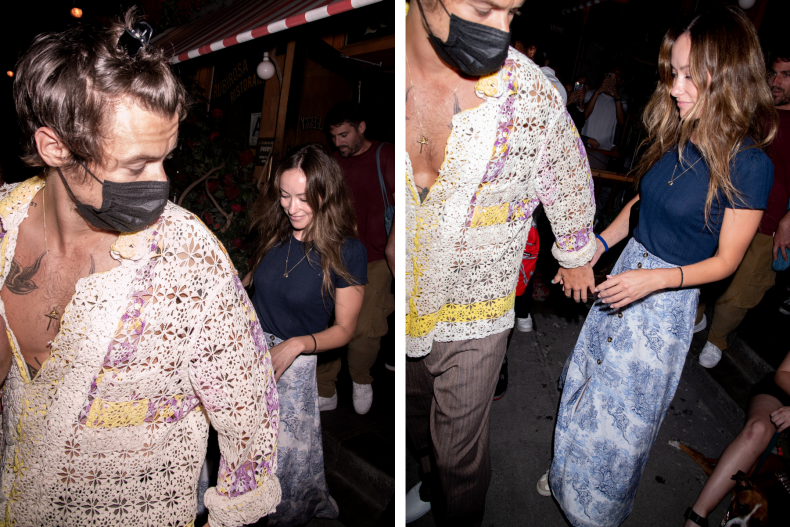 February 4, 2021:
Wilde discussed her "no a**hole policy" during an appearance on Variety's Directors on Directors series.
"The no a**hole policy, it puts everybody on the same level, she said. "I also noticed as an actress for years how the hierarchy of the set separated the actors from the crew in this very strange way that serves no one. I think actors would actually like to know more about, 'What's happening there when you're pulling my focus? What is that lens change?' But the idea of, don't bother the actors and keep them separate and don't look at them. I think it makes everyone quite anxious."
February 15, 2021:
Don't Worry Darling wraps filming and Wilde shares a photo on Instagram of the cast praising Styles' performance.
"Not only did he relish the opportunity to allow for the brilliant @florencepugh to hold center stage as our 'Alice', but he infused every scene with a nuanced sense of humanity. He didn't have to join our circus, but he jumped on board with humility and grace, and blew us away every day with his talent, warmth, and ability to drive backwards," she wrote.
July 5, 2021:
Photos of Wilde and Styles kissing on a yacht in Italy go viral.
In photos published by Page Six, the two were seen sunbathing, dancing and sipping wine in the Tuscan Monte Argentario region.
July 21, 2021:
Jason Sudeikis opened up about his ex-partner moving on with Styles and admitted he doesn't fully understand it.
"I'll have a better understanding of why in a year," he said in an interview with GQ. "And an even better one in two, and an even greater one in five, and it'll go from being, you know, a book of my life to becoming a chapter to a paragraph to a line to a word to a doodle."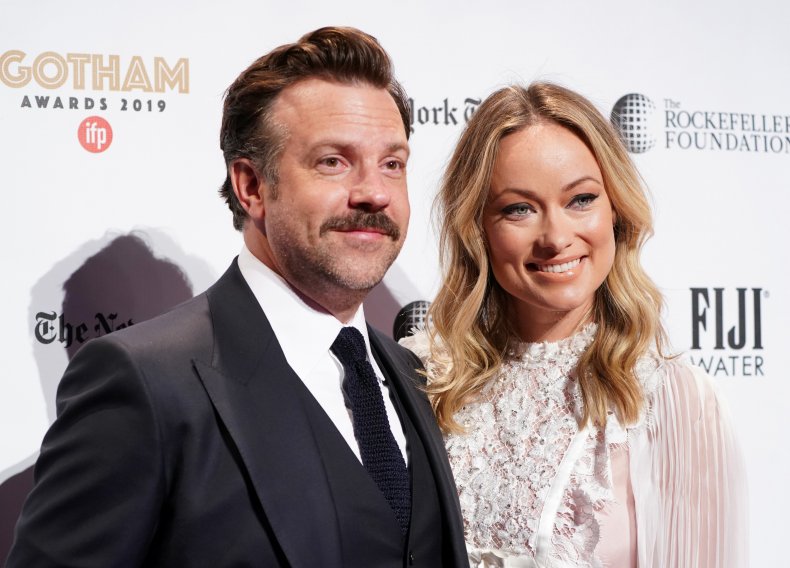 October 2021:
The Ted Lasso star brought a case against Wilde in New York City family court over their two children in October 2021.
December 2021:
Wilde appeared on the cover of Vogue and she discussed the film in the interview and how it focuses on "female pleasure."
"I kept saying, 'Why isn't there any good sex in film anymore?' " she explained, adding that one of her goals was for the audience to "realize how rarely they see female hunger, and specifically this type of female pleasure."
She also revealed that Styles was one of her first choices for the role of Jack before LaBeouf was initially cast.
April 27, 2022: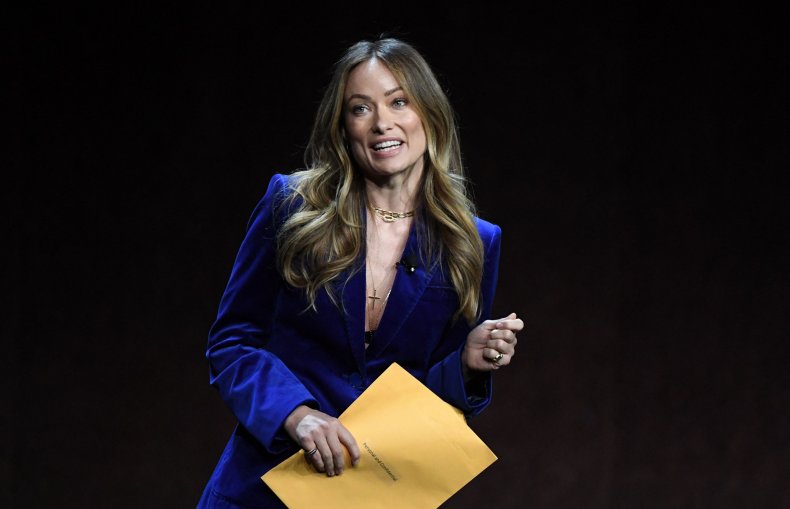 Wilde was served legal papers from Sudeikis while she was promoting Don't Worry Darling onstage at CinemaCon in Las Vegas. The papers pertained to their legal custody battle; Sudeikis had filed a petition in October 2021 asking that their kids be based in New York City. Wilde wanted the kids' home state to be California.
The trailer for the movie also debuted at the festival, prompting a huge discussion online about the sex scenes, which divided fans.
July 21, 2022:
Wilde praised Pugh on Instagram, writing: "Watching this woman work was such a f****** thrill! Cannot wait to show you more. @florencepugh @dontworrydarling."
August 11, 2022:
Pugh is noticeably absent from all Don't Worry Darling promo and fans notice that she did not interact with Wilde's social media posts about the movie. Rumors of their apparent feud go into overdrive.
Rumors about Styles being paid far more than his co-star Pugh also emerge and run rampant on social media.
August 12, 2022:
Wilde is reported to be furious at Sudeikis for serving her papers on stage.
In a court filing obtained by Daily Mail, Wilde said that Sudeikis used "outrageous legal tactics" and that "Jason's actions were clearly intended to threaten me and catch me off guard. He could have served me discreetly, but instead, he chose to serve me in the most aggressive manner possible."
Sudeikis said in a statement that he had "no prior knowledge" of the ambush and "would never condone her being served in such an inappropriate manner."
A judge later granted Wilde's petition and declared that their kids' home state is California.
August 16, 2022:
Pugh and her long-term boyfriend Zach Braff announced they split up.
The actress also seemed to express discomfort with how Don't Worry Darling was being promoted and told Harper's Bazaar: "When it's reduced to your sex scenes, or to watch the most famous man in the world go down on someone, it's not why we do it. It's not why I'm in this industry."
She added: "Obviously, the nature of hiring the most famous pop star in the world, you're going to have conversations like that. That's just not what I'm going to be discussing because [this movie is] bigger and better than that. And the people who made it are bigger and better than that."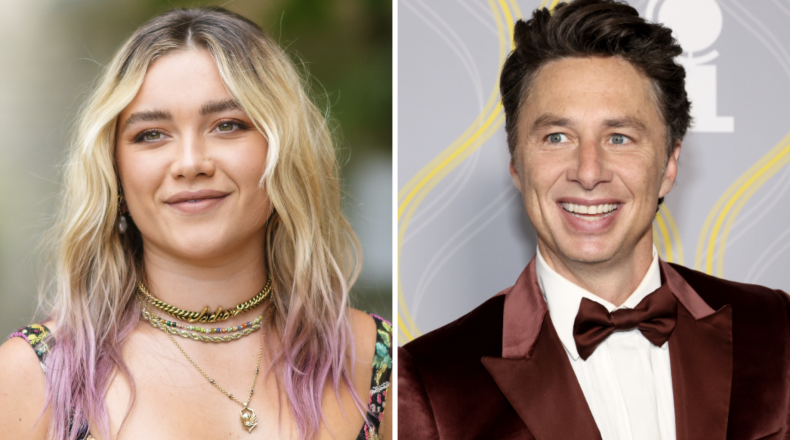 August 24, 2022:
Wilde takes part in a large feature with Variety, where she dismisses feud rumors.
"Tabloid media is a tool to pit women against one another and to shame them," she told the magazine, calling Pugh "the most exciting young actress working today."
She addressed rumors that Styles was paid three times more than Pugh as "clickbait."
"There has been a lot out there that I largely don't pay attention to. But the absurdity of invented clickbait and subsequent reaction regarding a nonexistent pay disparity between our lead and supporting actors really upset me," Wilde said.
In the interview, Wilde also said she fired LaBeouf from Don't Worry Darling.
"His process was not conducive to the ethos that I demand in my productions. He has a process that, in some ways, seems to require a combative energy, and I don't personally believe that is conducive to the best performances," she said. "I believe that creating a safe, trusting environment is the best way to get people to do their best work. Ultimately, my responsibility is to the production and to the cast to protect them. That was my job."
August 25, 2022:
A new trailer for Don't Worry Darling is released and Styles' accent is widely mocked online, sparking questions about his acting skills.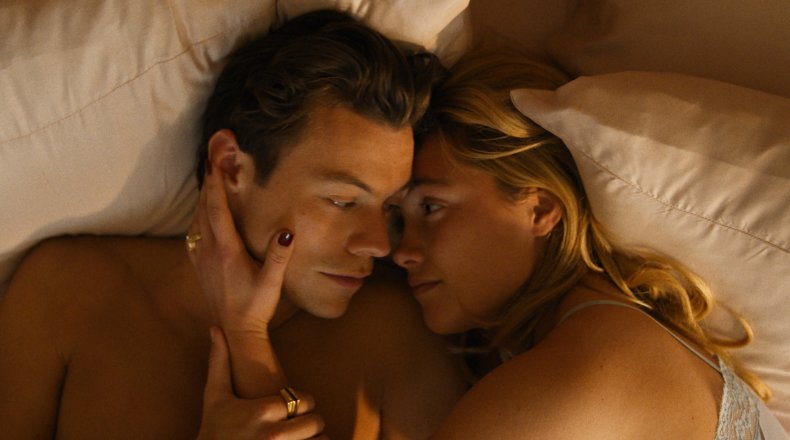 August 26, 2022:
LaBeouf disputed Wilde's claim that he was fired from the project, telling Variety that he "quit the film due to lack of rehearsal time."
He shared a message that Wilde allegedly sent him reading: "Thanks for letting me in on your thought process. I know that isn't fun. Doesn't feel good to say no to someone, and I respect your honesty. I'm honored you were willing to go there with me, for me to tell a story with you. I'm gutted because it could have been something special. I want to make clear how much it means to me that you trust me. That's a gift I'll take with me."
The actor then broke the internet by sharing a video Wilde sent him, asking him to remain on the project.
"I feel like I'm not ready to give up on this yet, and I, too, am heartbroken and I want to figure this out. You know, I think this might be a bit of a wake-up call for Miss Flo, and I want to know if you're open to giving this a shot with me, with us," Wilde says in the video.
Her referring to Pugh as "Miss Flo" served to bolster feud rumors between the two women.
LaBeouf also shared an email he wrote to Wilde asking her to set the record straight around whether he was fired or not:
"I know that you are beginning your press run for DWD and that the news of my firing is attractive clickbait, as I am still persona-non-grata and may remain as such for the rest of my life," he wrote. "But, speaking of my daughter, I often think about the news articles she will read when she is literate. And though I owe, and will owe for the rest of my life, I only owe for my actions."
He concluded the email: "Firing me never took place, Olivia. And while I fully understand the attractiveness of pushing that story because of the current social landscape, the social currency that brings. It is not the truth. So I am humbly asking, as a person with an eye toward making things right, that you correct the narrative as best you can. I hope none of this negatively effects [sic] you, and that your film is successful in all the ways you want it to be."
September 5, 2022:
Don't Worry Darling premiered at the Venice Film Festival and the actions of the cast were relentlessly scrutinized on social media.
Styles and Wilde's relationship was also under the microscope after the couple arrived separately at the events in Venice.
Pugh did not take part in the press conference with Wilde confirming she couldn't make it due to scheduling conflicts with filming Dune: Part Two in Budapest. However, the actress was photographed arriving in Venice while the junket was still taking place.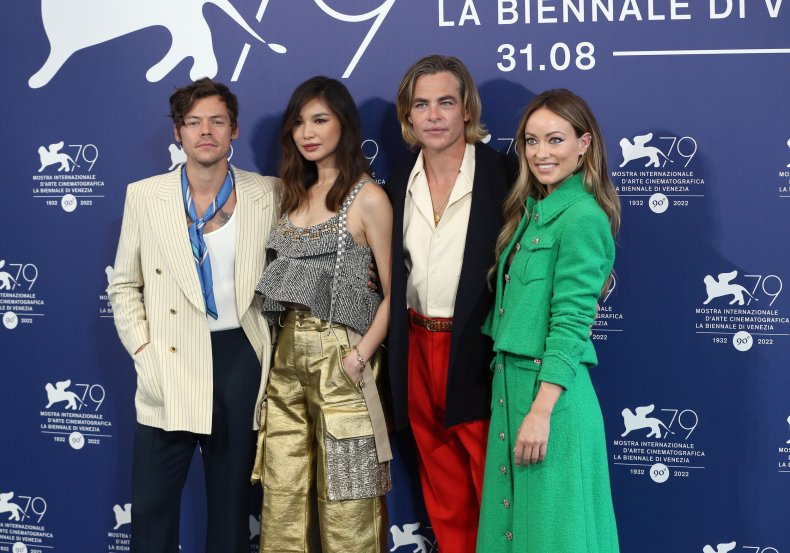 In the press conference, the director was questioned about the rumored feud between herself and Pugh.
"I can't say enough how honored I am to have her as our lead," Wilde responded. "She's amazing in the film and as for all the endless tabloid gossip and all the noise out there, I mean, the internet feeds itself. I don't feel the need to contribute, I think it's sufficiently well nourished."
Another reporter asked a question about the LaBeouf situation during the press conference but was shut down by a moderator, with an awkward few seconds of silence following.
While this was happening, Styles was seen laughing and seemingly pointing to someone in the audience.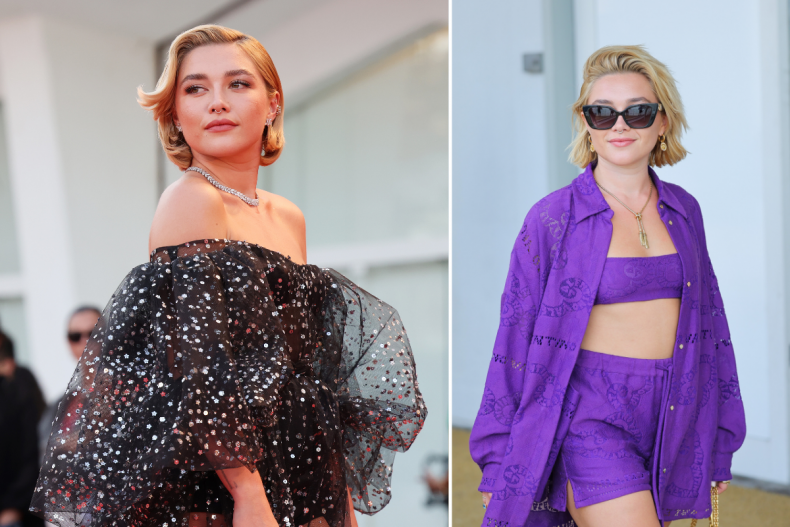 Later on the red carpet, Pugh and Wilde did not interact with each other—and Styles appeared to be avoiding interacting with his girlfriend, as well.
Pugh seemed to give a veiled answer about Wilde when she was asked a question about the movie on the red carpet and what she found "inspiring" about the film.
"I think it's very very inspiring to see a woman push back and say 'no,' and question everything" she replied. "It's very exciting to see a woman do that on and off camera."
Meanwhile, Pugh's stylist called the actor "Miss Flo" in an Instagram post that was an apparent dig at Wilde.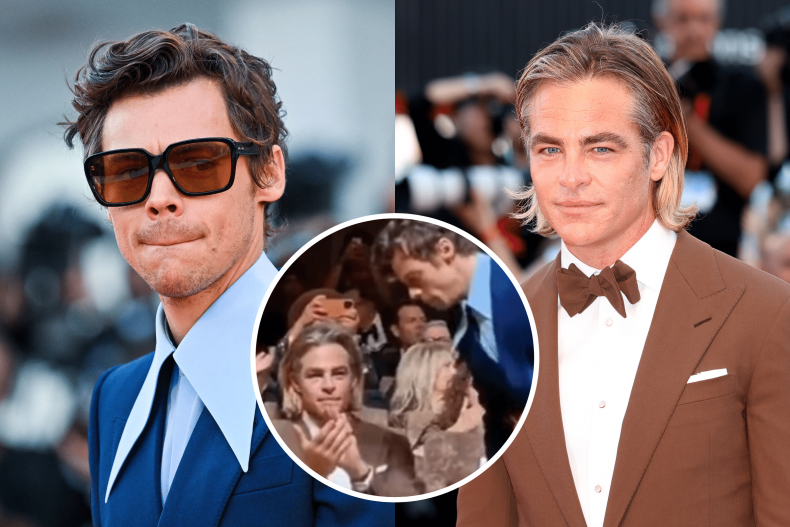 A number of clips of one of the movie's other stars Chris Pine also went viral, as he appeared to be zoning out while Styles discussed the film at their press conference. Amid the endless rumors of cast tension, video footage then emerged which some people think showed Styles "spitting" on Pine as he took his seat at the premiere.
Don't Worry Darling
is released in theaters on September 23.