Florence Pugh Confirms Zach Braff Breakup Amid Age Difference Controversy
Florence Pugh has confirmed she and Scrubs actor Zach Braff have ended their relationship.
Rumors have been circulating about the status of the couple after they'd endured years of comments and speculation surrounding their 21-year age gap. Now, during an interview with Harper's Bazaar, Pugh stated that they quietly ended their relationship earlier this year.
Neither Pugh, 26, or Braff, 47, have publicly addressed the split across social media or in the press until Pugh's most recent interview.
"We've been trying to do this separation without the world knowing, because it's been a relationship that everybody has an opinion on," Pugh said. The British actress recorded a lengthy statement on Instagram in 2020, defending the age difference between the two and telling people who commented on it that it's not their place.
She continued in Harper's Bazaar: "We just felt something like this would really do us the benefit of not having millions of people telling us how happy they are that we're not together. So we've done that. I automatically get a lumpy throat when I talk about it."
The former couple met on a short film project In the Time It Takes to Get There in 2019.
Before their breakup, they worked together on a feature film where once again Braff was the director and Pugh was an actor in it. A Good Person is written and directed by Braff, with both Pugh and Braff producing it. The movie also features Morgan Freeman and Molly Shannon, and is due out in March 2023.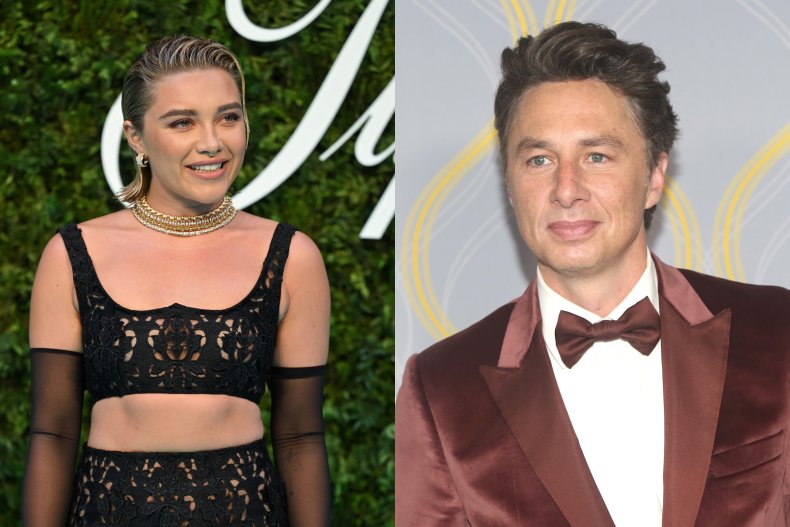 The movie was shot at the back end of 2021, and despite their following breakup, Pugh said she carries positive memories from the project. "The movie that we made together genuinely was probably one of my most favorite experiences. [...] It felt like a very natural and easy thing to do," she said.
Pugh is now a Marvel action hero, starring as Yelena in Black Widow, with plenty more notable projects coming up.
She'll star alongside Harry Styles in Olivia Wilde's movie Don't Worry Darling, which is due out on September 23, 2022. Once the trailer for the movie launched, the depiction of sex scenes were dissected online and divided fans.
"When it's reduced to your sex scenes, or to watch the most famous man in the world go down on someone, it's not why we do it. It's not why I'm in this industry," Pugh said.
Pugh will also star in Christopher Nolan's next movie Oppenheimer, and she's been cast in Denis Villeneuve's sequel Dune: Part II.
She also hit headlines recently for addressing the backlash to a see-through Valentino dress she wore. Celebrities praised her response as she called for more "respect" within the entertainment industry.