Olivia Wilde Backlash Leads to Accountability Outcry for David O. Russell
Academy Award-nominated director David O. Russell's upcoming film, Amsterdam, features features some of the biggest names in Hollywood and is all but guaranteed to be a box office success. However, some people are calling for the media to scrutinize Russell the way it did Don't Worry Darling's director Olivia Wilde.
Wilde's sophomore film featured allegations of a rift between her and star Florence Pugh, as well as Wilde telling an interviewer she fired Shia LaBeouf from the project, only for him to refute her claims. LaBeouf was replaced by music star Harry Styles, and Wilde reportedly began a relationship with the singer during filming. This led to rumors that the romance cause her breakup with her former fiancé Jason Sudeikis. And all of these things occurred before the film screening where many people alleged Styles spit on co-star Chris Pine. (Pine's representative denied the speculation.)
Some would argue that these mini-scandals pale in comparison to allegations made against Russell, though. The Academy Award-winning Silver Linings Playbook filmmaker has been accused of verbal abuse by more than one actor, as well as allegedly groping his niece in 2012.
"I hate whataboutism but it baffles me how Olivia Wilde gets torn to shreds and David O. Russell floats around the industry like this," Irish broadcaster Stephen Byrne tweeted this week in a post that included a clip of Russell with Amsterdam star Margot Robbie.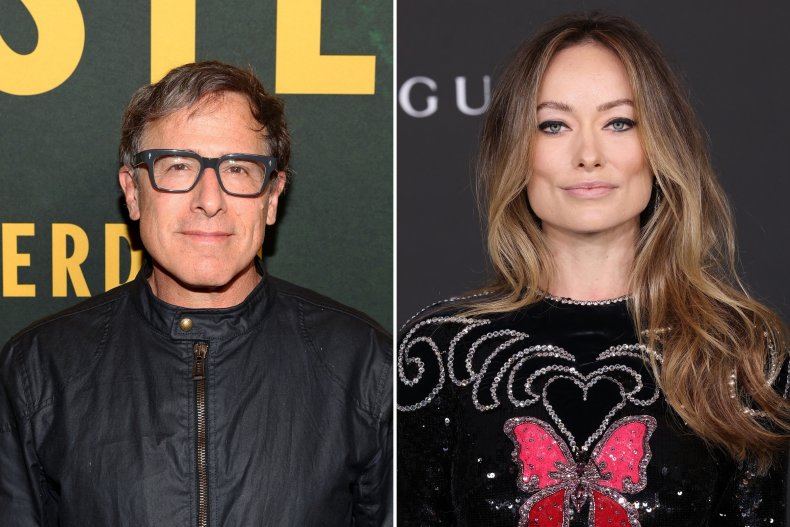 Amy Adams told GQ in 2016 that Russell treated her so harshly on the set of American Hustle that she cried during filming and returned home devastated most days. Years earlier, a video was widely circulated on the internet that showed Russell having a screaming fit at Lily Tomlin during the making of I Heart Huckabees.
Perhaps most notoriously, though, was an alleged physical altercation in 1999 on the set of Three Kings between Russell and George Clooney over the director's treatment of crew members.
Years later, Clooney told an interviewer of Russell: "Quite honestly, if he comes near me, I'll sock him right in the f**king mouth."
The way he's treated A-list talent in the past hasn't scared off other stars. Amsterdam alone boasts not only Robbie but Christian Bale, Robert De Niro, Rami Malek, Zoe Saldaña and Taylor Swift, among others.
This week, Kylie Cheung wrote in Jezebel of how the "constant rumor-mongering" surrounding Don't Worry Darling "prompted some (including Wilde herself) to speculate about whether a hypothetical male director accused of sexual misconduct would face even half the backlash she's faced."
"Turns out, that hypothetical is actually quite real!" Cheung wrote, before detailing the various allegations made against Russell, including the one involving the alleged sexual assault of his relative.
Russell's transgender niece, Nicole Peloquin, then 19, filed a police report in 2012 after she said he touched her inappropriately while working out in a Florida hotel gym. The Broward Sheriff's Office report about the incident showed that Peloqui told a deputy her uncle had been asking her about transitioning when he put his hands under her top "and felt both breasts."
The director told the deputy that Peloquin was "acting very provocative towards him" and asked "if he could help with ab exercises," according to the report. He also allegedly told the police that Peloquin is "always causing drama since the transgender transformation and has become very provocative and seductive."
Russell denied any wrongdoing after the incident.
Twitter users have now ignited a call to talk about Russell's past allegations in the wake of conversations about Wilde.
"I feel like David O Russell should be getting the scrutiny that Olivia Wilde has undeservedly been getting," read one tweet.
"Regardless of what actually happened on the set of DON'T WORRY DARLING, it's genuinely insane that this has received more media coverage than David O. Russell's mistreatment and verbal abuse of his female actresses on the sets of I HEART HUCKABEES and AMERICAN HUSTLE ever did," said another Twitter user.
Even still, some people argued that both directors could fairly be criticized.
"Yes, David O Russell is a piece of dirt who apparently [sic] still has clout, but why use that to implicate that olivia wilde is ok in comparison [sic]. Most of her cast has publicly disowned her. Two directors can be toxic in hollywood," read one such tweet.
Newsweek reached out to Russell for comment.