Will Omar Mateen's Orlando Nightclub Shooting Change the Gun Control Debate?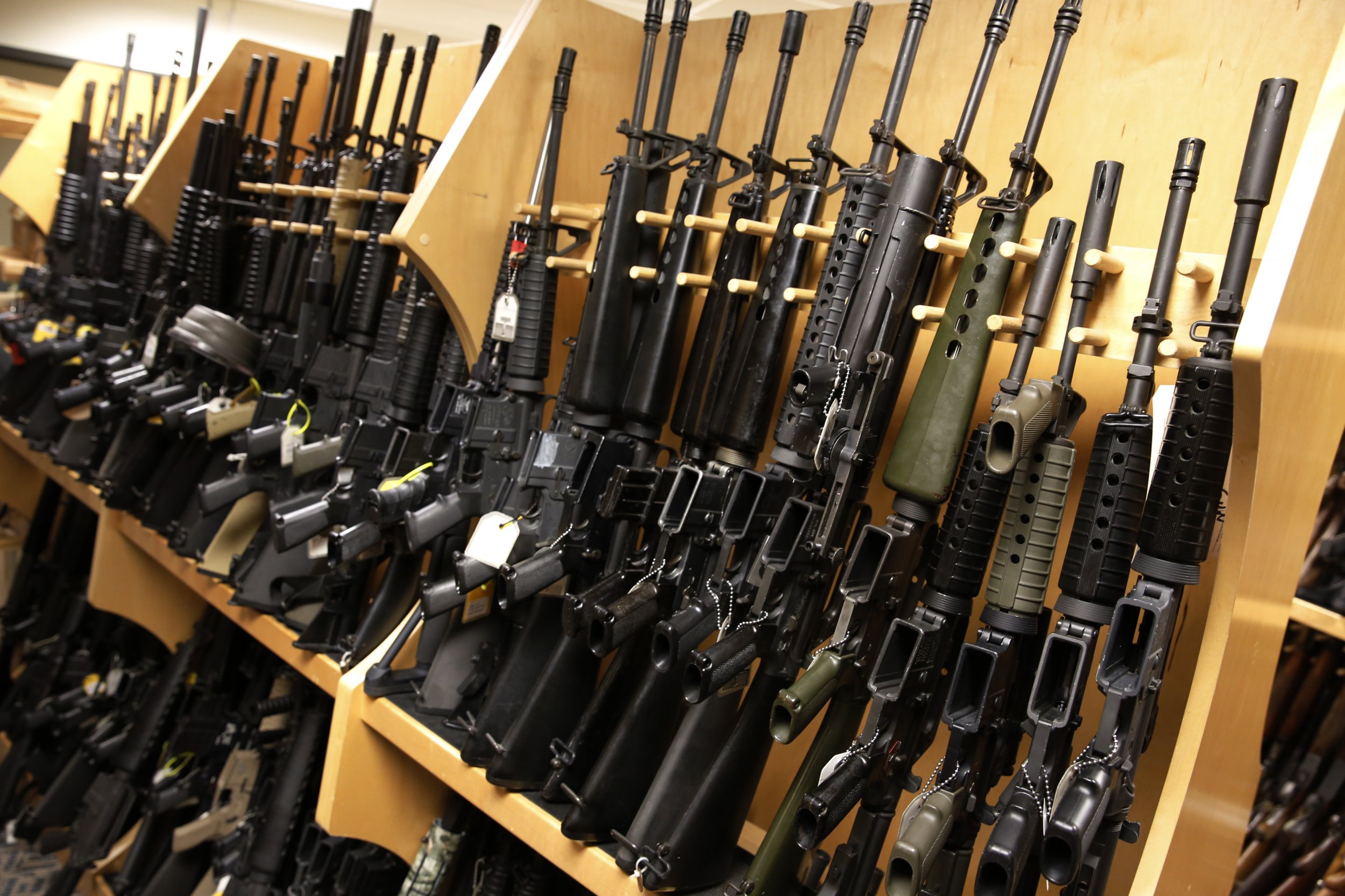 In the wake of the deadly massacre in Orlando, Florida, Senate Democrats once again are pushing for greater gun control. Wasting no time, they plan this week to reintroduce a bill that would ban the sale of a gun to a suspected terrorist as the first of several proposals for greater gun safety. But convincing lawmakers from across the aisle to join them will be a difficult task.
Democrats hope public revulsion over the Orlando shooting at a gay nightclub that left 49 people dead and more than 50 wounded will create new momentum for the opening measure, sponsored by California Democrat Dianne Feinstein. Last December, she introduced the bill in response to the killing of 14 people in San Bernardino, California, by a couple who said they were inspired by Islamic State militant group (ISIS). Feinstein's bill is intended to prohibit the legal purchase of a gun if the buyer is a known terrorist or "appropriately suspected" of terrorist activities. But it previously failed due to fierce opposition from the National Rifle Association and pro-gun Republicans.
FBI Director James Comey told reporters Monday that in 2013, federal agents twice questioned the accused Orlando killer, Omar Mateen, a U.S. citizen and the son of an Afghan immigrant, after co-workers reported he had told them he had connections to Al-Qaeda and wanted to die as a martyr. Comey said agents kept him under surveillance for 10 months, recording his phone calls and used confidential informants to determine if Mateen presented a threat. In the end, Comey said, the FBI determined Mateen wasn't and closed their investigation.
The bureau questioned Mateen a third time in 2014 because of his association with an American who had become a suicide bomber in the Middle East. Agents found no prosecutable evidence in that case either and were not watching Mateen at the time of Sunday's shooting. During the carnage at the nightclub, Mateen called 911 and declared his allegiance to ISIS leader Abu Bakr al-Baghdadi. He was later killed in a shootout with a police SWAT team.
Comey said the bureau is reviewing its investigation of Mateen. "We are also going to look hard at our own work to see whether there is something we should have done differently," he said. "So far, the honest answer is, I don't think so."
Democratic Senator Bill Nelson of Florida said Monday that the absence of any law that would have allowed the FBI to keep Mateen's case open after he had been investigated had left federal agents and local law enforcement handicapped. Had there been such a law, [when] "that fella [Mateen] then went in last week to purchase an AR-15 [assault rifle] and an automatic handgun, he would have come up on their radar scope," possibly preventing Sunday's attack, Nelson said during a conference call with reporters.
"These attacks are preventable," said Democratic Senator Charles Schumer of New York during the same call. "Mass shootings are the status quo because Congress has voted against sensible gun safety measures. It's that simple."
He added, "Are we going to take the painfully obvious common sense steps and make sure that terrorists can't get guns, or are we going to bow down to the NRA so that suspected terrorists can continue to get their hands on guns?"
Quoting official government figures, Feinstein noted that between February 2004 and December 2015, there were 2,265 occasions when known or suspected terrorists, including those on the U.S. government's no-fly list, passed a background check to buy guns. Calling the closing of this legal loophole a matter of "common sense," she said, "Without making this change, we're just asking people to come in this country and go out and buy guns."
The Democrats said that following the introduction of Feinstein's bill, they will unveil additional legislation in response to the Orlando killings, including a ban on assault rifles, tougher background checks, a measure that would ban gun sales to those with mental instability and another that would prevent those convicted of spousal abuse from purchasing weapons. On Monday, Democratic Senator Bob Casey of Pennsylvania introduced a bill that would ban gun sales to anyone who has committed a hate crime.
Republicans command 54 seats in the 100-member Senate, so it's unclear whether Feinstein's measure would win the 60 votes needed in a procedural vote to reach the floor for debate and a simple majority vote. Recent polls have shown an overwhelming majority of Americans support some form of gun control, so analysts suggest that the nation's revulsion over repeated mass shootings could cause some Republican lawmakers facing tough re-election bids to back the bill. But even if the measure passes the Senate, it would also have to clear the Republican-controlled House, where the bar for passage is much higher.
So far, most Republicans, including Donald Trump, the party's presumptive presidential nominee, have largely stayed away from defending gun rights in the wake of the Orlando shooting, focusing instead on the extremist Islamist ideology that inspired Mateen's massacre. But on Monday, Republican Senator Ron Johnson of Wisconsin, a Tea Party favorite, provided what may be a preview of his party's gun defense.
In an interview with CNN, Johnson began by telling anchor Wolf Blitzer it was radical Islam, not Mateen's assault rifle, that had produced the deadliest mass shooting in modern U.S. history. Johnson then added that U.S. law already banned fully automatic assault rifles and that the Orlando shootings should not cause the government to encroach further on citizens' constitutional right to bear arms.
A skeptical Blitzer asked Johnson to clarify the distinction he was making between a banned fully automatic assault rifle, which operates like a machine gun as long as the trigger is pressed, and the legal semi-automatic AR-15 assault rifle that was used in Sunday's shooting. That weapon fires one round with every squeeze of the trigger, with a maximum rate of fire of two rounds per second, or 120 rounds per minute.
"The AR-15 that was used in this terror attack, killing 49 people, you wouldn't describe that as an assault weapon?" Blitzer asked. "You're differentiating between that and a fully automatic assault weapon? Because that weapon certainly did kill a lot of people."
"So do bombs," Johnson replied. "There are other ways that terrorists can slaughter people. It's not law-abiding gun owners that are the problem here. It's Islamic terrorists."
Meanwhile, the Orlando shooting revived the debate between Republicans and Democrats over the use of the terms "Islamic terrorism" and "radical Islam" to describe the ideology behind the violence. Republicans, including Trump, have repeatedly called on President Barack Obama to use the latter term, which the president has refused to do, saying he doesn't want to give religious legitimacy to violent extremists. But on Monday, Hillary Clinton, the presumptive Democratic presidential nominee, broke ranks with Obama.
"From my perspective, it matters what we do, not what we say," she told NBC's Today show. "It matters that we got bin Laden, not what name we called him. But if [Trump] is somehow suggesting I don't call this for what it is, he hasn't been listening. I have clearly said we face terrorist enemies who use Islam to justify slaughtering people. We have to stop them, and we will. We have to defeat radical jihadist terrorism, and we will."
She added, "To me, radical jihadism, radical Islamism, I think they mean the same thing. I'm happy to say either."
Clinton's remarks on Monday represented a change in what she considered acceptable language to describe the extremists' threat. Until now, she used the term "radical jihadism" but eschewed "radical Islam" because she said it sounded like a condemnation of the entire religion.
In a tweet, Trump declared victory in the language battle. "I have been hitting Obama and Crooked Hillary hard on not using the term Radical Islamic Terror. Hillary just broke—said she would now use," he crowed.
Perhaps. Either way, Democrats may have a much more difficult time getting Republicans to break with the National Rifle Association on greater gun control.