Omarosa Tells Al Sharpton Trump Avoids Hiring Black People Except As Window Dressing
President Donald Trump avoids hiring black people and is definitely racist, former White House aide Omarosa Manigault Newman has said in her latest criticism of the administration.
Appearing in an interview with Rev. Al Sharpton on MSNBC's Politics Nation Sunday, the former Apprentice reality television star blasted Trump as racially divisive. Asked by host Sharpton whether the president is a racist, Manigault Newman responded immediately.
"Yes, Donald Trump is," she declared, Raw Story reported. "People ask me about when he was doing the birther movement, and I had a chance to talk to him about it. He said that was something the Clintons started in their campaign against Barack, that he was using it for political reasons."
Sharpton pointed out that the president's closest circle is "lily white," questioning Manigault Newman – who once claimed that all of Trump's detractors would be forced to "bow down" before him – about diversity at the White House.
"It's much worse than people even realize," she responded. "There are 30 assistants to the president right now and there are none representing the African-American community. In fact, when we submitted [African-American] candidates they were rejected over and over again. And I will tell you that they haven't even made an attempt to replace anyone to do the African-American outreach."
Manigault Newman was tasked with outreach to the African-American community during her one-year tenure as Director of Communications for the Office of Public Liaison, which officially end in January of this year. Her high-profile departure from the White House has drawn significant media attention and speculation, including claims that she was dragged away by security.
In recent weeks, the former loyal Trump supporter has appeared in numerous interviews to promote her new book Unhinged: An Insider's Account of the Trump White House, and to release a series of tapes and claims presenting the president and his administration in a negative light.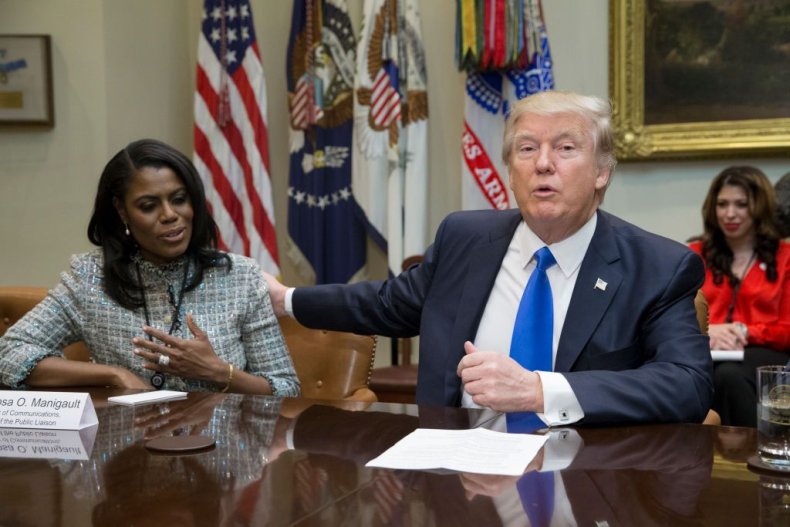 Among many other things included in her book, Manigault Newman wrote that Trump could punish his wife Melania by deporting her if she chose to divorce him.
"He is a vindictive man, and I would not put anything past him," she wrote.
On Thursday, The New York Times reported that the former aide may have as many as 200 secret tapes recording her time with at the White House and her interactions with individuals connected to the Trump administration. Thus far, she has released four, the latest of which appears to reveal Lara Trump, the wife of the president's son Eric, offering her $15,000 a month to join Trump's campaign team after she was fired.
Continuing her criticism of the president's racial policies in her Sunday interview, Manigault Newman said : "We have a lot to lose right now."
"I believe [Trump] wants to start a race war in this country," she added.