One in 50 Americans Has COVID in Some Areas—Before New Variants Have Taken Hold
As the U.S. struggles to contain the spread of COVID, experts have told Newsweek as many as one in 50 people may be infected with the virus in some parts of the country.
Their estimates come as a new, more infectious variant of COVID from the U.K., which was first identified in Colorado in late December, has emerged in a total of eight states: the Centennial State itself, Texas, Pennsylvania, Connecticut, California, Florida, New York, and Georgia. However, the variant is likely in more states than currently known, Dr. Anthony Fauci, director of the National Institute of Allergy and Infectious Diseases, told Newsweek on Tuesday.
The variant, named B.1.1.7, which appears to be more contagious but not more deadly than past forms of COVID, is believed to be partly to blame for the increased U.K. spread of the virus in recent weeks.
The U.K. is also dealing with a "highly concerning," even more infectious variant from South Africa, which Fauci told Newsweek is likely spreading in the U.S. undetected.
As he unveiled plans for a third national lockdown on Monday, British Prime Minister Boris Johnson said B.1.1.7 was 50 to 70 percent more contagious than previous forms of the virus. COVID deaths had spiked by over 20 percent in the past week, and hospitalizations were up 40 percent from the initial peak in April, he said.
Between 27 December to 2 January, an estimated 1 in 50 people in the U.K. had the coronavirus according to official figures released on Tuesday. England's chief medical officer Chris Whitty described the figure as "really very high."
What proportion of the U.S. population is infected with COVID?
Newsweek asked experts in infectious disease, epidemiology and modeling whether the U.S. is or would soon be at the point where one in 50 people was infected with COVID, and whether the new U.K. variant would be to blame.
Their estimates varied, but they said the proportion of the U.S population with COVID is in many ways comparable to the U.K., and due to people's behavior, the situation was bad regardless of the presence of B.1.1.7.
Asked whether he expected to see U.S. cases spike as fast as they did in the U.K. due to B.1.1.7, Fauci told Newsweek: "The United States already has a lot of problems with the surging of cases over the last several weeks."
He said: "It isn't a question of whether the United States cases will surge, they are surging. Whether or not that's due to the U.K. mutation [variant] we don't know."
According to the COVID Tracking Project, the U.S. and its territories broke the record for COVID cases reported in the pandemic in the first week of 2021, and reported the second-highest number of deaths. On Thursday, the U.S. hit a new high in fatalities, by reporting more than 4,000 COVID deaths for the first time.
Currently, both the U.K. and U.S. are among the countries worst-hit by COVID. The U.S. has reported the most COVID cases and deaths worldwide for months, at over 21.5 million cases and 365,000 deaths. The U.K. is currently the country with the fifth-highest number of COVID diagnoses and deaths, at 2.8 million and 78,600, respectively.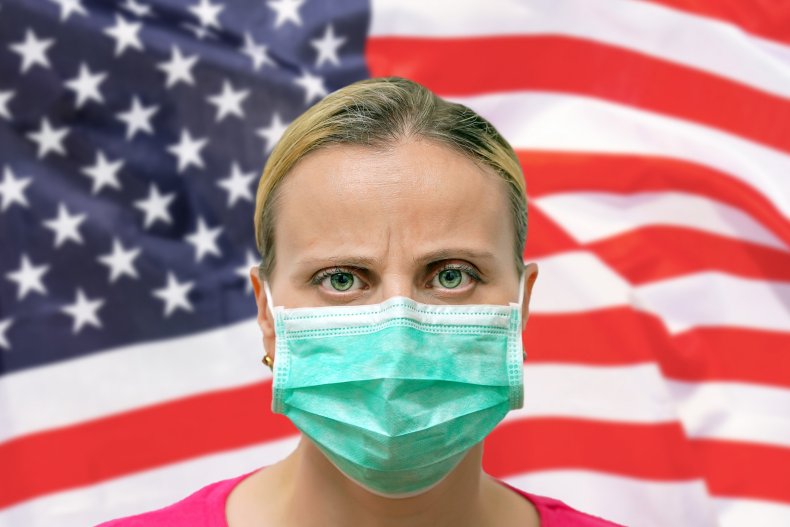 Dr. Manisha Juthani, associate professor of medicine and epidemiology at Yale School of Medicine and Yale Medicine infectious diseases specialist, said: "If the U.K. variant currently is not widespread but becomes so in the weeks ahead, parts of the U.S. could end up in disaster mode akin to a war zone."
Jeffrey Shaman, professor in environmental health sciences at the Mailman School of Public Health Columbia University who works on a COVID model, said: "We're already there [one in 50 people in the U.S. being infected with the coronavirus]" adding: "The U.S. has been at a similar level [to the U.K.] for some time."
Shaman said his team estimated that for much of December, more than one in 100 people were infectious in the U.S. and another one in 100 had caught the virus but were not yet contagious.
"Putting those together, we are already at one in 50 [people] with SARS-CoV-2 [coronavirus] at any one time," he said.
As the U.S. does not examine COVID samples for different forms of the virus to the same degree as the U.K., Shaman said it is not known if B.1.1.7 contributed to the high case levels seen in December "or if it could make things worse or persist badly longer."
The U.S. has not been adequately controlling the virus with measures such as mask-wearing, social distancing, and the restriction of mass gatherings, and the roll-out of vaccines has been slow, said Shaman. "The way we are going, I see 100,000 plus cases per day for another month at least."
Jennifer Dowd, associate professor of demography and population health at the University of Oxford, U.K., said it is difficult to compare the U.S. and U.K. cases as the latter has an on-going survey that tests a random sample of the population for coronavirus every two weeks, while the U.S. doesn't. This means it is unclear how many infections official testing numbers are missing.
However, the rolling seven day average of daily new confirmed coronavirus cases per one million people was around the same for the U.K. and U.S. on December 28, which overlapped with the 1 in 50 figure was calculated for the U.K, she said citing the Our World in Data website.
"If the U.S. is not at 1 in 50 it's probably pretty close," said Dowd.
Lauren Ancel Meyers, professor at the University of Texas at Austin (UT) and director of the UT COVID-19 Modeling Consortium, said her team "conservatively" estimated that at least one in 50 people was infected in at least 400 counties out of the more than 3,000 in the U.S.
"Parts of the U.S. are far along this trajectory, with cases surging, unmanageable healthcare surges and full ICUs," she said.
In L.A., for instance, her team's estimates showed, as many as one in 20 people are infected with coronavirus, dropping to one in 30 in California, and between one in 50 and one in 100 across the major regions of Texas.
"It is likely that the new U.K. variant is already spreading throughout the U.S. and may be accelerating transmission. However, today's threatening pandemic surges stem from our behavior over the last few weeks and failure to take sensible precautions.
"If conditions don't change, the pandemic may continue to get worse before it subsides," she said.
Jagpreet Chhatwal, an assistant professor at Harvard Medical School who works on The COVID-19 Simulator forecasting project, said his team's model showed around one in 200 people in the U.S. currently has COVID-19 but there is a "huge variation across states." In California, his model puts the figure at one in 75 people, and one in 200 people in New York.
"If this [one in 50 people infected] has happened in the U.K., there is no reason to believe it can't happen in the US," he said. "I believe it will be due to a combination of both, the new variant [B.1.1.7] as well as how the US has (mis)handled the pandemic."
He went on: "'We already saw a record number of hospitalizations and deaths in December. Sadly, January is expected to be worse than December."