Only 13 Percent of the 500,000 Migrants Released in US Have Reported to ICE
Only 13 percent of some 50,000 migrants who were released into the country after illegally crossing the U.S. Southern border have reported to a mandatory meeting with Immigration and Customs Enforcement (ICE), according to a report.
Typically, migrants who are released from immigration custody are given an official court date. But as some sections of the border are becoming too overwhelmed with processing new arrivals, thousands of migrants have instead been given a list of addresses and contacts for ICE offices across the country and told to report to one of them.
However, according to a new report from Axios, very few of them are actually showing up.
As of Monday, only 6,700 migrants who crossed the border between mid-March and mid-July have shown up at ICE offices, according to the report. Migrants are given a 60-day window to show up, and so far at least 16,000 have missed that mark. According to Axios, that accounts for 2.4 no-shows for every one that has checked in.
An additional 27,000 migrants who crossed the border and were released during the same time frame have yet to turn up but remain within the 60-day window for reporting.
However, Department of Homeland Security spokesperson Meira Bernstein told the outlet that despite the no-shows, many immigrants are "proactively reaching out to ICE to begin their official immigration processing, including by receiving a Notice to Appear."
Those who do not report, Bernstein added, will be subject to removal by ICE.
The data comes amid reports that several sections of the border are overwhelmed with the number of people attempting to illegally cross the U.S.-Mexico border. On Sunday, apprehensions in the Rio Grande Valley alone surpassed 20,000, according to a tweet by the Chief Border Patrol agent for that sector.
"It's the hottest part of the summer and apprehensions are skyrocketing! #USBP Apprehensions surpassed the 1-million milestone in June. NOW- this week alone - #RGV has apprehended more than 20K illegally present migrants," Chief Patrol Agent Brian Hastings tweeted.
In June, border crossings surged and surpassed numbers not seen in two decades. Since October, officials have apprehended over 1 million individuals for the first time since 2006.
In response to a rise in immigration, President Joe Biden's administration is working to assess the "root causes" of migration from Central America, while focusing on transitioning away from former President Donald Trump's harsher policies.
"I want to be very clear that the problem at the border, in large part if not entirely, stems from the problems in these countries," Vice President Kamala Harris said during a trip to Central America last month.
"I cannot say it enough. Most people don't want to leave home, and when they do, it is usually for one of two reasons: either they are fleeing harm or to stay home means that they cannot satisfy the basic needs to sustain and take care of their families."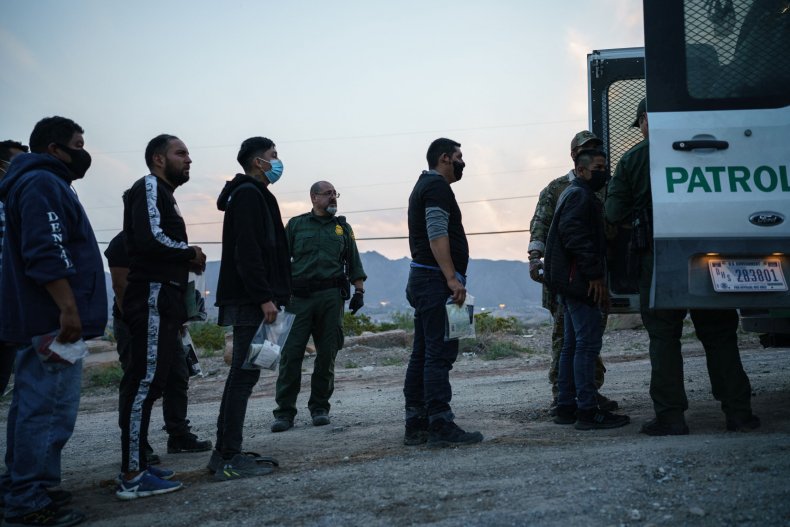 The White House released a fact sheet on immigration Tuesday, stating that "The United States can have an orderly, secure, and well-managed border while treating people fairly and humanely.
"We will always be a nation of borders, and we will enforce our immigration laws in a way that is fair and just. We will continue to work to fortify an orderly immigration system," the fact sheet added.
Newsweek contacted the White House for additional comment but did not hear back in time for publication.