Who Killed Bunny? 4 New Suspects in 'Only Murders in the Building' Season 2
The investigation into who killed Bunny Folger (played by Jayne Houdyshell) in Only Murders in the Building took a back seat in Only Murders in the Building Season 2, Episode 6.
Instead, some new suspects stepped into the spotlight, blowing the suspect pool for Bunny's killer wide open.
In Episode 6 of Only Murders in the Building, Charles (Steve Martin), Mabel (Selena Gomez) and Oliver (Martin Short) thought they were doing the right thing by turning in blood and fingerprint evidence from the Pickle Diner matchbook found in Mabel's apartment to Detective Williams (Da'Vine Joy Randolph).
However, it quickly transpired that Detective Williams was not the person they were texting with and instead, potentially Bunny's murderer.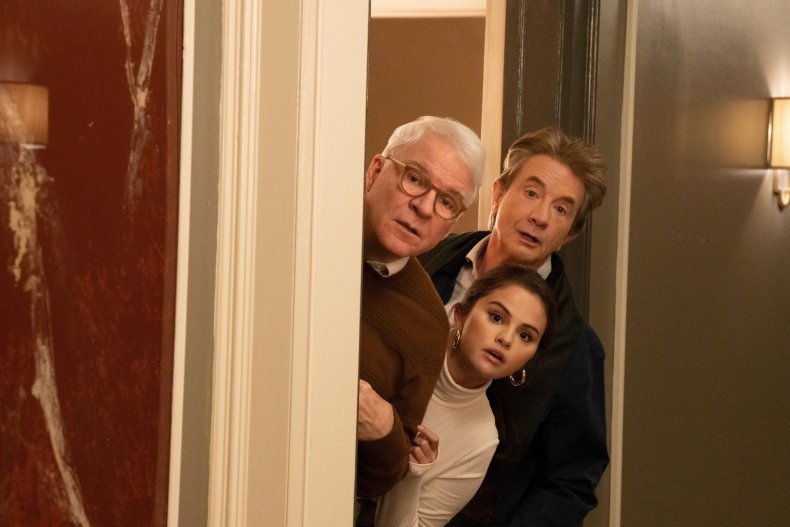 Elsewhere, Jane Lynch made her return as Sazz, who put an end to Charles' relationship with Jan (Amy Ryan), Oliver was still awaiting the results of his paternity test and Cinda Canning (Tina Fey) was back with her podcast in a bid to take down our favorite crime-solving trio.
But overall, it was a pretty bad day for Mabel who not only was still a person of interest in Bunny's death, but she was also betrayed by two people she trusted, pretty much had her heart broken and, at the end of Episode 6, had stabbed someone with her knitting needle.
To top it all off, all of the new suspects in the recent episode of Only Murders in the Building are tied to her. Newsweek has a recap of the four new suspects below.
4 New Suspects in 'Only Murders in the Building' Season 2
1. The Man in Black
The mysterious man in black, who has been making brief appearances in flashbacks since Episode 1 of Only Murders in the Building Season 2, appeared right before Mabel's very own eyes in Episode 6.
Convinced Detective Williams was the person who texted Charles and Oliver to "get out of the building" moments before Bunny was killed at the end of Season 1, Mabel, Oliver and Charles thought it would be best to text her to make her aware of the bloodstained evidence they had found.
However, they soon found out Williams was out in NYC on maternity leave, meaning the person they were texting was pretending to be Williams.
Automatically, they assumed the person they were communicating with was the murderer and set up a sting operation to catch them.
Agreeing to hand over the matchbook evidence, Mabel, Oliver, and Charles tricked the person they were communicating with to collect the evidence from a bin near Morningside Park in New York. However, the bag was empty, and instead, one of Oliver's glitter bombs was set to explode all over the culprit.
When the time came, who was the person collecting the evidence and running off covered in glitter? The mysterious man dressed in black who had been spotted sneaking around The Arconia on the night of Bunny's death. It was also the same person seen attacking Bunny before she was found dead in Mabel's apartment.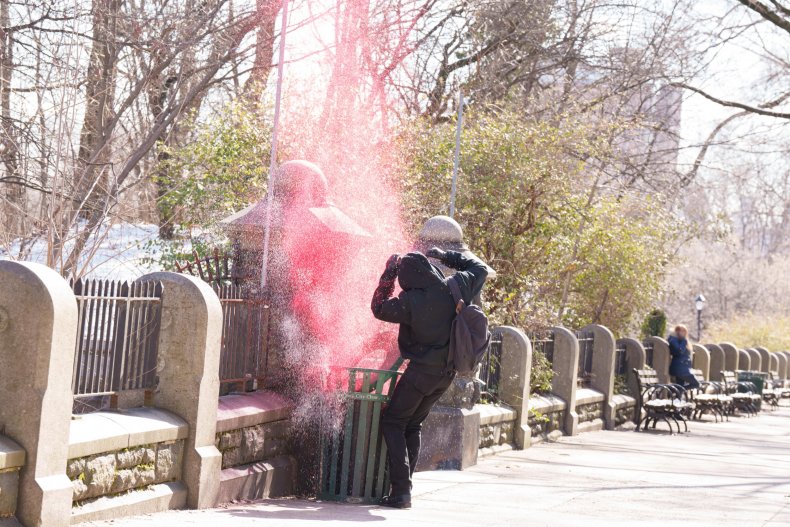 Hopefully, in Episode 7, audiences will learn of the mysterious man in black's true identity, considering he is most likely lying injured on a New York subway train thanks to Mabel's knitting needle.
In the final moments of Episode 6, Mabel locked eyes with the man in black covered in glitter on the subway but she found herself trapped between people as he edged closer towards her.
Moments later, Oliver received a text from his son, showing a video of "bloody Mabel" fighting the man in black holding a bloodied knitting needle before running off of the train.
The person who recorded the video could be heard shouting "Bloody Mabel just stabbed some dude," suggesting something seriously bad went down.
Things for Mabel are not looking good going forward.
2. Jimmy Russo
Depending on who and what you want to believe, Jimmy Russo is either an unfortunate, trustworthy link to Mabel's past or an estranged friend of Mabel's looking for his five minutes of fame.
Jimmy was introduced in Episode 6 by Poppy (Adina Verson), Cinda Canning's (Tina Fey) assistant. Cinda went on to interview Jimmy on her podcast, Only Murderers in the Building, where he claimed Mabel had sliced off his two middle fingers.
He also said Mabel has a "tendency to snap" which certainly does not look good for Mabel who is currently a person of interest in a murder case and has just been filmed fighting on a New York City subway train.
After Cinda dropped her latest podcast episode, Mabel explained to Oliver and Charles she and Jimmy once worked together and, when Jimmy would not take no for an answer, she pushed him away from her and he fell on a meat slicer, hence the lost fingers.
Jimmy's abrupt appearance and hate campaign against Mabel is suspicious, to say the least. Perhaps he went too far to kill Bunny and frame Mabel for her death?
Regardless, he seems pretty hellbent on ensuring people believe Mabel has violent tendencies and he claims to have the evidence to prove it, but why?
3. Alice
Audiences were right not to trust Mabel's latest love interest, Alice (Cara Delevingne).
Alice arrived on the scene days after Bunny's murder and had her eyes set on Mabel from the very beginning. In Episode 5, Oliver and Charles made their suspicions that Alice was involved in Bunny's murder pretty clear but it was all brushed under the carpet when Alice admitted she had lied about her past but had never lied about Bunny's murder.
In Episode 6, Mabel discovered Alice had some secrets of her own.
Eagle-eyed fans may have noticed at the beginning of Episode 6, that Alice was photographing images of Mabel's carpet, the one that had once been covered in Bunny's blood. From the get-go, something was not quite right.
Then, after Mabel, Charles and Oliver failed to catch the mysterious man dressed in black and Charles admitted to speaking with Jan, Mabel headed home to find Alice in her apartment, recreating Bunny's murder scene. She was even dressed as Mabel, complete with a blood-stained white top.
Is it suspicious or just outright weird? For now, Alice has a lot of explaining to do to take her name out of the running as Bunny's killer.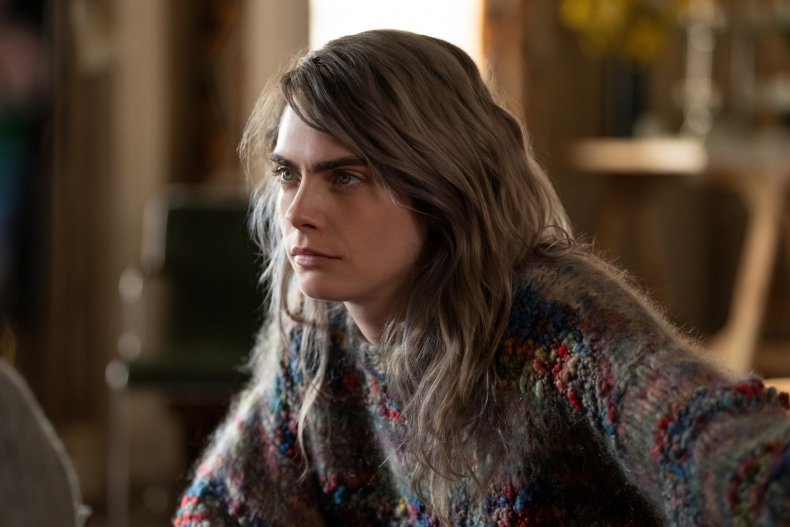 4. Cinda Canning
Karma is coming for rival podcast host, Cinda Canning.
Cinda's assistant Poppy has potentially turned her back on her overpowering boss and is now consorting with the enemy.
Poppy phoned Mabel to tell her Cinda had some big secrets and warned her that she was planning on "coming for" Mabel next.
Moments later, Mabel locked eyes with the mysterious man in black on the subway and was seen fighting him with her knitting needle. Does Cinda have something to do with the suspicious man in black?
It may be a stretch but she may have been the one to orchestrate Bunny's death and frame Mabel, Oliver, and Charles so her podcast competition would be wiped out.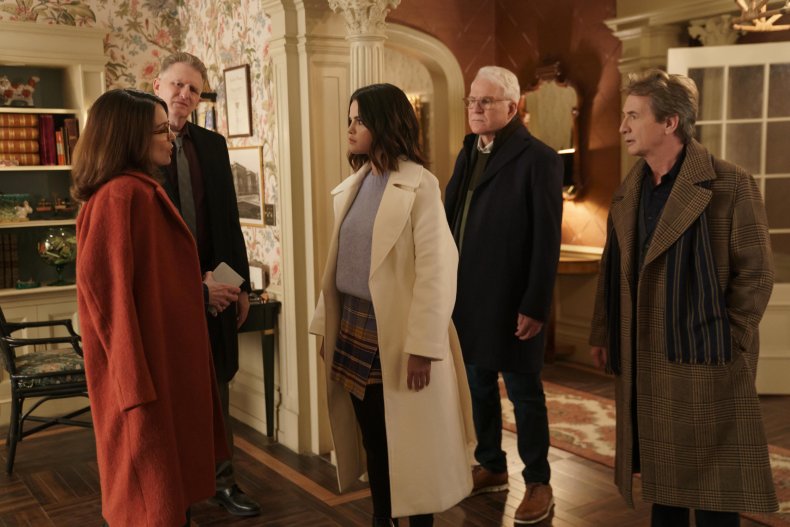 Other suspects from the previous five episodes include:
Bunny's mother Leonora (Shirley MacLaine)
Charles' daughter Lucy (Zoe Colletti)
Teddy
Jan
Will (Ryan Broussard)
Nina (Christine Ko)
Howard (Michael Cyril Creighton)
Only Murders in the Building airs Tuesdays on Hulu and Disney+