Just under a third of Republican voters believe that voting is "a fundamental right," while more than two thirds view casting ballots in elections as "a privilege," new polling shows.
Democrats in Congress are currently pushing to pass the For the People Act, major legislation which would shore up voting rights and make substantial changes to U.S. elections. Meanwhile, Republicans in Washington, D.C., oppose the bill, as GOP lawmakers in state legislatures across the country have introduced—and in several states enacted—laws that restrict access to voting.
New polling released Thursday by Pew Research Center showed stark divides among Democratic and Republican voters on their views regarding voting rights—appearing to align with the political battle playing out in the Capitol and across the country.
Only 32 percent of Republican and Republican leaning voters said that they viewed voting as a fundamental right for every citizen that should not be restricted. Meanwhile, 67 percent of GOP supporters said voting is a privilege with responsibilities that can be limited.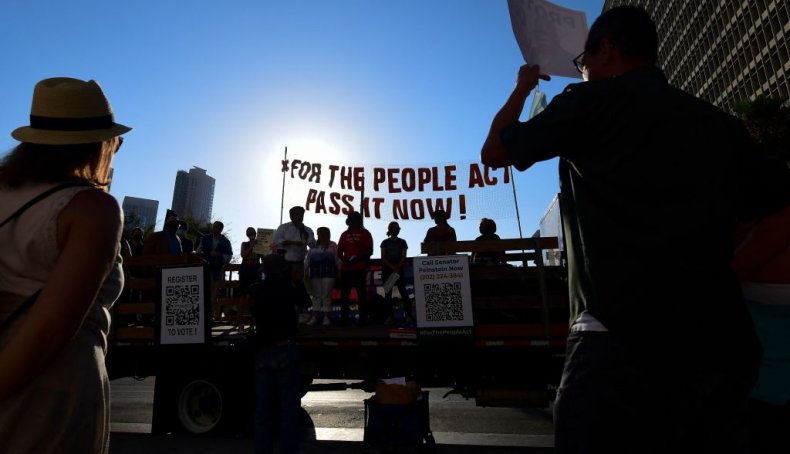 Among Democrats and those who lean Democrat, the vast majority were at odds with the mainstream Republican views. Seventy-eight percent said they viewed voting as a fundamental right, while just 21 percent said casting a ballot was a privilege.
Overall, the poll showed that 57 percent of American voters view voting as a fundamental right. Comparatively, 42 percent classified casting a ballot in elections as a privilege. Black Americans were the most likely to view voting as a fundamental right, with 77 percent classifying the democratic practice that way. White Americans were the least likely to view it as a fundamental right, with just a slim majority of 51 percent viewing voting as such.
The survey, which sampled more than 10,000 respondents, has a margin of error of 1.5 percentage points. It was conducted from July 8 to July 18.
President Joe Biden and Democratic lawmakers have condemned their Republican counterparts' position on voting access. They have repeatedly argued that the state legislation being pushed through by GOP lawmakers amounts to a "new Jim Crow." In Thursday remarks, Senate Majority Leader Chuck Schumer compared Republican arguments to those of segregationists.
"You know what they sounded like? Some of those arguments were reminiscent of what the arch segregationist Southern senators used to use in the '40s and '50s and '60s," the New York Democrat said during an interview on SiriusXM's The Joe Madison Show.
Republicans have pushed back against Democrats' criticisms, arguing that their efforts to expand voting rights is a "power grab." They have said that their election reform bills in states across the country are needed to secure elections. However, the wave of bills has been largely inspired by former President Donald Trump's baseless claims that Biden won the 2020 election through widespread voter fraud.
In reality, multiple expert analyses have shown that voter fraud is incredibly rare in U.S. elections. Meanwhile, Trump's false allegations about the last presidential election have already been thoroughly litigated and wholly discredited.