'Only White Lives Matter': Black Dem Rep. Cori Bush Shares Racist Death Threats
On Twitter, Black Missouri Democratic Representative Cori Bush shared racist death threats that she has received. "Only white lives matter, you bed-wench porch monkey [n-word]," one message read.
In a Thursday Twitter thread, Bush wrote, "White supremacists wanted me dead before I came to Congress. And white supremacist threats on my life have only intensified as a Black woman speaking truth in the halls of power."
"Just know: They won't stop us. They can't," she added, before sharing the threatening messages she has received.
The first thread she wrote read: "Tone it down, bitch. You're going to get yourself murdered if you keep running off that big old gorilla mouth. You ever see what you look like when you are spewing that sh*t? You need to be put into a f*cking cage at the zoo. Instead of police reform, how about [n-word] reform. As they say in the country, 'The only good [n-word] is a dead [n-word].'"
Another message read, "People like you are driving the racist narative.all in the name of your personal bank account.just another low life peice of sh*t, I hope somebody defuses your head from your body."
Yet another read, "You Mother is a whore and I see you are not nobody would want to bang your fat stinky ass so get cancer and die you c*nt and hopefully your kids will get cancer and die before you." One also said, "burn low and hang high, you treasonous c*nt."
In November 2020, Bush became the first-ever Black Congresswoman elected by her home state. Her racial identity has formed an important part of her work as a politician and community activist.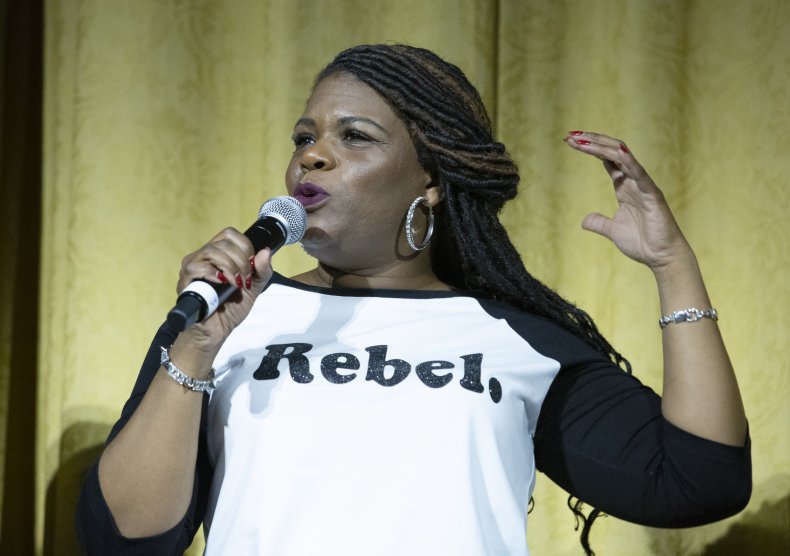 During her election night victory speech, Bush said, "To the Black women, the Black girls, the nurses, the essential workers, the single mothers: This is our moment." Once insider Congress, she became part of "the Squad," a progressive Democratic group made up of women of color.
Previous to her election, Bush worked as a former nurse and pastor. She also served as an activist in the Black Lives Matter racial justice movement. She took a prominent role in Ferguson, Missouri during the protests following the 2014 police shooting death of Michael Brown, a Black teenager.
After the January 6 insurrection at the Capitol, which was largely carried out by white people, Bush said that she relocated her congressional office to avoid white supremacists in Congress, specifically Republican Georgia Representative Marjorie Taylor Greene.
Greene accused Bush of "inciting violence with Black Lives Matter." She also claimed in a tweet that Bush had "led the mob that called for the rape, murder, and burning of the home of Patty and Mark McCloskey of St. Louis." The McCloskeys were a white couple captured on video brandishing guns at Black Lives Matter protesters outside the couple's mansion in late June 2020.
Later, Bush said of Greene, "This is the thing: She called me a terrorist. She said I was the leader of a terrorist mob... That I called for the murder of a couple. She didn't take that back. She didn't regret that. That's the kind of stuff that's dangerous for our communities, so that has to be called out."
In February, Bush told late-night host Stephen Colbert that she had come to Congress to "save lives, and especially to save Black lives."
"You think I'm going to make it all the way to Congress and then be quiet when white supremacy comes and knocks at the door?" she told Colbert.
"Our communities wouldn't have needed to spark a national movement to save Black lives if America weren't racist AF," Bush tweeted in May. Her tweet was in response to a vote by the St. Louis City Council to reallocate city police funding towards social workers and other community health initiatives.
Newsweek contacted Bush's office for comment.