Video of Oprah and Lizzo Singing Along to Adele Goes Viral
Among the many A-listers present for Adele's Adele One Night Only special were Oprah Winfrey and Lizzo, and a video of the pair singing along to "Hello" is going viral.
The singer and the legendary TV host were featured in footage from the show that was prerecorded but aired on Sunday night on CBS.
Seth Rogen, Jesse Tyler Ferguson, and Ellen DeGeneres were all seen in the audience too, along with Melissa McCarthy, James Corden and Gordon Ramsay.
The performance was recorded at the Griffith Observatory in Los Angeles, ahead of the release of Adele's highly anticipated new album 30.
Adele One Night Only also featured an interview with Oprah, where the star discussed a number of topics including her divorce, her family, her artistic process and body image.
During the show, Adele gave a shout-out to Lizzo who was singing along, joking: "You think you can outshine me, babes?" before complimenting her outfit.
On Monday morning, Oprah posted a clip of her and Lizzo singing and dancing along to the chorus of Adele's hit "Hello" and it is quickly going viral, with over 337,900 views at the time of publishing.
".@adele had us at hello! @lizzo what concert are we going to next?! #AdeleOneNightOnly," the 67-year-old tweeted.
While Lizzo, 33, is belting out the lyrics, Oprah is catching some flack from fans for singing along but not knowing the words.
In a wide-ranging interview with Oprah, Adele spoke of the struggles of her divorce from Simon Konecki and being a single parent.
"It's a process: the process of a divorce, the process of being a single parent, the process of not seeing your child every single day wasn't really a plan that I had when I became a mum," Adele said.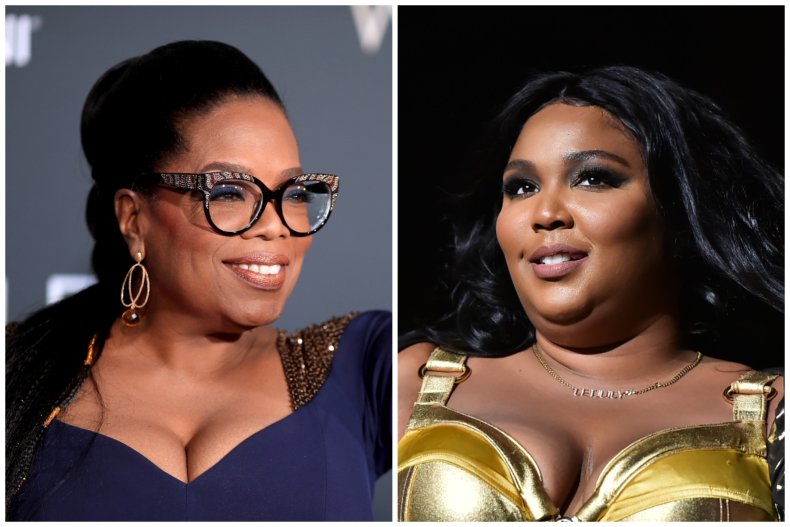 "The process of arriving for yourself every single day, turning up for yourself every single day. And still running a home, running a business so many people know what I'm talking about and I feel like that as well, I juggled those things as well. And I felt like not doing it anymore.
"It made my feet hurt, walking through all that concrete."
The concert was the first time Adele's son, Angelo, had seen her perform live.
"It's the absolute honor of my life, baby, to have you here tonight," she told him.
Adele also moved fans during her One Night Only special when she helped set up a surprise marriage proposal at the show.
Adele's fourth studio album, 30, will be unveiled on November 19.