Who Is Oscar Smith? Oldest Tennessee Death Row Inmate Faces Execution
Tennessee is set to execute its first inmate since the start of the COVID-19 pandemic after the governor declined to step in.
Oscar Franklin Smith, 72, the oldest inmate on the state's death row, is scheduled to die by lethal injection at the Riverbend Maximum Security Institution in Nashville on Thursday evening.
He was convicted of fatally stabbing and shooting his estranged wife Judith Smith, 35, and her sons, 13-year-old Jason Burnett and 16-year-old Chad Burnett, at their Nashville home in October 1989.
A jury sentenced him to death the following year.
Smith's attorneys had asked Republican Gov. Bill Lee for clemency. But Lee issued a brief statement on Tuesday, saying he would not block the execution.
"After thorough consideration of Oscar Smith's request for clemency and an extensive review of the case, the State of Tennessee's sentence will stand, and I will not be intervening," Lee said.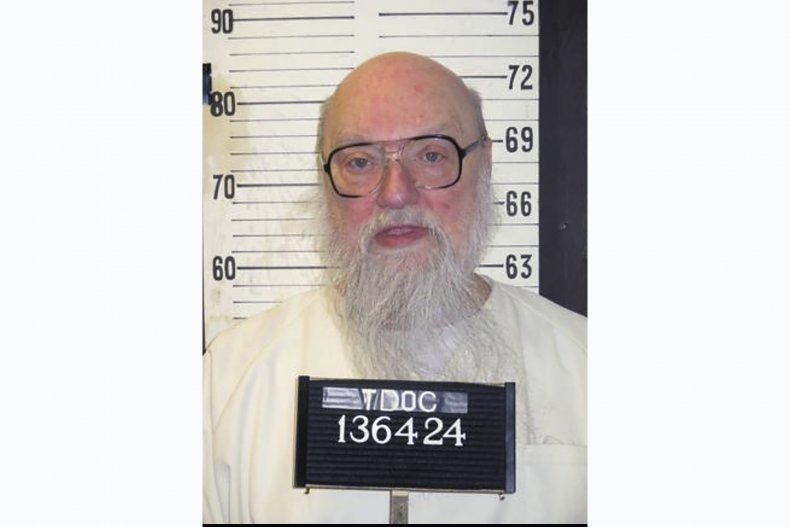 Smith has already been moved to death watch—a three-day period before an execution where the condemned inmate is placed in a cell near the death chamber and kept under 24-hour observation, according to the Tennessee Department of Correction.
Smith has maintained that he is innocent.
The state Court of Criminal Appeals last week denied Smith's request to reopen his case after an unknown person's DNA was found on one of the murder weapons.
Smith "has not presented new scientific evidence establishing that he is actually innocent of the murders of the victims," the ruling said, according to The Tennessean.
The Tennessee Supreme Court on Monday declined to hear his appeal.
Smith's attorney Amy Harwell said the state has built a "roadblock" to Smith's claims of innocence.
"Mr. Smith has maintained his innocence for more than thirty years. New cutting-edge DNA evidence excluding Mr. Smith as the contributor of DNA evidence on the murder weapon in this case proves his claim," Harwell said in a statement to Newsweek.
"The state has erected an insurmountable roadblock to Mr. Smith's claims of innocence. The Governor's denial of clemency under these circumstances is extremely disappointing."
Tennessee has not carried out any executions since February 20, 2020, when Nicholas Sutton was put to death in the electric chair.
Smith's execution had previously been scheduled for June 2020, but a stay was granted because of the COVID-19 pandemic.
He will become the fourth inmate put to death in 2022. Oklahoma executed Donald Grant and Alabama executed Matthew Reeves in January. Oklahoma also executed Gilbert Ray Postelle in February.
Support for capital punishment in the U.S. is at the lowest it has been for almost 50 years, according to the Death Penalty Information Center's (DPIC) year-end report in 2021.
An analysis of 600 public opinion surveys conducted over the course of 75 years indicate that public support for capital punishment has steadily declined since the 1990s and was lower in 2021 than at any other time since 1966.