'Our Lives Depend on It': NFL and NBA Stars Urge Fans to Vote in Midterms
NFL and NBA players have added their voices to the chorus of high-profile personalities encouraging Americans to cast their vote in the midterm elections.
Members of the Players Coalition, an organization made up of NFL players that aims to address important social issues, urged Americans to vote on Election Day because "our lives depend on it."
In a letter published on The Players' Tribune on November 5, the players do not endorse any candidates or parties, but they are critical of policies implemented by President Donald Trump. The players speak of a collective national identity "of pain and despair, of confusion and anger" and argue that voting in the midterms could usher in some much-needed change.
"We are fractured, we are hurting and too many are finding themselves as mourners. But America's true identity is one of greatness," the letter reads.
"We may have deep scars, but from times of darkness we have emerged as a nation with the courage to protect our neighbor from harm and the willingness to insist on our shared values of hope, of inclusion, of community. We have always stood up for each other. We have always been able to reclaim our identity," the letter goes on.
"On November 6, we can return to that place. We can raise our voice and remind our officials and each other that we are more than the hate we have seen. With our vote, we can say that we believe in and are committed to the happiness, the health and the lives of all Americans," the letter says.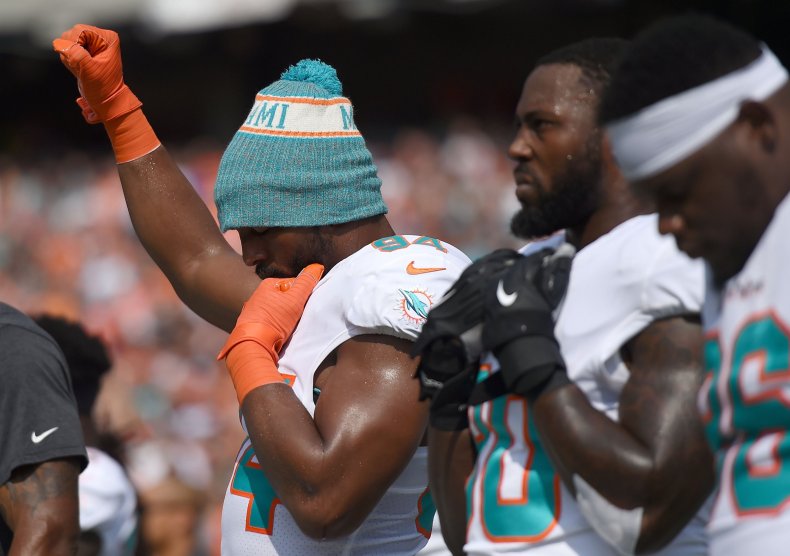 Philadelphia Eagles defensive end Chris Long, New York Jets offensive tackle Kelvin Beachum and Washington Redskins tight end Josh Norman are among the signatories, along with former Chicago Bears running back Matt Forte.
Meanwhile, in a separate campaign, a number of NBA stars joined forces with the When We All Vote organization to deliver a similar message.
Houston Rockets guard Chris Paul and his Washington Wizards counterpart Bradley Beal both appear in the video, which also features Memphis Grizzlies forward Jaren Jackson Jr. and Philadelphia 76ers guard Landry Shamet.
The video, which was shared on Twitter by the NBA Players Association, called for Americans to vote "to have a voice in the decisions that will affect you."
The world of sport is not the only high-profile industry that has worked tirelessly to convince people to cast their vote in the midterms, which are widely seen as a referendum on President Trump's performance after his first two years at the White House.
Earlier this week, Justin Bieber urged his fans to get out and vote with a video of Leonardo DiCaprio and Brad Pitt raising numerous progressive issues.
Pointing out that he's Canadian and normally avoids commenting on U.S. politics, the 24-year-old pop star posted the clip to Instagram with a caption that said, "I respect these two handsome gentlemen [DiCaprio and Pitt] way too much."
Bieber added, "So when asked to post by them I said yes. Everyone should have their voices heard and I hope this week everyone who can vote does and feels valued."