Over $100K Raised for Tearful California Restaurant Owner After Protest Video Over COVID Lockdown Restrictions Goes Viral
Los Angeles restaurant owner Angela Marsden raised more than $100,000 after an emotional video pleading with Mayor Eric Garcetti and California Governor Gavin Newsom over COVID restrictions went viral.
"We are a small business in Sherman Oaks California and we need your help! The governor and mayor are trying to ruin everything we've worked so hard for!" wrote the Pineapple Hill Saloon & Grill owner on a GoFundMe page. "Our restaurants and bars are not the reason why the COVID numbers are high! Please help us!"
Marsden raised $108,703 through GoFundMe for her restaurant as of Monday morning. The funds came after her eatery invested nearly $80,000 to build an outdoor patio to adhere to previous COVID-19 guidelines, according to local television station ABC7.
Her video has been viewed over 8 million times and was shared across social media by prominent conservatives, including former GOP House Speaker Newt Gingrich, since it was posted on Friday.
At the beginning of the video, Marsden explained she visited her restaurant to grab supplies for a protest she staged against the coronavirus restrictions in Los Angeles. The restaurant owner then motioned to a large outside dining tent set up for a movie company near where her own restaurant's outdoor dining was shut down.
"I'm losing everything. Everything I own is being taken away from me and they set up a movie company right next to my outdoor patio," Marsden said fighting tears. "And people wonder why I'm protesting and why I have had enough."
Marsden continued: "They have not given us money and they have shut us down. We cannot survive, my staff cannot survive."
The restaurant owner called the movie tents "a slap in the face," and asked Garcetti and Newsom why the movie's setup was deemed safe, but her restaurant's outdoor dining was not.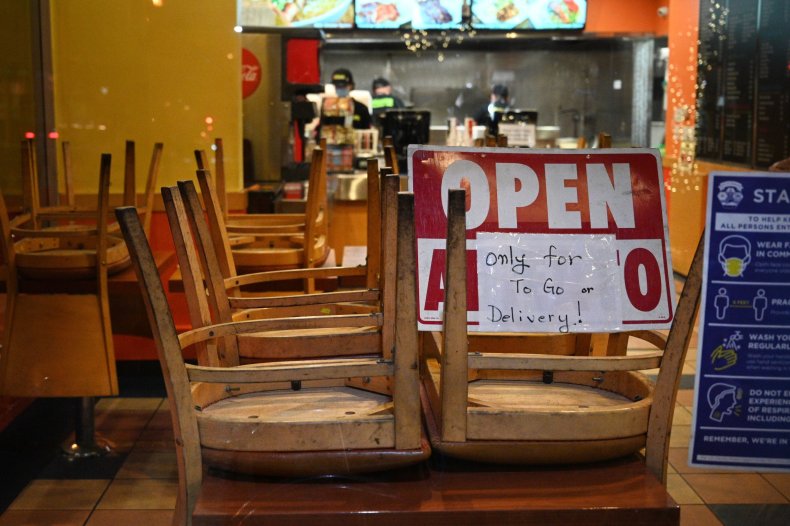 "Mayor Garcetti and Gavin Newsom are responsible for every single person that doesn't have unemployment, that does not have a job, and all the businesses that are going under," said Marsden.
Los Angeles County voted to ban outdoor dining for three weeks beginning on November 25. On the same day, health officials issued a strict stay-at-home order mandating all bars, hair salons, barbershops, casinos, and indoor and outdoor playgrounds to shut down, according to local television station Fox 11 Los Angeles.
State and local health officials, however, allowed some businesses, including film production and fitness centers, to continue operations outdoors. In Los Angeles, county health officials determine COVID-19 restrictions, not the mayor's office.
Garcetti said in an emailed statement to Newsweek on December 7 his "heart goes out to Ms. Marsden and the workers at the Pineapple Hill Saloon who have to comply with state and county public health restrictions that close outdoor dining."
"No one likes these restrictions, but I do support them as our hospital ICU beds fill to capacity and cases have increased by 500%. We must stop this virus before it kills thousands of more Angelenos," Garcetti continued. "In the meantime, we're doing everything we can to ease the economic devastation to restaurants, including our $800 stipend for 4,000 local food-service workers, stopping commercial evictions, and asking all Angelenos to order take-out and delivery to help our restaurants stay afloat."
Garcetti then noted that local action to mitigate the economic impact of the pandemic isn't enough.
"But local action is not enough—Congress and President Trump must pass additional bipartisan financial relief for workers and businesses now," said Garcetti.
Congress passed its first COVID-19 relief package, the historic $2 trillion Coronavirus Aid, Relief and Economic Security (CARES) Act over eight months ago. Negotiations for a second stimulus have stalled for months as Republicans and Democrats have offered competing plans, but Congress is approaching a compromise and it considers a $900 billion stimulus proposal.
President-elect Joe Biden is confident an agreement can be reached before the year ends. The funds from a second relief package would aid restaurants like the Pineapple Hill Saloon & Grill.
Newsom didn't respond to Newsweek's request for comment in time for publication.