Over 12,000 Christians Want Trump 'Held Accountable' for Tear-Gassing BLM Protesters
More than 12,000 Christians have signed a petition calling for the Justice Department to end its opposition to civil lawsuits filed against former President Donald Trump and former Attorney General William Barr after their infamous decision to tear-gas Black Lives Matter demonstrators last summer so Trump could walk to a church near the White House to take a photo holding a Bible.
Trump and Barr drew substantial backlash after largely peaceful protesters in Lafayette Square were tear-gassed on June 1, 2020, so Trump could walk from the White House, hold up a Bible and take a photo in front of the historic St. John's Episcopal Church in Washington, D.C. The American Civil Liberties Union of D.C., Black Lives Matter and other civil liberties groups filed a lawsuit against Trump and Barr over the incident. The Justice Department has asked the judge to dismiss the case.
Faithful America, which describes itself as the largest online community of Christians putting faith into action for social justice, launched a petition this month to demand the Justice Department end its opposition to the civil lawsuit. The petition says Trump and Barr should be "held accountable" for their actions.
"Last June, Donald Trump brutally teargassed peaceful protesters and clergy outside an unwilling Episcopal church to take a crass photo op with a Bible. Now the Justice Department is outrageously asking a judge to dismiss lawsuits against Trump and William Barr for that violence," Faithful America said with the petition posted to its website.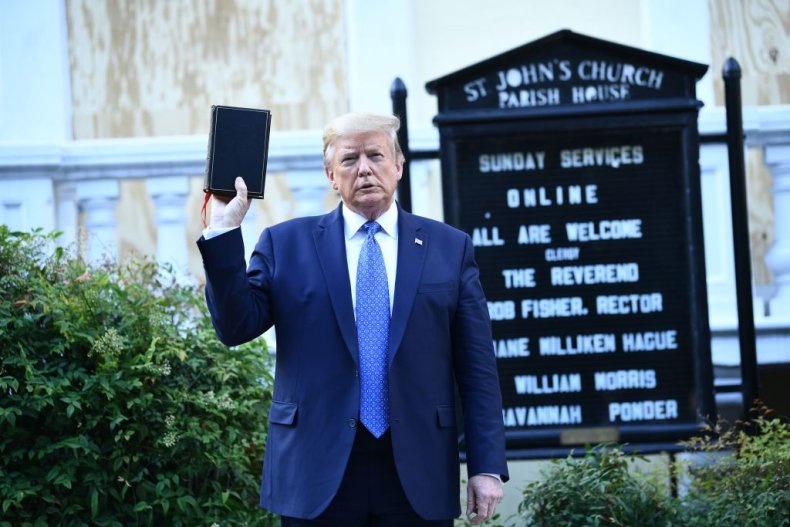 "When Trump committed his blasphemy, hijacking the name of the Prince of Peace to prop up state violence and white supremacy, nearly 30,000 Faithful America members spoke out in protest," the religious organization continued. "It's time to raise our voices once more and ensure that Trump can be held accountable, so that no president will ever consider using such unjust and unconstitutional brutality again."
The petition argues that "the Biden-Garland Justice Department must drop its request that civil lawsuits against Donald Trump and William Barr for the unjust violence outside St. John's Episcopal Church be dropped. We call for justice, accountability, and a warning to future presidents that such abuses of power will not be tolerated."
The Reverend Nathan Empsall, executive director for Faithful America, told Newsweek in an email that Trump and Barr should not escape accountability.
"Violent offenders don't get to escape accountability for their actions when they leave the scene of their crime. The peaceful Americans tear-gassed outside St. John's Episcopal Church deserve their day in court, and the Biden Justice Department must drop its shortsighted demands to dismiss their lawsuits," he said.
Empsall added that "this is a Christian issue first and foremost because of the way Trump and his party used tear gas to hijack an unwilling Episcopal church and even the Bible itself for their unchristlike right-wing political agenda."
Trump and Barr were widely condemned after the photo-op outside the church. Democratic lawmakers described the actions of Trump and Barr as "cowardly," as demonstrators and those present pointed out that protesters had been peaceful when law enforcement carried out the order. House Speaker Nancy Pelosi and then Senate Minority Leader Chuck Schumer, who is now the Senate majority leader, said Trump and Barr were "fanning of the flames of discord, bigotry and violence."
In late May, attorneys for the Justice Department—which is now under the purview of President Joe Biden's attorney general, Merrick Garland—asked a federal judge to dismiss the lawsuits filed after the incident. The lawyers argued the former president was immune because the action was taken for his protection and to secure his movements.
This story has been updated with comments from the Reverend Nathan Empsall.