U.S. Secret Service Confirms Pepper Spray Used in Lafayette Park for Trump Photo Op, Not Tear Gas
The U.S. Secret Service (USSS) said in a statement Saturday that despite previous reports, pepper spray was used prior to President Donald Trump's controversial photo op at St. John's Church.
"On June 5, the U.S. Secret Service released information stating that the agency had concluded that no agency personnel used tear gas or capsicum spray during efforts to secure the area near Lafayette Park on Monday, June 1," the USSS posted on its official Twitter. "After further review, the U.S. Secret Service has determined that an agency employee used pepper spray on June 1st, during efforts to secure the area near Lafayette Park."
"The employee utilized oleoresin capsicum spray, or pepper spray, in response to an assaultive individual," the agency added.
Protesters reported that tear gas had been used by U.S. Park Police and the National Guard to clear the area for Trump's appearance in front of the historic St. John's Episcopal Church on June 1. A former assistant rector of St. John's said that she had been giving medical supplies to protesters when officials cleared the area.
"I was coughing with tear gas in my clergy collar, and my gray hair, and my old lady reading glasses, so that that man could stand there and hold a Bible in his hand and look Christian," Rev. Gini Gerbasi said on June 2. "And it would be far more Christian if he would behave according to the words in that book instead of just carrying it around with him as a prop."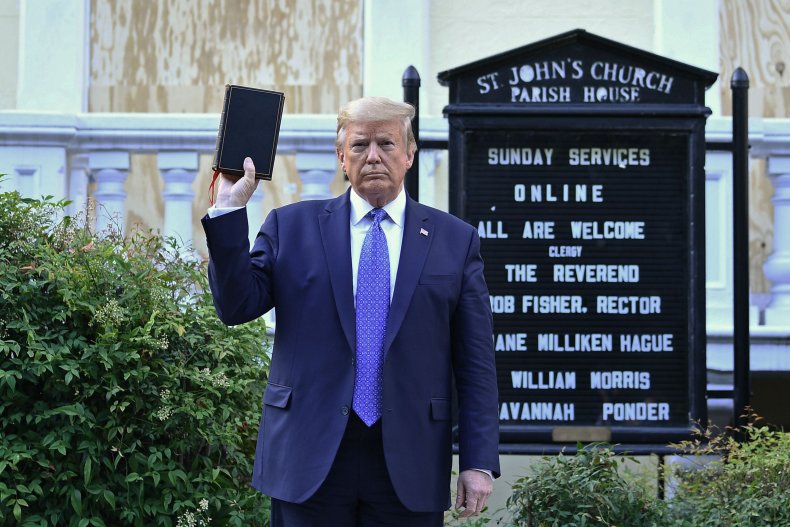 The U.S. Park Police disputed Gerbasi's account, and said officers did not use tear gas, but had used pepper balls and smoke canisters, which can have similar effects as tear gas, irritating the eyes, throat, nose and chest. Rubber bullets were also fired.
Other agencies were also present in Lafayette Park at the time, including the USSS, FBI, Washington D.C. police and military police.
On June 2, Senate Democrats filed a resolution rebuking Trump. Though it was a symbolic measure, the resolution said Congress "condemns the President of the United States for ordering Federal officers to use gas and rubber bullets against the Americans who were peaceably protesting."
Though Senate Minority Leader Chuck Schumer (D-N.Y.) tried to pass the resolution with unanimous consent, his attempt was blocked by Majority Leader Mitch McConnell (R-Ky.).
Many Republicans defended the president, with some, including Sens. Josh Hawley (R-Mo.) and James Inhofe (R-Okla.), denying that chemical irritants were used to clear the protesters. Some Republicans, however, criticized the photo op.
"It was painful to watch peaceful protesters to be subjected to tear gas in order for the president to go across the street to a church that I believe he's attended only once," Sen. Susan Collins (R-Maine) said. "I thought that the president came across as unsympathetic and as insensitive to the rights of people to peacefully protest."
The ACLU pointed Newsweek to its tweet on the situation in request for comment.
"Once again, yet another federal agency is pulling back yet another lie meant to cover up the administration's unlawful firing of tear gas and other weapons outside the White House on June 1," the ACLU wrote.
The ACLU has filed a lawsuit against Trump, Attorney General Bill Barr and Secretary of Defense Mark Esper, among other federal officials, over the Lafayette Park incident. A similar suit filed by the ACLU was successful in obtaining a temporary restraining order keeping the Seattle Police Department from using chemical agents on protesters.