Dog's Reaction to Owner Barking With Him at Window Delights Viewers
The moment a dog discovered his owner could bark too, as she copied his actions, left him staring at her in confusion in a hilarious viral video.
The dog owner from Norway shared her dog's reaction to her fake bark on the TikTok account @skyeandskipp, with a caption reading: "Just barking with my dog". As Skipp looks out of the window intently and barks at something he sees, his owner immediately copies his bark, leaving the border collie utterly perplexed about why his human is suddenly barking like a dog.
The American Kennel Club [AKC] suggests that border collies are very likely to react to something they perceive as a threat, which could be an intruder or just simply a cat outside. Another trait highlighted by the AKC is that border collies can be very vocal and bark frequently – meaning @skyandskipp's owner can have plenty more fun confusing him by pretending to bark again.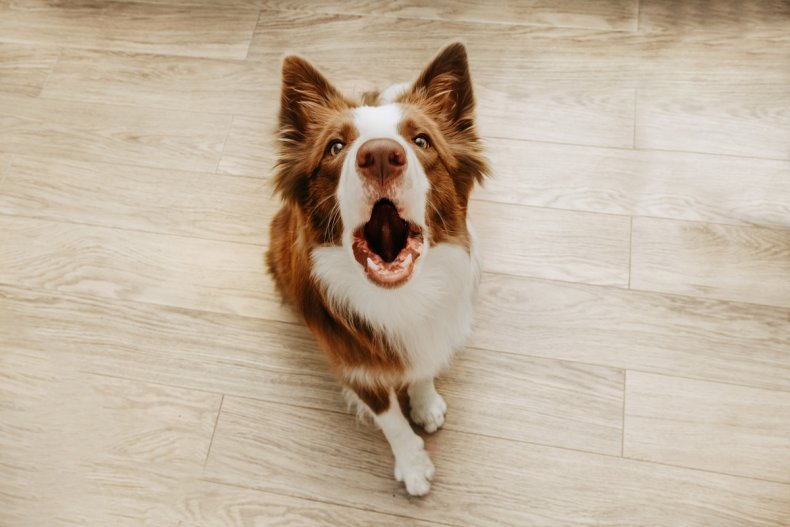 Since Skipp's reaction has gone viral on TikTok, with more than 6.3 million views at the time of writing, Newsweek spoke to dog trainer James Davenport about what the dog might be thinking after hearing his owner pretend to bark.
Davenport told Newsweek: "What seems like confusion is likely not confusion at all, it's just that the dog might not have a stored memory of how to react to the situation. What's actually happening is that the dog is very happy and feels validated for their behavior, and strong bonding is taking place."
Davenport has also tried mirroring his dogs' at home by faking a bark, and he says that this can validate the dog's need to guard the house and be protective. The founder of Dog Advisor HQ continued: "Obviously, dogs can't understand most language, but they have a perfect sense for the tone, and some often-used key words. The main thing that the dogs think about our behaviour is that we love them enough to stand side-by-side with them.
"It's likely that they see their job as protecting the house and family, so when one or more of us joins them, they feel that they are in a stronger pack than if they were facing things alone."
The 21-year-old dog owner has had a massive reaction to her TikTok video since posting it on January 30, as it has received more than 950,000 likes and over 13,000 comments so far. Many of her fellow TikTok users loved Skipp's reaction to hearing his owner copy his bark, as one user commented: "The look of concern, like we both can't be barking."
Another amused commenter mocked Skipp by suggesting what the poor dog might be thinking: "Why didn't you tell me you were bilingual??" the comment reads.
Do you have funny and adorable videos or pictures of your pet you want to share? Send them to life@newsweek.com with some details about your best friend and they could appear in our Pet of the Week lineup.