Fox News Host Says Christine Blasey Ford Is Not Acting Like a 'True Victim'
Fox News pundit Jesse Watters has accused Christine Blasey Ford, who claims she was sexually assaulted by Supreme Court nominee Brett Kavanaugh when he was a teen, of not acting like a "true victim."
Appearing on The Five, Watters said Ford and the Democrats are focusing more on stalling the nomination process with the allegations, rather than the accusations themselves.
Ford is under continuing pressure to testify under oath against Kavanaugh, after claiming he pinned her down and tried to remove her clothing when they were both teens in 1982. Kavanaugh has denied the allegations.
"I think they thought they were going to take it up to a certain point and then they realized this woman was going to have to testify Monday [September 17] and that was way too soon for the Democrats because this was a delay tactic and this is a really dirty business," Watters said.
"I don't want to cast any doubt on her allegations but the way they are dragging this out now it's become so political that it's gotten away from the actual alleged crime.
"And now it's about the process and the nomination of this guy. She's not doing things…the Democrats aren't doing things in a way that people would do if she was a true victim."
Watters also said it is suspicious how Ford originally wanted to be anonymous and then took a polygraph test, but did not say how the test was paid for.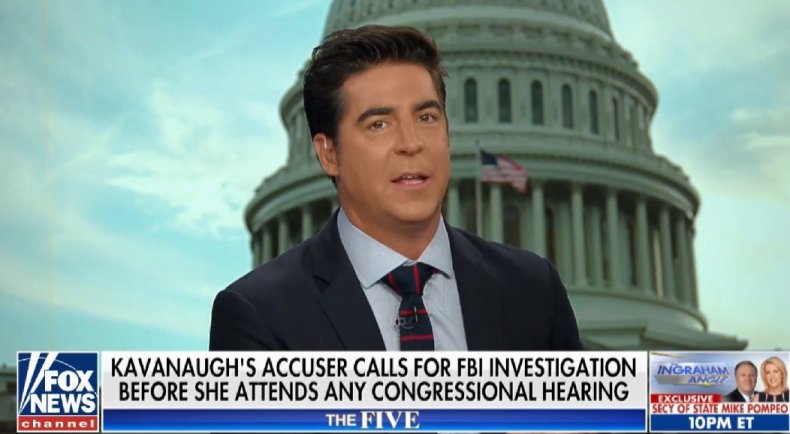 "Then you hire a Clinton fundraiser as your lawyer to represent you and now it looks like there's some behind-the-scenes stuff where Brian Fallon, who worked for Hilary Clinton, has teamed up with Paige Herwig, who worked with Dianne Feinstein, and they've raised $5 million, a lot from George Soros, to fund a group called Demand Justice and Demand Justice is the main organization that's running to stop the Kavanagh nomination. And they're working with Deborah Katz, the lawyer for Ford," Watters added.
"It's just way, way too suspicious to what's going on. I wanted to believe her. I still kind of believe she believes something happened, but it doesn't sit right."
The Five co-host Greg Gutfeld then adds: "The timing makes it suspicious," with regards to the allegations.
Appearing on Fox News's Tucker Carlson Tonight on September 18, lawyer Joe diGenova previously claimed Ford does not want to testify as "when she does, she's going to look like the loon that she is."
Ford's lawyer Lisa Banks has said her client is willing to co-operate with authorities, but wants a "full non-partisan investigation" ahead of her testimony.
"Dr. Ford was reluctantly thrust into the public spotlight only two days ago," Banks said in a statement. "Fairness and respect for her situation dictate that she should have time to deal with this."
Democratic Senate candidate Phil Bredesen said Ford "has a very credible story" against Kavanaugh, but believes the Judiciary Committee should consider moving on with the nomination proceedings if she does not testify under oath.
"She has put herself out there," Bredesen said, reports Associated Press. "If she decided at this point to not do something, I guess the committee has to go ahead and say, 'Well, we were willing to listen, but if she's not willing to talk, we need to go forward.'"