American drag enthusiasts might be shocked to learn that the most-followed drag queen on social media worldwide isn't RuPaul. It's Brazilian drag superstar Pabllo Vittar.
Vittar, age 28, is beloved in the global drag community and has 3.1 million followers on Twitter. Her music is mostly in Portuguese, but that doesn't stop crowds in the U.S., and all over the world, from singing along—or trying to, at least.
Newsweek sat down with Pabllo Vittar ahead of her historic set at Weekend 1 of Coachella 2022. She'll take the stage once again this coming Saturday, April 23.
How does it feel getting ready to perform at Coachella?
Oh my God. First. First of all, thanks for having me. I'm so excited to do Coachella. Years of waiting, and I can't believe it is already this weekend and I am ready.
I used this time for working my body, working my mind, you know, preparing myself for everything. But at the same time, I kept my mind ready.
How does it feel to have more followers than your idol, RuPaul?
RuPaul is an icon. [I'm in drag because] RuPaul opened so many doors.
I love my fans and love all the support. But you know, girls, don't forget who open[ed] the doors for you. [laughs]
You said before that RuPaul is such an icon and an influence on you, and so is Beyoncé. In what ways do they influence your performance and what you do?
Oh my God, in so many ways. And this show incorporates my Britney Spears type of dancing a lot, doing the hard choreography and keeping myself great on this stage—and outfits, doing my high notes in the right way. I'm very focused on stage and deliver the best the pop songs that all the gays want.
How did you get your start in drag?
It's blows me away because I remember when I, say, turn on YouTube to watch drag performers and Coachella. Now I'm going to perform at Coachella! Being a drag queen, being gay and being Brazilian personally is a huge, huge thing for me. It's a dream come true because this festival has so many things that I love and so many artists, but I'm a huge fan, so I'm ready.
What was your first time performing in drag like?
Oh my god, a mess. [I was] very nervous. I don't have a wig right, I don't have a look right.
I have the confidence, I have the uniqueness, nerve and talent. I opened a show for Jujubee from RuPaul['s Drag Race]. I was feeling so grateful because I love her. And I think to myself, Oh my God, she's seen RuPaul! I never imagined how far this thing's going.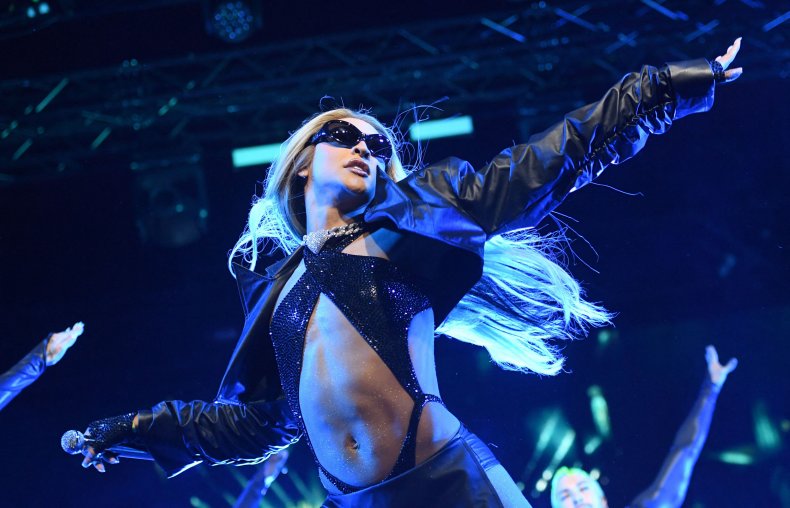 What do you think is the difference between performing in the United States versus performing in Brazil or South America in general?
In Brazil and Latin America, it's a very, how can I say... the enthusiasm is carrying a lot and everybody wants to touch me. I'm on the stage, you would jump on the stage with me. It's crazy. I feel like a rock star. That's America too, but it has a difference because of the language. I sing in Portuguese in most of the show. But isn't that a problem because I see everybody bouncing and trying to sing my words in Portuguese. That is so cute.
I think every single show, drag shows specifically, is very hot and the people come to show support and show love.
In the United States there are a lot of anti-gay things, anti-trans things that come up, especially in politics recently. And I wanted to know what it was like in Brazil for you—being young, being queer, performing and being very much yourself. But did you ever receive any sort of discrimination or heartache?
In Brazil, being gay since childhood was very, very, very difficult because I'm born in a state in Brazil that is not close to São Paulo or Rio de Janeiro. The people are very... doing bullying with me [about my] voice and how I dress.
When I start to perform, I embrace myself more and more. When I started to do drag, the people started to bully me more hard, you know? But I have my family, my friends, my crew. And you know, I always say that to my fans: Keep your friends, your family around you because these people respect you and support you always. You know, that's very important.
What can people expect in terms of what you're going to wear during your performance at Coachella?
A fierce look. Showing skin, showing body. And, you know, being blonde as f*ck. But the people are expecting me being me, you know?
My last question for you is something that we ask everyone who's doing anything with Coachella. What is the last song that got stuck in your head?
My last single, "Follow Me," with Rina Sawayama. Tomorrow, I wake up and do my challenging choreography here in L.A. in all these rehearsals. In every single rehearsal we dance a lot to this song, and I'll perform it at Coachella too.
Newsweek's continuing Coachella coverage can be found online at newsweek.com and on On Beat, available wherever you get your podcasts.