Pakistan Sees Opportunity in Biden to Balance US Role in Asia, Shift on India and China
Pakistan's ambassador to the United Nations has expressed to Newsweek hope that President-elect Joe Biden will seek to balance the United States' approach to Asia, tempering a rapidly growing relationship with India and moving away from a confrontational strategy toward China as pursued by President Donald Trump.
"Obviously, Pakistan would like to have better relations with the United States," Pakistani permanent representative to the U.N. Munir Akram told Newsweek, "and we would be looking to find the areas of convergence where we can work together with the U.S."
While Pakistani Prime Minister Imran Khan had sought to court Trump in redefining relations between Washington and Islamabad, it was ultimately Indian Prime Minister Narendra Modi that appeared to win the U.S. leader over, with New Delhi shoring up its strategic partnership with the Pentagon in a series of security agreements.
Akram called this strategic partnership the "wrong choice," but added, "nevertheless that's the U.S. choice."
Still, he argued that improving ties with Pakistan could prove extremely beneficial for the upcoming administration.
"We hope that, as in the past, the U.S. would adopt a balanced approach towards both India and Pakistan, an approach that is equitable, that takes into account the national interests of not only India, but also Pakistan," Akram told Newsweek. "If that is the case, if there is a balanced policy from Washington towards the continent, I think Washington would find Pakistan a willing partner."
Washington's tilt toward New Delhi has also occurred, however, as nuclear-armed South Asian rivals India and Pakistan experienced some of their worst tensions in decades over their disputed border territory of Kashmir, whose semi-autonomous status was removed last year in a constitutional change followed by a severe lockdown.
Pakistani officials and international human rights groups have accused the Indian government of abuses, and Akram hopes that based upon his past statements, Biden as president would be willing to address these with Modi. In doing so, the Pakistani envoy said, the president-elect could help prevent an all-out confrontation that threatens the region.
"We hope that with this approach of adherence to the principles of human rights and opposition to repression and all that goes with it," Akram said, "that we will find common ground with the U.S. to help us to defuse the situation in Kashmir, to help us in avoiding the danger of a conflict with our big neighbor, India."
But India and Pakistan continue to accuse one another of provoking tensions along the contested Line of Control (LoC) in Kashmir with deadly results, as demonstrated Friday by one of their worst artillery exchanges in months.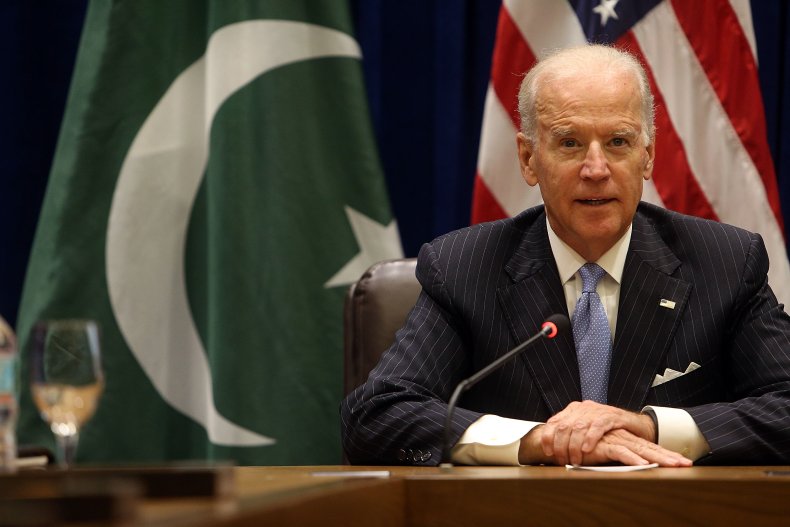 "Pakistan initiated unprovoked Ceasefire Violation along the LoC spread across multiple sectors to include Dawar, Keran, Uri & Naugam," an Indian defense official said in a statement sent to Newsweek. "Pakistan used Mortars & other weapons. Pakistan deliberately targeted civilian areas."
The official said three Indian soldiers were killed, resulting in a retaliation "strongly causing substantial damage to Pakistan Army's infrastructure and casualties across the LoC."
Several ammunition dumps, forward operating location dumps and "multiple terrorists' launch pads" were damaged, according to the official, who shared a video of the purported border strikes.
In a separate statement sent to Newsweek, the Pakistani side disputed this account, claiming that four civilians were killed and 22 others injured in the Indian artillery strikes on the Nekrun, Kel, Sharda, Dudhnial, Shahkot, Jura, Nauseri sectors of Neelum Valley; the Danna, Mandal and Kayani sectors of Leepa Valley; the Chham and Pandu sectors of Jhelum Valley and the Pirkanthi, Sankh, Haji Pir, Bedori and Kailer sectors of Bagh Valley.
The news comes on the heels of the Indian Army claiming two Pakistani infiltration attempts across the LoC, while the Pakistani Foreign Ministry alleged the Indian shelling was an attempt "to ward off the humiliation faced by Indian Army in front of a domestic audience."
Indian authorities defend the lockdown and militarization of Kashmir as a necessary effort to fight a long-running insurgency there. They accuse Pakistan of supporting the insurgents, whom Islamabad refers to as "freedom fighters," while New Delhi calls them "terrorists."
When it comes to counterterrorism, a sensitive issue for all parties involved, the U.S. appears to have sided with India.
A joint U.S.-Indian statement released last month "called on Pakistan to take immediate, sustained and irreversible action to ensure that no territory under its control is used for terrorist attacks, and to expeditiously bring to justice the perpetrators and planners of all such attacks."
Pakistani officials took exception to the language of the statement, as they claim they have been most affected by such violent groups and among the most successful in routing them.
A State Department spokesperson told Newsweek that the current administration views "the U.S.-Pakistan relationship as one with real potential," but reiterated the U.S. position on militant group activity in the region.
"We have also made clear that fulfilling the relationship's potential requires progress on our joint efforts to bring stability to the region, and on Pakistan taking sustained and irreversible action against the militant groups that use Pakistan's territory to threaten that stability," the spokesperson said.
The spokesperson set further conditions conducive to better ties between Washington and Islamabad.
"The United States has always viewed a strong, prosperous, democratic Pakistan, at peace with itself and its neighbors, as critical to U.S. interests," the spokesperson told Newsweek.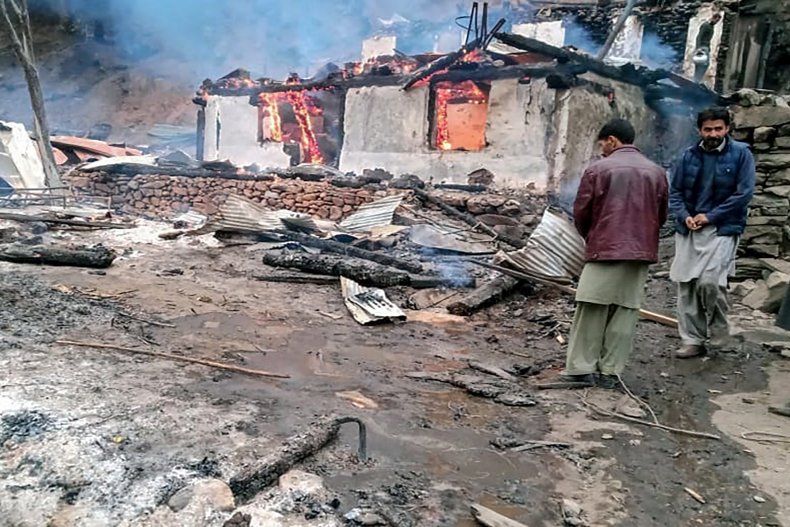 While the Trump administration's reactions to alleged human rights abuses in India-administered Kashmir were muted, there are indications that the Biden administration may adopt a more assertive stance. Biden's running mate, former Senator Kamala Harris, whose mother was born in India, issued a statement while running for president that, "We have to remind Kashmiris that they are not alone in the world."
She indicated a willingness to get involved directly, if necessary.
"There is a need to intervene if the situation demands," she said.
Biden's foreign policy adviser, Antony Blinken, also brought up Kashmir during a July talk hosted by the Hudson Institute.
"We obviously have challenges now and real concerns, for example, about some of the actions that the government has taken," Blinken said at the time, "particularly in cracking down on freedom of movement and freedom of speech in Kashmir, some of the laws on citizenship."
Blinken emphasized the importance of diplomacy.
"But you're always better engaging with a partner," he said, "and a vitally important one like India."
Akram hopes this translates into political action.
"Hopefully, if the Biden administration is open to looking at the reality of the Jammu and Kashmir situation and what the Indians are doing there," he told Newsweek, "that it will come to the conclusion that it is important to achieve a political solution as well."
Both Modi and Khan have congratulated Biden, extending offers to promote bilateral relations.
"As the VP, your contribution to strengthening Indo-US relations was critical and invaluable," Modi tweeted the day after major media outlets announced Biden as the projected winner. "I look forward to working closely together once again to take India-US relations to greater heights."
He tweeted a separate message to Harris.
"Your success is pathbreaking, and a matter of immense pride not just for your chittis, but also for all Indian-Americans," Modi wrote. "I am confident that the vibrant India-US ties will get even stronger with your support and leadership."
The Pakistani premier reached out just 20 minutes later, writing: "Look forward to President Elect Biden's Global Summit on Democracy & working with him to end illegal tax havens & stealth of nation's wealth by corrupt ldrs. We will also continue to work with US for peace in Afghanistan & in the region."
Pakistan is seen as a key player in the budding peace talks between the Afghan government and the Taliban, officially the Islamic Emirate of Afghanistan, a militant group to whom the Trump administration has proposed a political solution after nearly two decades of war.
"We appreciate Pakistan's steps to advance the Afghanistan peace process," the State Department spokesperson told Newsweek.
While Khan has yet to bring up Kashmir in public correspondences with the upcoming administration, it's likely to be at the center of future contacts between the two leaders.
It's not just along the LoC that tensions run high in Kashmir, but also across the Line of Actual Control (LAC), another disputed boundary that divides India and China. The largely frozen dispute here had heated up in recent years, but it erupted this spring with the death of up to 20 Indian troops and an unconfirmed number of Chinese soldiers. While the standoff continues, the two sides have deescalated with a series of political and military meetings.
Still, Trump administration officials have portrayed the flare-up as part of a concerted Chinese effort to match Beijing's economic rise with military expansionism.
During last month's joint ministerial with India, Secretary of State Mike Pompeo vowed the two countries would continue "confronting the Chinese Communist Party's threats to security and freedom" along with tackling the COVID-19 outbreak and promoting peace and stability.
Indian Defense Minister Rajnath Singh warned his forces were "challenged by reckless aggression on our northern borders," a reference to both Pakistan and China.
India's embassy to the United States and mission to the U.N. did not respond to Newsweek's request for comment.
The Trump administration's shoring up of regional ties has not been limited to India. The U.S. has reinvigorated the Quadrilateral Security Dialogue in recent years, bringing together Australia and Japan in a bid to pursue a vision of a "free and open Indo-Pacific" that clashes with some of China's territorial designs in the region, including the South China Sea.
Such coalition-building has angered Beijing, whose embassy in Washington accused Pompeo last month of "reckless smearing and groundless accusations" in comments sent to Newsweek.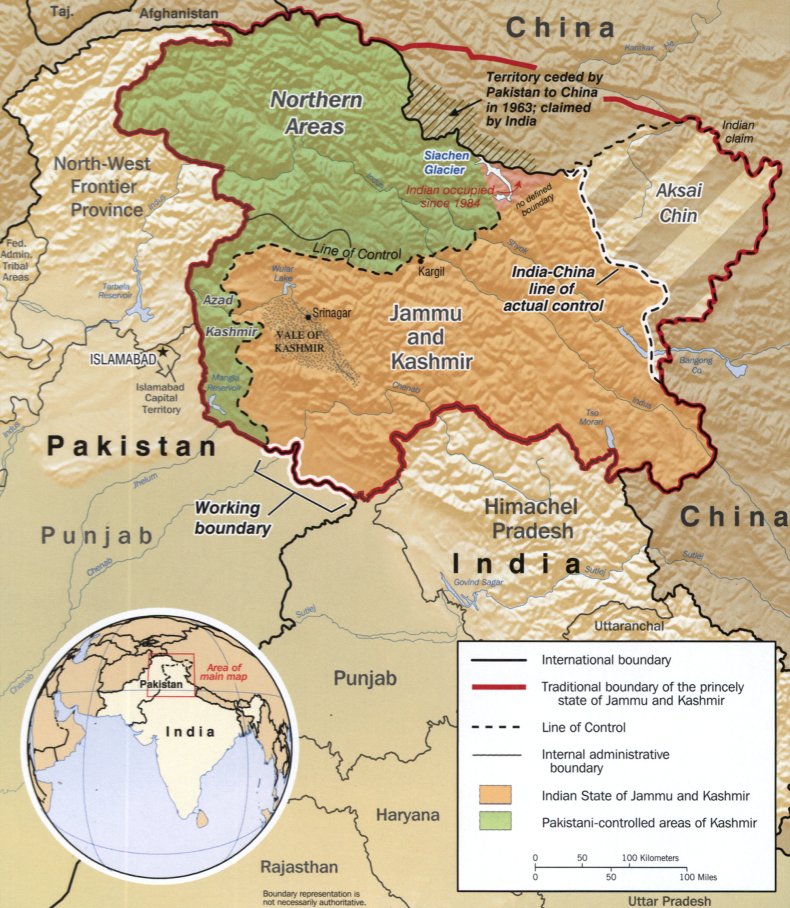 But Akram said that Pakistan is not alarmed by these developments.
"[The Quad] is not a direct concern for us," Akram told Newsweek, "because we are not in competition for regional or global power. We have no pretensions to be a major power."
He explained that he understood why the U.S. would want to woo a market as big as India's, but that Pakistan was seeking assurances that the Washington-New Delhi relationship would not come at Islamabad's expense.
"We would like to be obviously reassured that such capabilities which are being shared with India, are not going to be used against Pakistan," Akram told Newsweek, "and that they would not compromise Pakistan's national security interests. And, of course, how Pakistan's national interests and how non-security interests would be protected."
The State Department spokesperson could "not provide details of our private diplomatic discussions" when it came to assurances, but noted Washington sought to invest in both Islamabad and New Delhi.
"Our relationship with Pakistan stands on its own merits, as does our relationship with India," the spokesperson said. "We do not view our relationships in the region as zero-sum."
In any case, Akram said that Islamabad's first priority is development, and that the Trump administration's protectionist approach in attempting to counter Chinese President Xi Jinping's Belt and Road Initiative of intercontinental infrastructure projects and investment has been met with a cold reception in Pakistan, to which an entire joint economic corridor is dedicated.
The two powers also team up on security and other issues, while the U.S. remains Pakistan's trading partner, and the pair also continue to collaborate on various sectors.
"Our vision for the Indo-Pacific region is one comprised of nations that are independent, strong, and prosperous, and our relationships flow from a spirit of respect and partnership," the State Department spokesperson told Newsweek. "The United States welcomes any investment and trade that promotes sustainable, fair, and responsible economic development and growth."
Money from the People's Republic, however, would be subject to scrutiny.
"Unfortunately, PRC 'investments' often consist of opaque loans made by PRC state-owned banks disbursed to PRC contractors, for projects that do not allow any non-PRC bidders," the spokesperson said. "The United States offers a positive alternative – our transparent, private sector-driven model comes with a proven track record for delivering sustainable growth, reducing poverty, and fostering technological innovation."
Akram, on the other hand, believes there is a real opportunity for expansion of this relationship.
"Whereas China may have an advantage vis-à-vis investment in physical infrastructure at the moment, the United States has an advantage in investing in human infrastructure," Akram told Newsweek. "There is a potential partnership we would be looking at with an administration that is open to such cooperation with Pakistan."
This attitude, he hoped, would be extended globally as well, reversing the Trump administration's unilateral exit from international agreements and institutions.
"From what we see, the Biden administration would wish to re-engage with the international community," Akram told Newsweek, "to re-engage at the multilateral level with international organizations in order to resolve issues like climate change, to achieve more equitable development in the world, to address human rights, non-proliferation."
He said that these issues require working not only with partners, but also with rivals such as China.
"If this is to be promoted, there is so much more that could be done when the United States and China are working, if not together but at least in tandem, in the same direction," Akram said. "If multilateralism does imbue the policies of the Biden administration, this would lead to some reduction in tensions, resumption in cooperation at the international level, and I think that would be good for everybody in the world."