Who is Paloma in 'No Time to Die'? Ana de Armas' Character Explained
There are many great "Bond girls" to have featured in the 007 franchise over the decades, and Ana de Armas' Paloma is a superb addition.
Making her debut in No Time to Die, Paloma is one of the biggest stand-outs of the spy thriller and holds her own alongside Daniel Craig's James Bond.
Despite only having "three weeks' training," the young agent is intelligent, funny, and skilled with a gun. And while she may only appear briefly in the film, she certainly makes an impact — even on Bond himself.
Here is everything you need to know about the new character.
**Warning: No Time to Die spoilers ahead**
Who is Paloma in No Time to Die?
Paloma meets Bond during a covert mission to Cuba to find Russian scientist Valdo Obruchev (David Dencik) and capture him on behalf of the CIA, before MI6's Nomi (Lashana Lynch) gets there first.
Dressed to the nines in a stunning floor-length gown, Paloma certainly looks the part of a Bond girl. She and Bond hit it off right away as they enjoy a drink to help calm her nerves, because she's only 3 weeks into the job.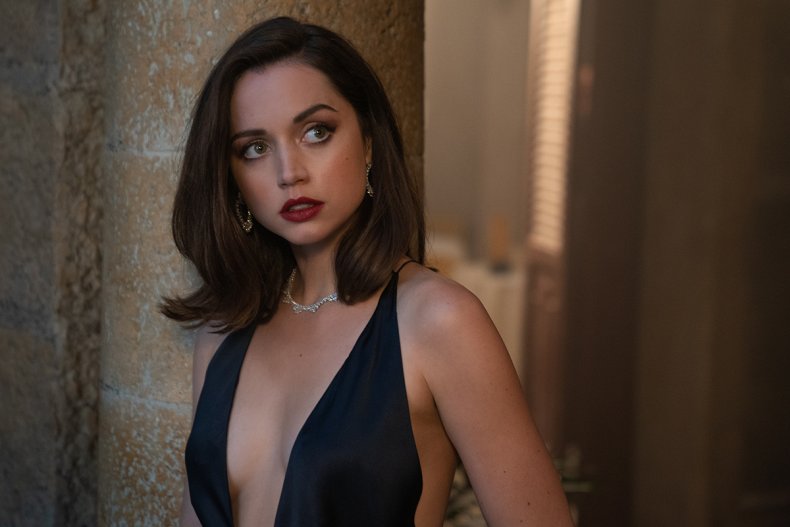 Paloma isn't your typical Bond girl, though, because she doesn't take the bait when 007 makes a flirtatious comment. Yes, she starts taking off his shirt, but she quickly explains it was so that he could change into a tuxedo for their operation. There are no pregnant pauses or wistful looks, and she certainly doesn't make any attempts to seduce him — which makes for a refreshing change, to say the least.
Once they set off to infiltrate a secret S.P.E.C.T.R.E. meeting, she shows that while she may be new to the field she's there for a reason, as she holds her own in a fire-fight and even stops Valdo from escaping thanks to her quick thinking.
Even Bond himself is impressed by her abilities and he comments that he hopes to see her again someday on a mission.
Who is Ana de Armas?
Ana de Armas hails from Cuba, the same home country as her character, and she is a rising star in Hollywood.
Starting out in a number of Spanish and Cuban productions, Armas made her English-language debut in 2015's Knock Knock and came to prominence after appearing as AI Joi in Blade Runner: 2049.
After appearing in Denis Villeneuve's sci-fi film, Armas took a lead role as nurse Marta Cabrera in Rian Johnson's murder mystery film Knives Out, which earned her a Golden Globe nomination for Best Actress in a Comedy or Musical.
It was on the set of Knives Out that Armas first met Craig, who plays detective Benoit Blanc, and the actor was so impressed with her he told LA Times: "She's got the chops. She can do it all. And it's about time people sat up and noticed."
Armas already has a number of projects in the pipeline since filming Bond; she will next be playing Marilyn Monroe in Netflix film Blonde, and she is also set to appear in The Russo Brothers' new spy thriller, The Gray Man.
No Time to Die is released in theaters across the US on October 8.